The Official RS1 / HD1 Calibration Thread
The purpose of this thread is to provide tips and tricks for getting the best performance out of the RS1.
PLEASE KEEP THIS THREAD ON TOPIC!
All discussions should be specific to calibration and video PQ related settings of the RS1/ HD1. Before posting anything, please ask yourself if your post pertains directly to this topic.
Questions such as Is the RS1 bright enough for my screen? and How many hours do I get from the bulb are examples of OFF TOPIC matters. If your question does not pertain directly to calibration or other such picture quality adjustments, please post it in the RS1 Owners thread here
http://www.avsforum.com/avs-vb/showthread.php?t=813550
or elsewhere.
If you post measured lumens and/or ftL, please be sure to include: your throw distance, hours on the bulb, diagonal screen size, screen type and gain, and whether you are at D65.
NOTE: I am NOT a professional reviewer or calibrator, nor do I play one on TV! These are just my findings and opinions and YMMV. Before making any decisions please consult a professional.
So without further ado I will get us started with my preliminary findings from several days of experiments. Having had the RS1 for less than a week, keep in mind this is a work in progress. I hope you will chime in with your own findings, clarifications or any calibration related questions you have.
For reference these measurements were taken with 2-20 hours on the bulb, from just under mid throw (2.02:1 to be exact). I have a 106 1.3 gain Firehawk screen (throw about 15.5 feet). Results were taken using ColorFacts and the SpderTV meter trained to an EyeOne beamer. This approach combines the accuracy of the EyeOne with the low level light reading capabilities of the SpyderTV meter, allowing accurate readings down to 5 IRE. Note however that it also means that any color shift introduced by the Firehawk is accounted for in this calibration - if you have a different type of screen this may have a slight impact on your results.
ABOUT THE OUT OF THE BOX (OOTB) SETTINGS
The OOTB settings with the lamp on Normal measured fairly close to D65, despite a greater variance in dE than I prefer. The Middle color temp measured a bit cool. I measured 10-100 IRE between 6825 - 7042 with a dE from 5-10 through the range. This is a bit cooler than I've read others have measured, but this could be a variance in the bulb.
Despite the deviation from D65, relative to this cooler color temperature the grayscale was rather flat (all measurements were within a dE of 5 in its own range). Therefore you should see very little error when viewing a grayscale test pattern.
In particular here are the measurements OOTB on Normal lamp with Middle color setting in conjunction with the Firehawk screen:
IRE CT dE
10 7042 10
20 6996 9
30 6856 5
40 6863 5
50 6989 7
60 6934 7
70 6918 6
80 6904 6
90 6829 5
100 6825 5
A NOTE ABOUT HDMI LEVELS
It is important that you set the RS1's HDMI Level to Standard or Enhanced according to your source. Normally with video such as from your STB or HD DVD player the Standard setting for HDMI would be the right choice; with Enhanced the right choice when feeding the RS1 from a PC or most external processors such as a Lumagen.
Here is a quick test you can do to determine if you have chosen the right source for your HDMI Level, With your RS1 contrast and brightness set at 0 and HDMI Level set to Standard, display a 0 IRE pattern or fade-to-black scene from a movie. Then switch the HDMI Level on the RS1 to Enhanced. If the Standard setting is indeed the correct one, you should see the black level rise significantly when switching to Enhanced. If not then enhanced is probably the correct setting.
SETTING CONTRAST AND BRIGHTNESS
Before adjusting the grayscale it is important to set the correct HDMI level as described above, and to also adjust contrast and brightness as needed.
I found that generally speaking a setting of 0 was correct for both the brightness and contrast of my STB and HD DVD sources. Just one click higher in contrast caused the -1% line in contrast patterns to clip, so there is indeed NO headroom to work with here.
I am using 0 for contrast to be as aggressive as possible with on/off CR, dynamic range and overall brightness. However without looking to hard I did find a scene where whites were clipping a tad at 0. Dropping this to -1 resolved the matter and provides a little headroom.
On the Brightness control I am using 0, but this is also a bit too aggressive as there are some fine details I noticed that get crushed at this setting. The challenge however is that raising this above 0 also raises the entire absolute black level. Raising this to +1 helps for the most part, but to eliminate most of the crush a setting of +2 would be more preferable. Currently I am adjusting this on a movie by movie basis, typically leaving it at 0. Certain scenes from Phantom OTO just looked a bit too dark in the details and +2 on brightness resolved this. Perhaps a custom gamma curve could help here. Unfortunately no such option is available.
CORRECTING FOR D65
Despite the very good calibration OOTB, those seeking the reference standard of D65 will need to make adjustments to lower the CT a bit and to minimize the dE. It is often recommended one should try to have a maximum dE of 3, as typically errors cannot be readily noticed by eye until the dE begins to rise higher.
To customize your grayscale you will need instrumentation and calibration software. For those without these tools, it MAY be possible to copy other peoples recommended settings and get similar results. I say may because due to pj and bulb variances it is possible one person's numbers do not yield ideal results on another unit.
Start by selecting the User 1 setting for the color temperature within the RS1 menu. Once selected, you will have the ability to reduce red, green, and blue by significant amounts using the RGB controls.
When you select User 1 you'll notice the color temp will rise significantly. I did not measure, it but suspect it is about 9000K in this mode before adjustment. Note the limiting color within the RS1 is red. You therefore will need to drop the green and blue significantly until they are at the same level as red. This is what causes lumens to be lost as a result of calibrating to D65 (as it applies to all calibration not just the RS1).
To reach D65 in the Normal lamp setting I had to reduce green to -32 and blue to -55 using the RGB controls (see below for setting with High lamp). It took some experimenting to find the right balance between all the different IRE levels, as there is no control for lower IREs and higher IREs as is traditionally provided through gain and offset/bias controls.
This resulted in a calibration of 6414 - 6648K with a dE of 1-3 across the range except a dE of 4 at 10 and 40 IRE. 5 IRE had a dE of 14 compared to the 20 dE OOTB setting at 5 IRE. Although these results are acceptable to me I would much prefer LUT access and the ability to truly flatten out the grayscale. It may also be possible with more time and tinkering to get the grayscale from 10-100 IRE a bit flatter and hopefully a dE from just 0-3.
LUMENS, ON/OFF Contrast and ANSI CR
Since previews of the RS1 / HD1 starting appearing months ago we've seen a fairly large divergence in reported lumens and ON/OFF contrast. Some are measuring much higher than others. And this is after taking into account how the lumens are affected by throw distance.
Post calibration I measured 380 lumens in Normal mode and about 20% higher in High lamp mode from MID throw using the AEMC CA813 light meter. This is about 30% lower than what some others are reporting.
However when measuring the ftL directly off the screen with ColorFacts and the EyeOne sensor, I measured 17.09 ftL in Normal mode and 21.3 ftL respectively. Assuming a 1.3 gain on the Firehawk, this translate to 436 lumens in Normal mode and 535 in High. This still puts my measurements on the lower end of the spectrum, but not as much so as with the CA813 meter.
For ON/OFF Contrast I measured 11,880:1, Initially I had read about 9,500:1, but after moving the sensor from 20 of the lens to just 6 and using some black felt behind the meter the readings improved as noted. This is lower than the 13,500:1 and higher that others have reported at this throw.
As I write this we have some new RS1 owners reporting in with lower lumens and some with higher. Currently it remains a bit of a mystery what is causing this divergence in readings, and I certainly look forward to us eventually figuring out what is going on.
On the bright side (no pun intended) I measured 300:1 ANSI CR from the pj lens. This was about a 15-20 better reading than what had been reported earlier, and a nice surprise.
HIGH LAMP MODE
When switching between Normal lamp mode and High I was surprised to find that in High mode there was more Red in the bulb available. This means that in High mode it is not necessary to adjust green and blue quite as far down as in Normal mode. The result is a D65 calibration that enables you to drive the brightness about 5% higher - not accounting for the 20% or so higher than the High bulb makes prior to calibration. This was a welcome bonus. In particular I set green at -26 and blue at -49 (compared to -32 and -55 respectively in Normal lamp mode).
Regarding the Normal vs. High lamp mode, I don't really have a preference as the two look quite similar. A 20-25% increase in lumens does not translate visually to as much of a difference as one might think.
In fact if someone left the room for a moment and the lamp was changed from Normal to High or vice-versa, I doubt most people would even notice when returning to the room, except for the higher fan noise.
Currently the ftL I'm getting in Normal mode is plenty bright for my tastes. So my plan is to continue to use it on Normal mode for a few hundred hours until the bulb drops say 20-30%, then bump it up to High.
As a side note, it may be my imagination but I seem to feel that the brighter corners issue is more subtle for some reason in High lamp mode. For those truly bothered by this affect they may find the High mode more preferable in this regard.
Regarding the fan noise, I find the noise acceptable in Normal mode. It is not great and certainly noticeable during silent or very quiet portions of the movie. Keep in mind the pj is mounted directly about 5 feet above my viewing position.
COLORS
No doubt the RS1 is oversaturated. Green in particular measured practically off the chart. Overall I much prefer this over the standard Rec 709 specification. However there are occasions when the over saturation proves a bit distracting. One example is the foliage during LOST - it's a bit too neon-ish looking in the sunlight. As another example someone in a movie I was watching had on a magenta shirt, and it looked like the shirt was glowing.
Here is a shot of our the primaries and secondaries measured on my RS1 for the Rec 709 space via 1080p HDMI: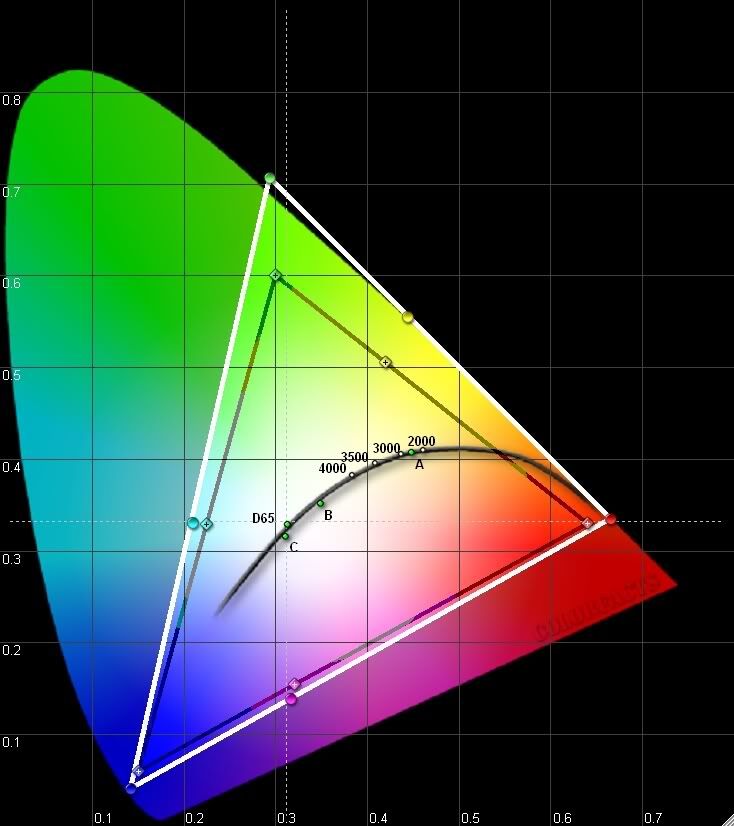 The green measurement is fairly extreme, a bit more so than what cine4home measured. This may be a measurement error with my instrumentation, or a difference in the units perhaps.
To understand that the RS1 has oversatured colors, one only needs to glance at the CIE chart. Blue and Red are a bit oversaturated but pleasingly so IMO. Red is not quite as oversatured as with the Ruby. The Hue for Magenta could use a little shift toward Red. The Hue for Yellow could use a little shift toward Red. Both Cyan and Magenta could benefit from a touch of desaturation.
If I had my druthers I'd like to pull green down closer to its Rec 709 target. Before getting too "freaked out" about the large shift in green, keep in mind that out of all the colors green is the least sensitive to such wide deviation in the target. In other words, if you took blue or red and moved it that far away from its target it would look awful. With green the actually color change visually is not as much as the chart would suggest. That being said, certainly it is oversaturated.
Unfortunately the color control is of little help IMO to try and adjust for this. The primary area that needs adjustment is the saturation of the colors. However the Color control on the RS1 only affects the Lightness (Y) of each color and has little or no impact on its saturation or hue.
Therefore the video purist I'm sure will take great issue with this. However those the prefer a more vivid palette will enjoy it in most cases, and only find certain scenes distracting if at all. Since the RS1 has no color management system, an external processor such as the Lumagen may be helpful in adjusting the colors as may be preferred by the viewer.
SHARPNESS
The sharpness of the RS1 is very good IMO, especially for a three chip projector. It was very interesting to note that raising the Sharpness control from its default of 0 added no ringing to the image. Even when cranking this up all the way to 30 little or no ringing was detected.
I've been using the Sharpness control at 12 - 15. While this may be technically incorrect (a frowned upon thing to do by the experts), it seems to add a slight sharpening affect to the image without much if any downside.
More updates will be coming as we receive feedback from expert and other calibrators in the forum. Please feel free to chime in with your input or questions. As a reminder please keep all posts in this thread strictly on the topic of calibration related matters.