Ok, after some deliberation, I decided to start a thread of my own. Mostly b/c I feel bad thread jacking other posts asking my own questions...
First of, I will have pictures, but it is very hard getting a good picture in the space because it's so dark. I have some work lights, but those still don't make for good quality pictures...
I will start with the space. Last year, we added a second story to our home. My previous theater was your typical living room setup. I had hacked in 2 rows of stadium seating, mounted my great at the time sanyo pj on the ceiling, and it was good. I always wanted a dedicated room, and as it turned out the second story addition plans required the stairs come down right in the middle of our family room, so the theater had to be put in the closet for the time being.
I always knew I would want to do a dedicated room, so when we built the 2nd floor, I had them install "room in the roof" trusses. I went with a 6:12 pitch on a span of 45'. this left me with a space in the attic of 34' x 12' x 7'10" to use.
I built a deck on the third floor, and installed spiral stairs going from the ground level to the 3rd floor deck (with a stop on 2nd floor deck). the access to the attic is then via an exterior door on the 3rd floor deck. this access is a big limiting factor in the construction. Also, because of this, I had to build a 1/2 bath in the space, and the wife required a closet for storage of stuff normally stored in the attic. After planning for a small bath, closet, and small entry space, this left 19' x 12' for the theater. a little small, but I think it will work out.
So, my first challenge was getting the major material up there. There is no way I can lug 4x8 sheets of material up spiral stairs, so I knew I would need to rent a lift. So, I ordered all the material I thought I would need (drywall, plywood, lumber, etc) and a few extras. My 2 brothers in law, and father in law were down one weekend, and were kind enough to help. I wanted the scissor lift. of course, it was rented the day I needed it (the rental place doesn't take reservations), so, the first picture is of my father in law, and the lift.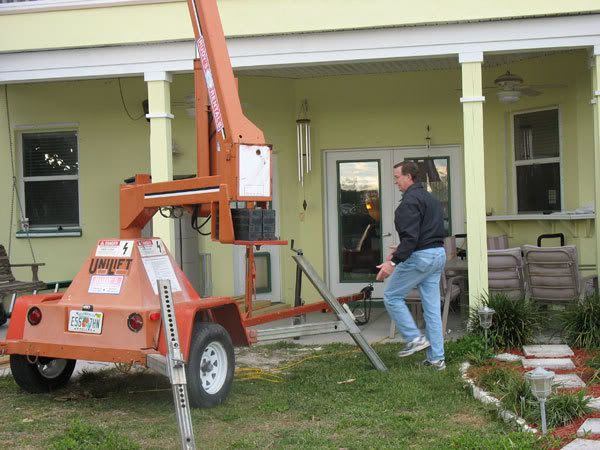 The lift had a limit of 300 lbs. I didn't want the straps to ruin the drywall, so we kept a piece of plywood on the lift, and put the drywall on top of that. The second picture is us getting one of loads off the lift onto the deck. We had 50 sheets of drywall and 10 sheets of plywood, plus a good sized stack of lumber to get up there...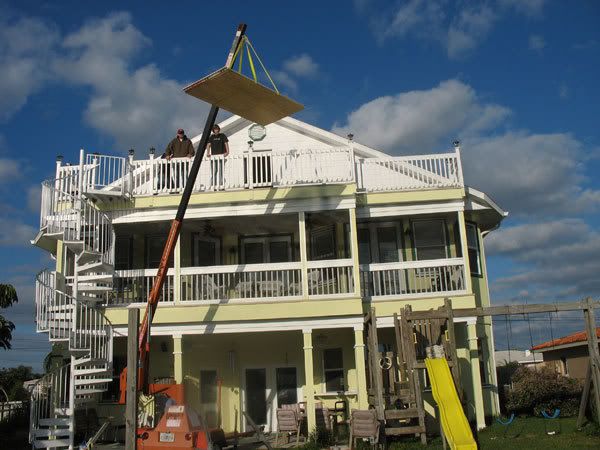 The last pic is of my brother in law and I. he is a general contractor and lives in Jacksonville florida. It's very nice having a brother in law that is a GC... He also knows home theaters, so if anyone needs help in the Jax. area, let me know! He's the one flexing his arms...