I'm starting to work on crown molding. Step #1: paint.
I picked up 16oz of Craftsmart metallic gold paint at Michaels. I don't have a Modern Masters dealer on my side of town. Also, there are about 5 Modern Masters gold paints, and I didn't know which I wanted! So I figured I'd try the Michaels paint first. Available and cheap.
I also picked up a cheap Wagner 'control' HVLP sprayer at HD. They have it on their website for $49, and the local store matched the price (down from $69). I've seen folks over in the DIY screen forum that had reasonable luck with it. I figure I had to give it a try before spending $800 on a serious compressor and $100+ on an HVLP gun.
I set up a painting booth in the garage, thinned the paint, and had a go.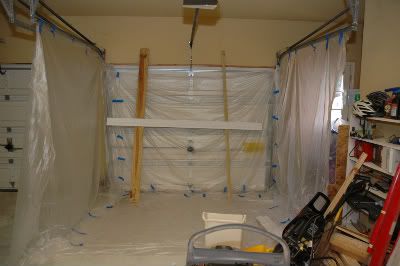 Problem #1: There was no way I was going to thin the paint enough to satisfy the Wagner viscosity test (a little funnel that has to drain in 30 seconds). I used some floetrol and water, but if I thinned it enough to drain that fast it would be like water and I thought I'd get runs all over the molding.
So I sprayed it anyway. The paint was not atomized enough for my liking, more like little splatters. I had to put enough on to fill in all the gaps between the splatters, but that was enough to let it run a bit. Ah, well.
I brushed it out a bit and it looks mostly ok. Unfortunately, since the paint was so thin, it's 'pooling' quite a bit in the nooks and crannies and not covering the high points of the design as well I would like.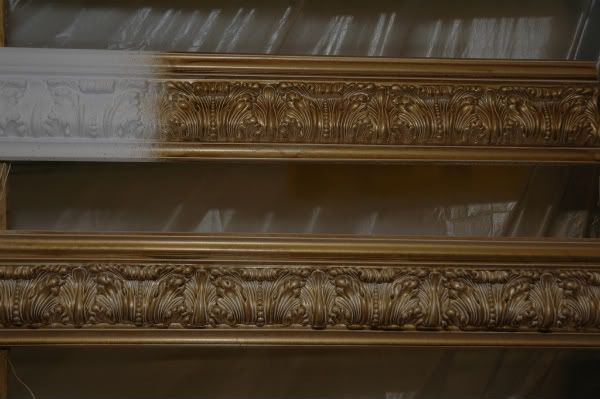 I wasn't really happy with the look while I was spraying it, but standing back now, the color isn't actually bad. Not sure I'll like it in the theater, but it does look gold, and I like the pattern contrast.
I need to chop a 2-3' piece off and take it up to see it in place.