Well I even debated if I should even start a HT construction thread, but I figured "What the hey" I don't have anything to lose and I have lots to gain from you all here at AVS.

As the title states I will be taking my sweet time with this project for several reasons.

1) Like many of you I have a family, job, and other things all clamoring for my time/attention.

2) When it comes to home improvement and home projects I am just slow. It is just the way I'm wired, much to the chagrin of my better half, but I'm not speedy when it comes to construction.

3) Budget limitations due to this being a total finishing out of the basement to include a dedicated HT, workout area, storage, and a kids multi-media "hangout" room.

The actual HT will be approximately 13 x 20 with 7.5 foot ceilings and I am still in the actual planning stages of the HT but have started "banging nails" for the kids area. This alone is getting me excited for the HT part.

There are many things still left to plan regarding the HT and this site really does not help due to the fact my plans keep changing from all the new info I get from here from AVS.

As time allows I provide some pics of what is going on, but first off those of you having built a HT is it better to build a screen wall that is AT and lose some valuable space, or is it better to keep the space and place the speakers on stands or floor next to the screen?

This is the biggest dilemma at the moment. I had just planned on using speaker mounts and placing the speakers to the side and under the screen and after seeing some of the theaters here I have appreciated the clean look of the theaters where the speakers are not visible.

Here I go slowly into this amazing journey. Hopefully I will be done in time for my oldest's graduation party in 2013!

Regards,

RTROSE

Well at the request of a poster later on in my build I have just now (4-23-09) gotten around to putting in a floor plan on this my first post. Sorry for the crude nature of the floor plan but I am in the learning stages of using Google Sketchup. Here ya go.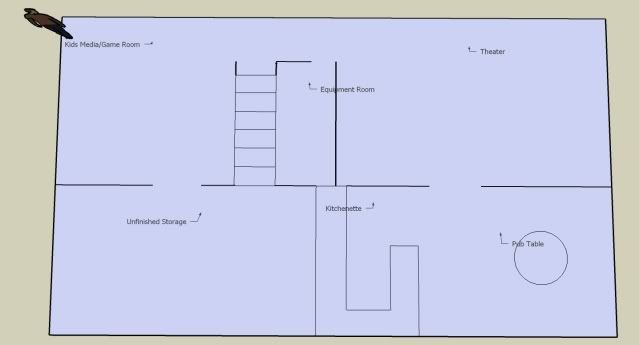 Ok at the request of the same poster (Drew you pesky devil you) who wanted a stick and paper representation here is a traditional drawing of my basement.




Hope this satisfies you Drew and all others who are wondering what the basement set up actually is.

Regards,

RTROSE
EDIT:  Thought it would be nice for those of you who start out with the first post to have some before and after shots to know how I got from here to "almost finished".
Kids media room.
Theater
Maybe these pics will encourage you to read further, or maybe not.  It has been quite the journey though, why not come along for the ride.
Edited by RTROSE - 6/10/13 at 10:32pm