Through several PMs as of late, I've concluded that many people are again in need of comprehensive directions as to how to wrap and secure Black Velvet to wood or MDF Trim. The original thread that contained the previously published post below is still at :
http://www.avsforum.com/avs-vb/showthread.php?t=652174
I've relocated my post to this new thread so any new replies or requests could be addressed with more directness and ease.
Quote:
Originally Posted by
MississippiMan
Here is a pictorial on the basics involved on wrapping Mitered Edges. I'm certainly no Upholsterer, but all there really is to it is folding the material in a manner to which you get a Flat laydown, and making sure you only using enough material to facilitate such folding....but no more.
MDF "Base" Trim. (3.25" wide x 5/8"" thin)[/color][/b]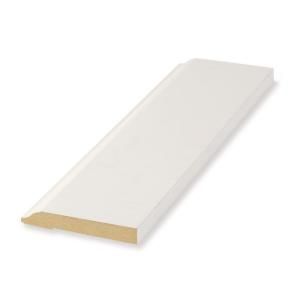 Home Depo Store SKU # 526895
First, determine how wide your Velvet needs to be. Shown below is a piece of 3.25" wide 3/8" MDF Base like above only it's been ripped to 2.5" I cut/ripped the velvet to 3.75". That was almost too little, but as I said before, having just enough to work with makes folding it all flat easier, and results in your having less excess to trim away.
Here we go:
After you have your Trim cut, and the velvet ready, lay the trim down to where the leading corner is 2" back from the leading edge of the Velvet. Now trim at a 45 degree angle corresponding with the edge of the Trim, leaving a 2" wide apron of the extra material.
You must then staple the materal about 6" from the leading corner, and then firmly stretch the fabric by pulling it toward the corner of the trim being wrapped. Staple it down close to the angled edge.. Now, taking your thumb & forefinger, pinch the material in until you take in the extra material, roll your forefinger down against the angled edge to remove even more slack, then fold the material over and staple.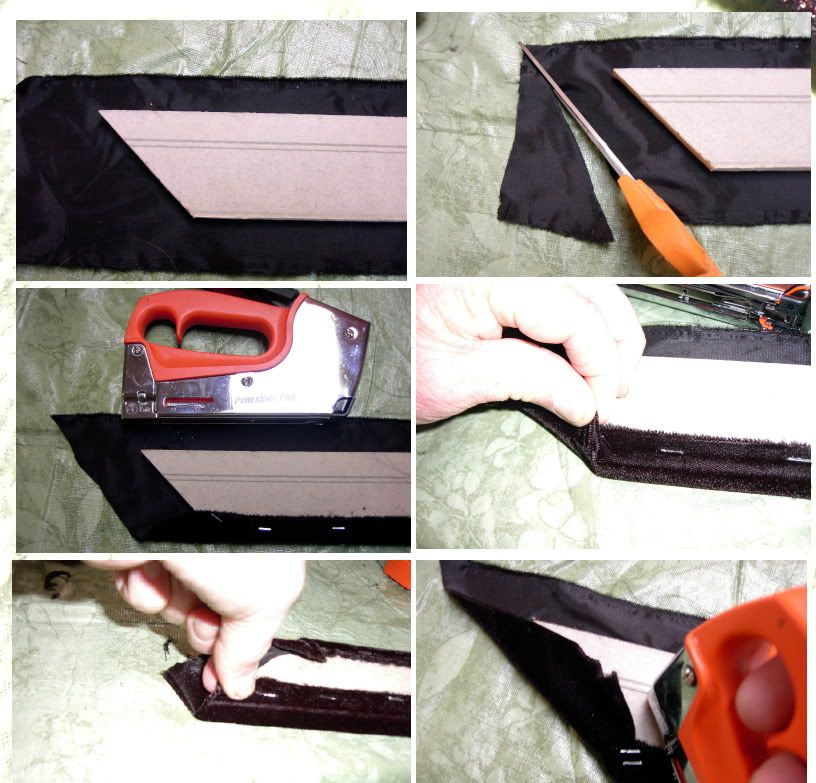 Now trim off the excess close to the staple/s you put in to hold the material in place. Repeat the "Pinch-Pull-&-Fold" routine again and staple. Trim off the excess.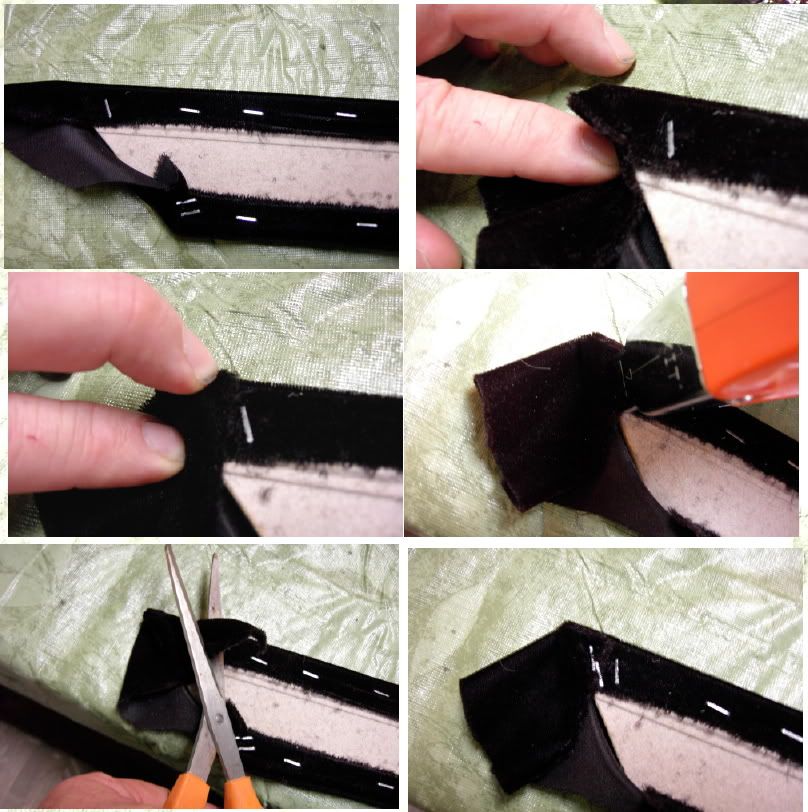 Now if you've pulled everything moderately tight, your ready to fold over the remaining "Flap" of material. Always do the protruding corner first, as this heps prevent a "Dog Ear" from developing. Pull firmly, while keeping your Forefinger against the inside edge of the Miter cut. Don't try to manipulate the fabric to go a direction it does not want to fold toward or you will get lumps and/or creases. Using a firm pull, fold the velvet over and staple as close to the angled edge and as deep into the corner as you can. Go to the other "inside" corner, pull it out, fold it over, then using your finger, smooth out any wrinkles that occur along the Miter cut edge. If it looks smooth while your holding it in place, staple the far corner first, then while tugging evenly across the largest area of remaining unstapled velvet, staple it down. Trim away the excess as shown in the image after the next one below.
OK & Alrighty then. Now all you have to do is repeat everything perfectly 7 more times and your done!!!! Hopefully your project will look like what you see in the next Photo. Or better. It does get a little bit easier, if not intuitive, after the 2nd or 3rd corner your do that you see come out OK.
Mitered Corners do smack of class, and the larger the trim used, the more it seems to compliment the appearance. But do NOT think that a well wrapped "Butt Joint" cannot look virtually just as good. Once again, an essential thing to be sure of is that all slack in the material is taken up by gentle but firm pulling around sharp corners and straight edges. Wrapping a "Butt" end is like wrapping a "Boxed" present, but in this case, as in a Mitered corner, you don't want to have to deal with too much excess material.
Below is a final photo example of a recently completed 3" wide Black Velvet Trim w/Decorative "Creme White" Channeled Trim Molding & Corner Buttons on the outside.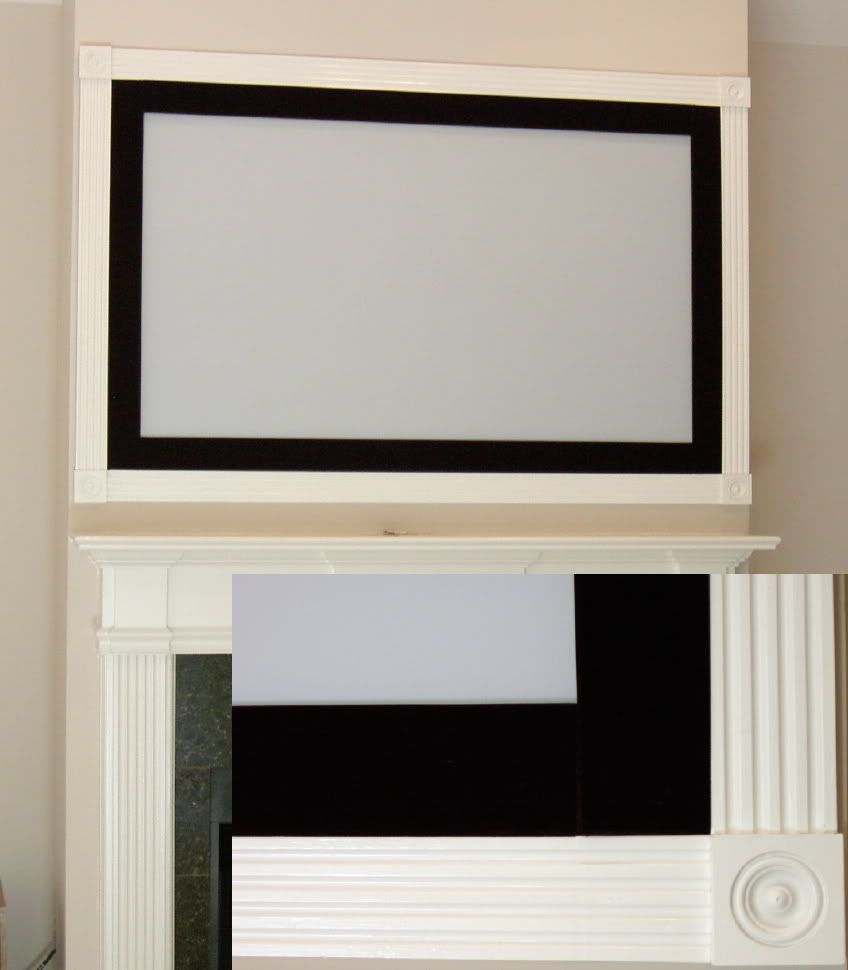 I think that looks pretty good, and it consists of Velvet Wrapped Butt Joints within a Trim framework.
I "Butt Ended" the Velvet Trim because it is easier to do, and the wrapped Trim Mold becomes the main focus anyway. To see the straight line, you have to be less than 1' away. I tell everybody who gets a LF, or a BFLF Screen that if their guests go up to within 1' away from the screen and/or trim, and make comment about seeing a tiny abberation, or flaw, that they should "Kick 'em Out!" and don't invite 'em back again.
Some people!!!!!!!
Here is a quickly thrown together example of a Butt joint assembly.
That about "wraps" this little essay up.
I had fun neglecting 2-3 important projects to whip up this little tutorial. If anyone has better images, or a more refined description of the wrapping procedure, please venture forth with it. I, and a few others did extensive Web Searches to no avail on this subject matter, so I decided that if it was needed to get done'd, I might as well go ahead an done'd it.
So I did. Now all ya all go getcherself "Corner Crazy".