Well, I finally finished off my HT last Monday with a pair of Paradigm ADP-590s, and it gave me the bug... I NEED MORE!
My plan is to build an IB in the crawlspace, but we'll be adding on to that room soon, so can't do it now. I figured, hey, why not get my feet wet and build a couple bookshelf speakers for a 2.1 system in the other room?
After reading through this forum, as well as a few others, I think I have it figured out. I decided on a driver, the
Tang Band W4-656SC 4" Shielded Driver
, a ported box, and I installed WinISD to help with the design. After some tweaking, I came up with a box with the following dimentions:
Volume 5.2 l
Tuning 63.96 Hz
Height 10.16 in
Width 6.93 in
Depth 8.31 in
Port Diameter 1.5 in
Port Length 5.12 in
Built with 3/4" MDF, glued together. Here are a couple screenshots from WinISD: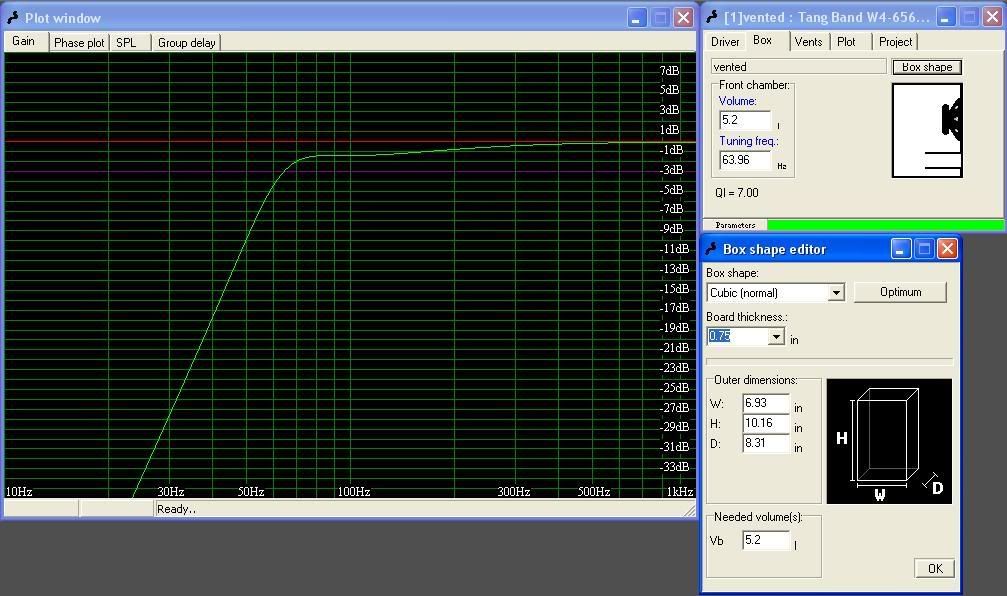 I know I'm missing plenty, and there are probably a few more tweaks I need to make. I'll be powering them with a Marantz SR-4600 80w per channel, and matching them with a Mirage BPS-150 subwoofer for now. I'd like to set the crossover frequency for the sub pretty low, 80-100 Hz, but I know plans change! I'd like the results to come out something like this
http://www.hometheatershack.com/foru...-speakers.html
Any advice, comments, or questions are welcome!
Ben