As the owner of an Aquarium Manufacturing company I have always had dreams of having a massive Home Aquarium in my basement. Up until about 3 months ago it was a go and the plans had been finished....
Then one day I was stupid enough to visit this website and see some of the amazing HOME THEATER setups the members here have. Well needless to say the basement has been ripped apart again to incorporate the theater room.
Here is a picture of the basement layout: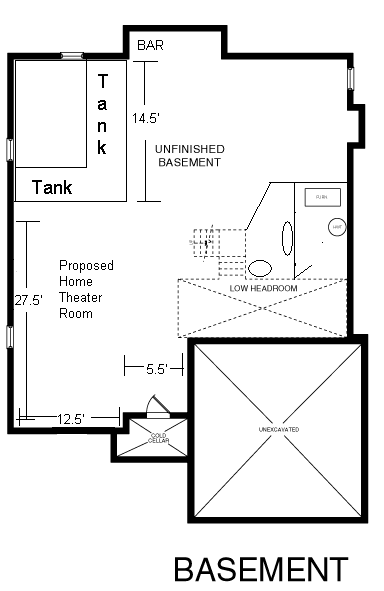 We are currently studding all the walls. The only construction finished is that of the actual Aquarium Stand. Originally the Home Theater room was going to be in the upper right portion of the above layout. The problem was when I began to think about installing soffit lighting. In that room are my HVAC runs and they cannot be moved. With this problem we decided to move the HT room to the bottom LEFT of the above diagram- Proposed Home Theater Room. As you can see I have about 20" of space from the bottom wall to where the cold cellar wall comes out...I am going to build my Fronts, Sub, and Plasma into that nook so they are even with the cold cellar installed in the new wall we will run across.
One important note to consider is I DO NOT want the Home Theater room to be completely closed off from the rest of the basement. I really want the option of being able to see my Aquarium while watching TV and having people over. We are thinking of building a very large open archway at the back middle of the room. I realize this is not IDEAL but then again having a 2000 Gallon Aquarium System is not exactly IDEAL either!
My main question/problem is where do I stop the room?? How far back do I go with the theater room but still leave space in front of the Aquarium for viewing??? I simply can't decide....any ideas??
I will install 2 walls (one at each side) at the back of the room so I can build my (2) RB-81 Rears into wall columns.
Here is my current EQUIPMENT LIST:Display-
58" Panasonic 700U- Plasma
Blue Ray/Gaming-
Playstation 3
Speakers-
Klipsch
Fronts- RF-82 x 2
Center- RC-62 x 1
Rear Sides- RS-62 x 2
Rear- RB-81 x 2
Subwoofer-
SVS- 20-39 PCI
Receiver-
Pioneer Elite- VSX-82TSX
Satelite/Cable-
Rogers High Definition
Remote-
Harmony- Logitech 1000
I am toying with the idea of going with a projector instead of the plasma but I'm gonna wait and see how the budget is near the end. I will update periodically and need a ton of advice...so comment away and PLEASE HELP !!!
thanks alot!
WS