I am really excited to get my new projector in this week (HD1000U) and receiver (Yamaha RXV661) and get it all set up for movie watching. I also have a BIC H-100 sub on order as well. Now I need to focus on figuring out speakers. I currently have my old Yamaha speaker system stored away (2) NS-A2835 towers, (2) NS-A636 surround, and (2) NS-A76 rears. I have not even used them since I moved into this house. When I moved in about 1.5 years ago, the house already had two speakers built into the vaulted ceiling. I really enjoy the clean look of the in-wall speakers, and I would like to buy the rest of the speakers for the 7.1 setup to go into the wall as well. My only dilemma is placement- and primarily for the back speakers since I really have no back wall per se since there is only a bar/ counter that seperates the living room from the kitchen...
Below is a layout of the room with what would be the ideal primary viewing/ listening location per
this guide
as shown.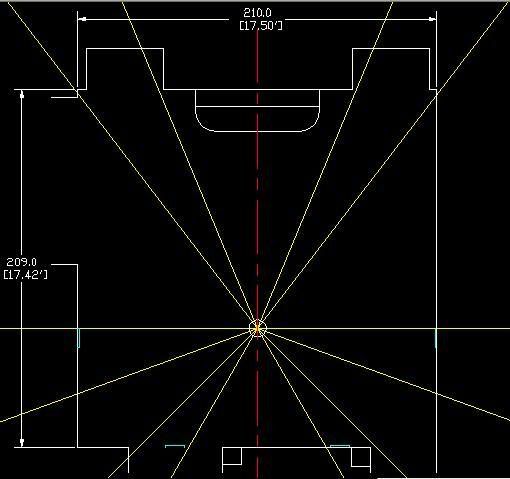 Below is the North wall with perspective speaker locations green, blue, or yellow or something else??? I can not quite get 45° separation from the viewing area on the front speakers unless I move them up higher above as shown with the blue option.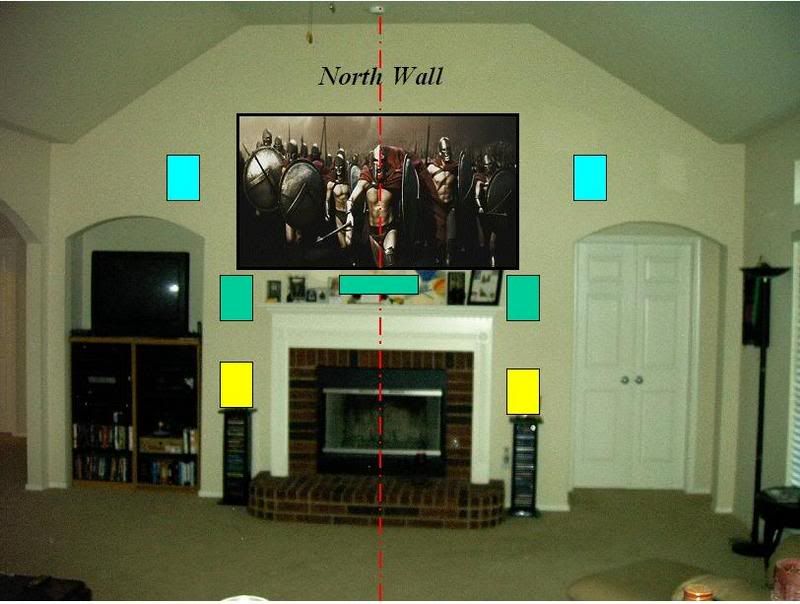 And this is the toughest decision I think- the south wall where majority of the seating is: Do I point the back speakers down, or is facing forward best for optimum sound? The dilemma here is that my only option for facing them forward puts them at a minimum of 9.5' high. (The image below is hard to depict, but the back wall is vertically straight up; only the side walls are vaulted.) I am afraid at that height, they would be very hard to hear if facing forward. Am I correct here? Should I do downward facing speakers as shown in the green or yellow, or should I point them forward as shown in blue?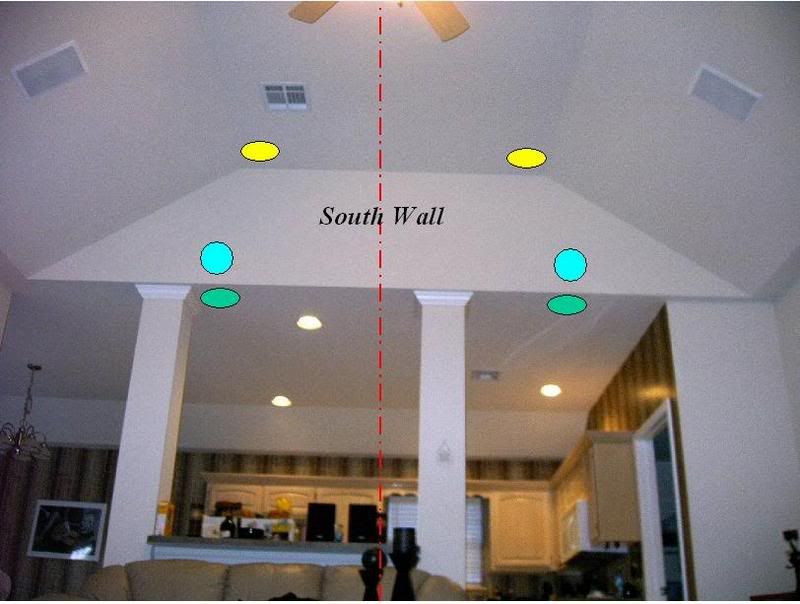 Room dimensions are ~17.5'x17.5' with the vaulted ceiling that starts sloping at 9' and goes up to 12' in the center at the highest point.
Thanks guys for any input