In dedication to our departed Soldier, a Warrior, a Gladiator, a true Spartan by the name of "Jeremiah Trotter", the construction of the EAGLES Nest has begun. Truly one of the very best Linebackers to ball in the City of Brotherly Love.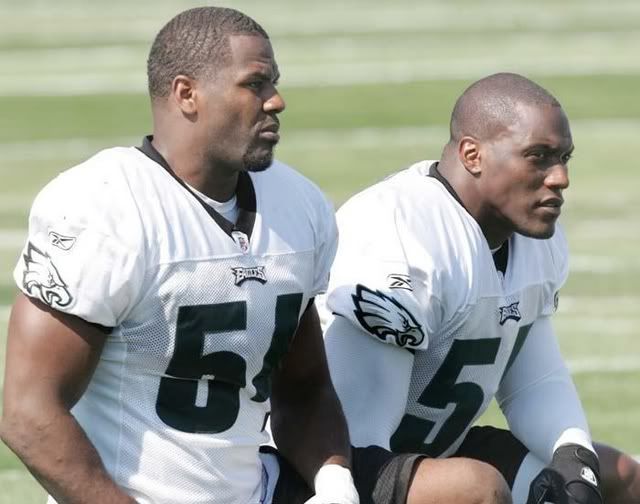 Like many others, I have been roaming these AVSforums for a few years. Admiring the great looking Home Theaters of those who allowed us to get a peak inside of their homes. So here is my chance to share and seek the wisdom and knowledge of the many Home Theater enthusiasts that roam these forums.
This will not be a Dedicated Home Theater. More like a General Home Theater and Media/Game Room. But I know the hardcore enthusiast hangs out here (and in the other forums also) and I wanted get some feedback from the you all. As I said before this will not be a Dedicated Theater but I would definitely like to have some sound isolation. Mainly avoid sound traveling to the 2nd and 3rd floor of the house. So I will not be doing and DD or GG in this construction. Maybe in the future. I am just getting my feet wet. Enough rambling.
Here is the scope of the project. I am remodeling a 19' x 32' x7' basement. One half of the room will be the Media Room which 10' x 19'. The other half will serve as a Game Room/Laundry Room/Home Office. I always see request for pictures so there will be a few pics to follow so you can see the layout.
The Equipment:
Display Source:
• Mitsubishi HD1000 or Optoma HD70 Front Projector and Samsung 50" 1080P Slim-Depth DLP HDTV
• 2 x 15" LCD Monitors in the Game Room mirroring whatever is playing in the Media Room
Source Component:
• Motorola HD Cable Box
• HTPC possibly w/ Dual Cable Card Tuner
• 2 - 3TB Windows Home Server
• Xbox 360 w/ HD DVD Addon
• Bravo D1 Upconverting DVD Player
• Xbox (original w/ XBMC)
• Playstation 2 (possibly PS3 in future for Blu Ray)
Audio Source:
• Onkyo TX-SR605 or Yamaha RX-V661
• Athena Audition Series (I own a 5.1 set of these already. 2 x AS-F1, 1 x AS-C1,
2 x AS-B1. I may add a pair of AS-R1 to the mix)
Here are some pics of what it looks like now and renderings of the finished project.
Floor Plan:
Back wall of Media Room: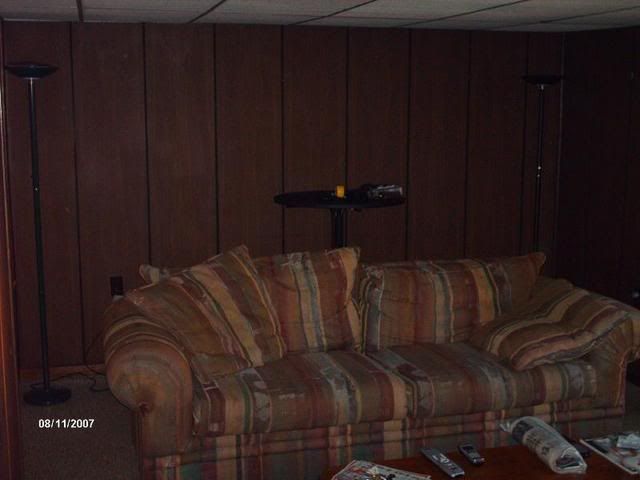 Screen wall of Media Room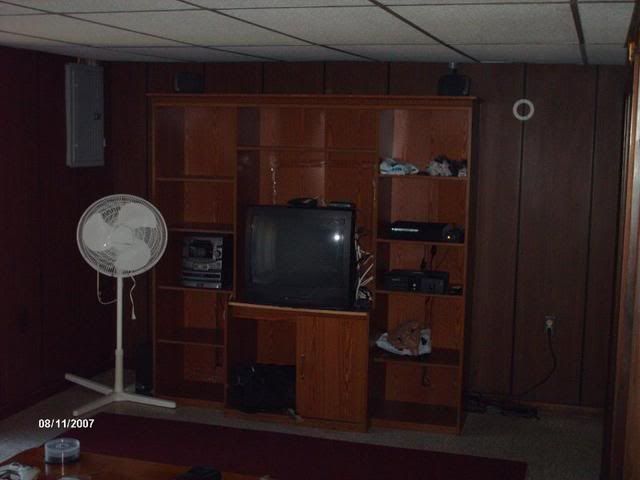 Screen up: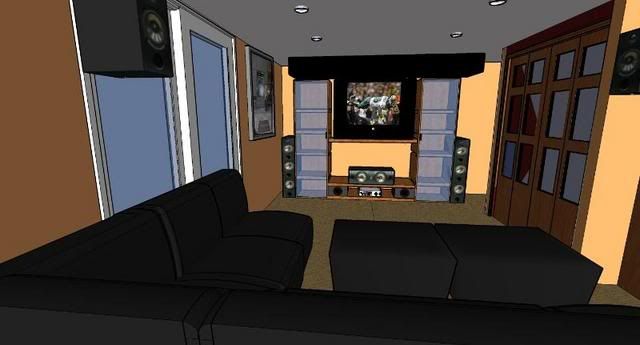 92" or wider Screen down: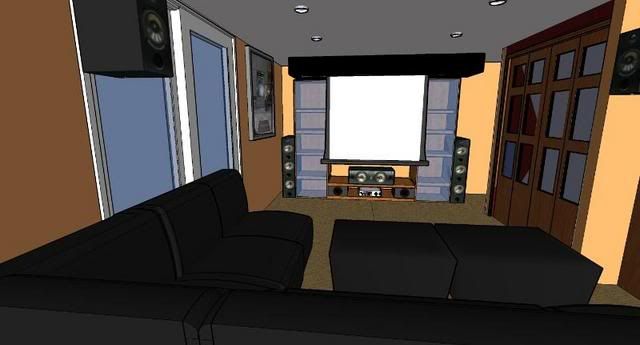 Future location of Pool Table: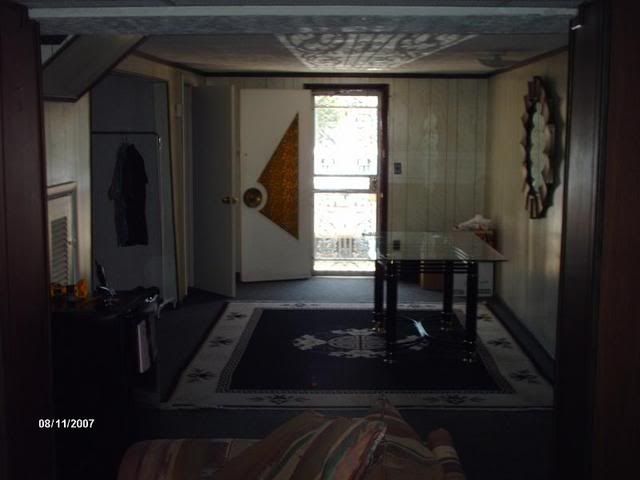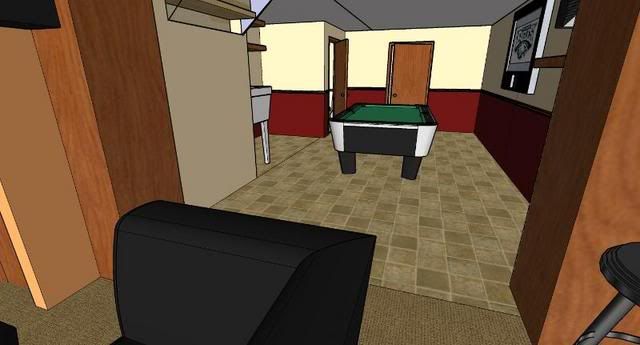 Well thats enough for the photos. I am open to suggestions on equipment and layout. Looking at the framing that was probably put up 20 to 30 years ago, should I take this down and put up 2 x 4s' framing around the basement or leave it as is? Most of the current framing is on every 16th. Any suggestions on sound isolation. I would like to keep the sound in the basement and not traveling throughout the house.
I am on a very tight budget of $5,000.00 for the construction portion. Most of the work I will do myself. I am having a HVAC guy run some duct work and some more returns in the Media Room. And an electrician to do some rewiring. I will handle most of the Low Voltage wiring. I already have runs of 2-Cat5e and 2-RG6 running through 6 rooms throughout the house. Everything will home run into a closet in the basement. I will run Conduit to the projector location and the Screen wall while everything is open.
In the future I would like to do some Home Automation throughout the house. Add things over time:
Whole house Audio: NuVo Concerto
Lighting: Zwave or Insteon
Security: Elk M1
Please chime in!
Curtis