EDIT:

I'll start things off now with the finished product: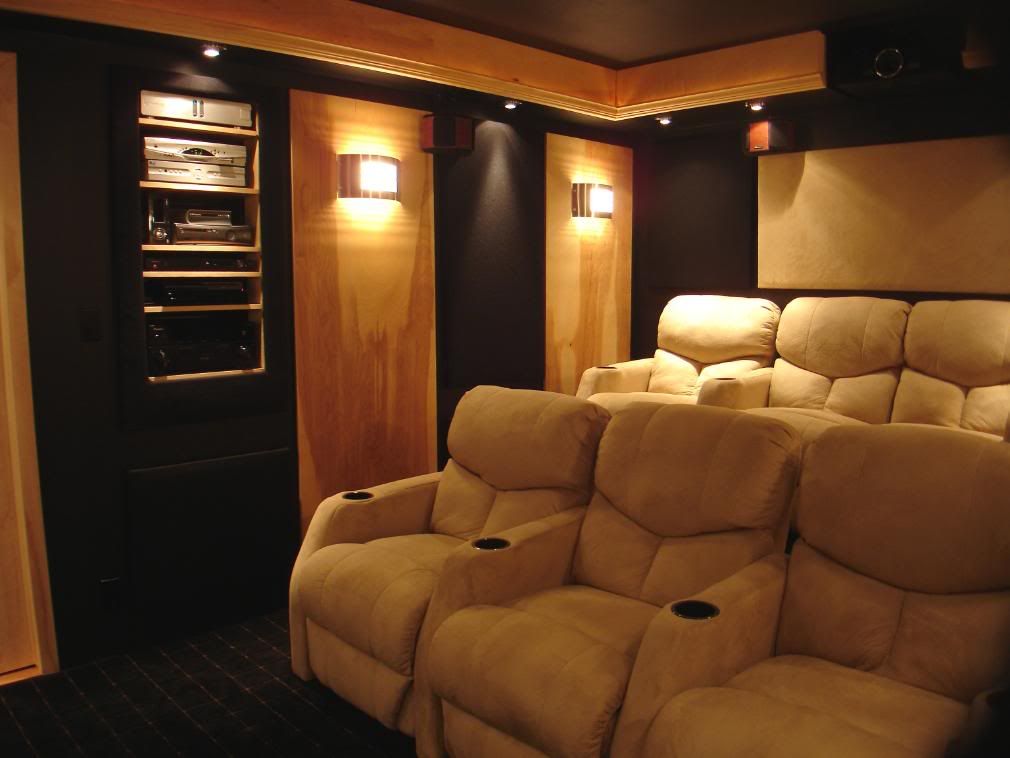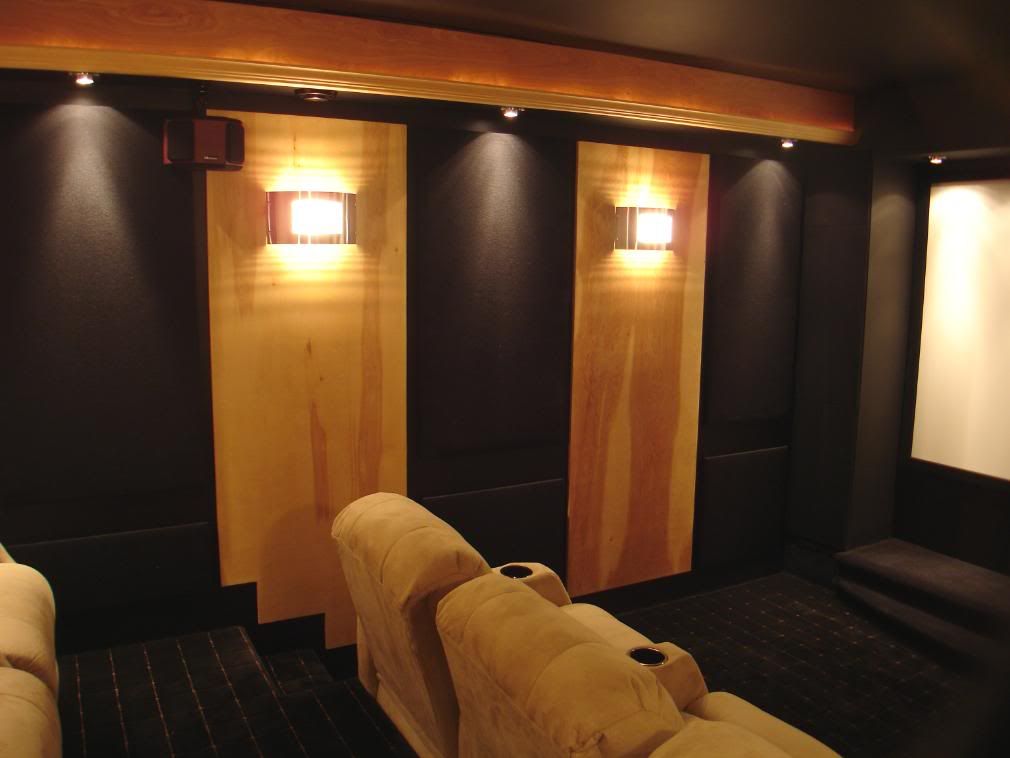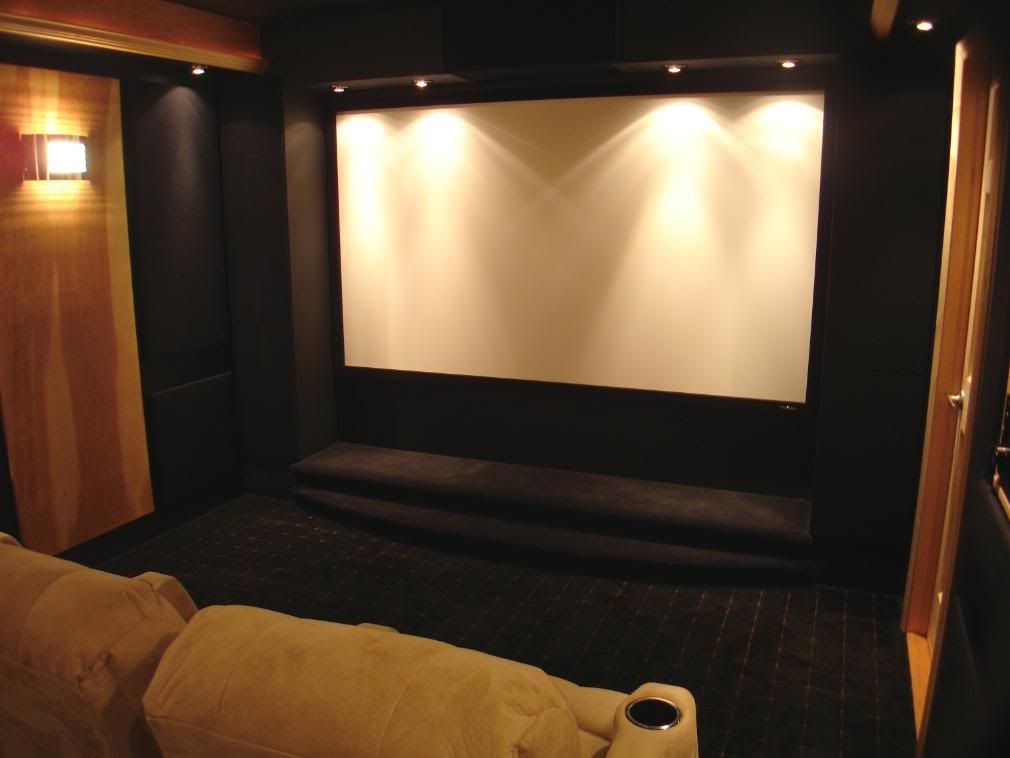 Just when you thought you have seen enough DIY theater construction threads, here comes another.
After sitting in my brothers theater for the first time (user Ryan Sprance), I was so blown away by what he had done that I decided to rethink that I needed a ridiculously large space in order to do this. Sure, I wouldn't be able to do the awesome lobby and candy machine he made, but surely I could turn a decent sized bedroom into something worthwhile.
After brainstorming with my father (an architect) and my brother, I give you the somewhat final renderings of what I hope will be "The Grindhouse". I have the demo set to be done in a week or two and with clean walls and studs, I will begin.
You will see some definite rip-offs from other threads in here, especially Bud's stage design. Sorry Bud but it was perfect for what I needed. I also give honorable mention to Jason's Royal Fortune Theater. Both of these designs definitely inspired me and showed me that I could definitely do this in the room size that I have.
And now for some details..Room size: 15'9" x 11' x 8ft h
2nd floor bedroom.
1st Row: 9 ft
2nd Row 14ft
Planned equipment:EDIT:
Panasonic AE2000u
EDIT:
Axiom speakers (M50's, VP150, Qs4s)
EDIT:
AV123 XSub
EDIT:
Pioneer Elite VSX-92TXH
Xbox 360 w/ HDMI + HDDVD
Playstation 3
DirecTV HD Reciever
Oppo 980H DVD upconverter
SA8300HD Cablevision DVR
Tvix Media Player
Berkline 088 seating, 2 rows ( 4 and 3)
EDIT: 108"
Carada Criterion brilliant white screen
Below are some renderings on the finished space: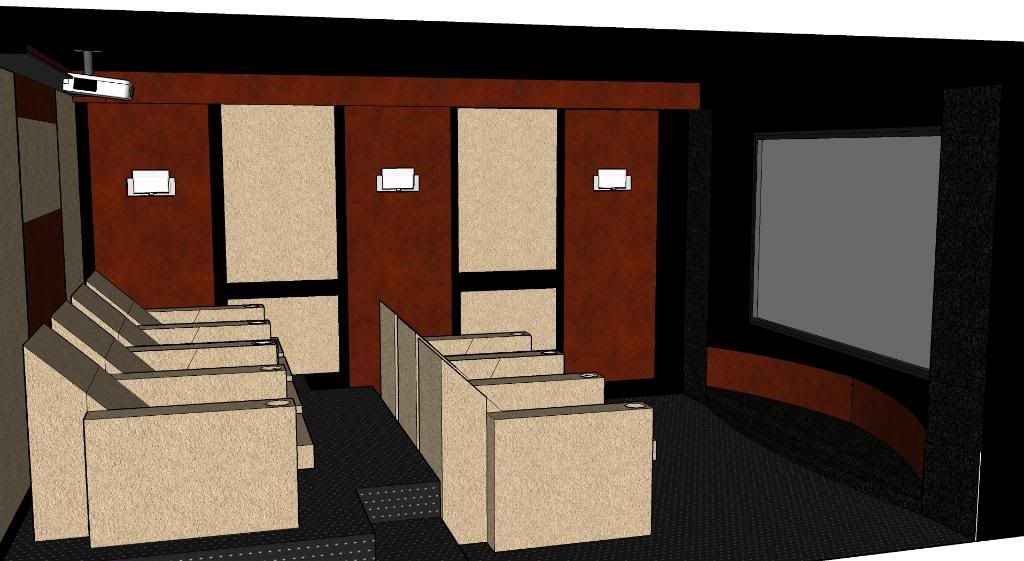 View from Corner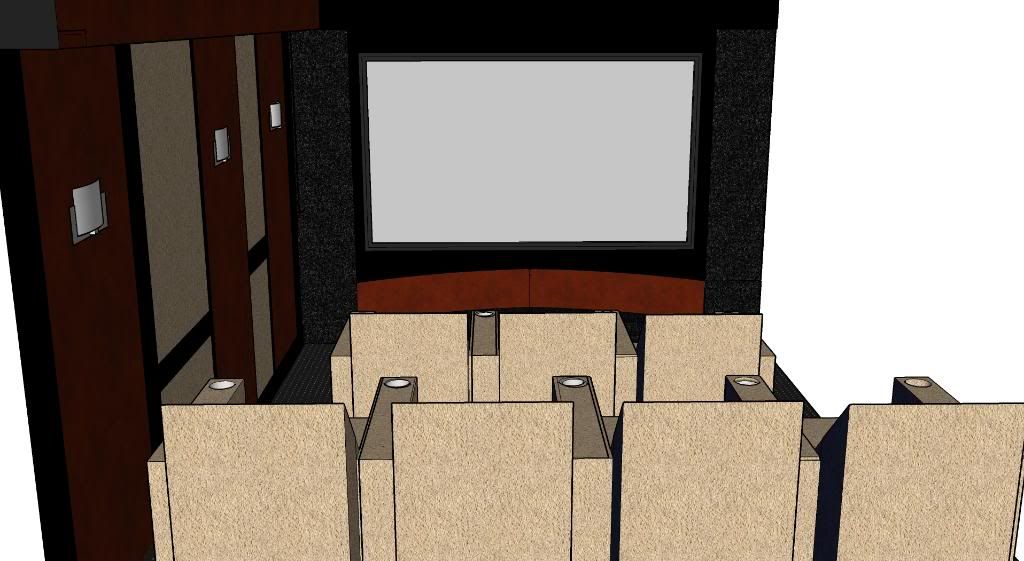 Back Row ViewA few things to note:
• The "art" on the wall in the back is actually a removable frame covered in blackout fabric, then canvas that will be painted by my friend that is an artist. This covers a window and when removed will let in light and air.
• Viewing distance to the first row is approx 8.5 feet, 14 feet for the 2nd row.
• The current design is set up for a 110" screen. I am not sure if this will be too big and may go with a 100" instead. I designed everything based on this size and will test with the projector before ordering the screen. If a smaller screen is needed it will then fit with no problem.
• Some renderings show the center channel above the screen just sitting there, my plan is to angle the soffit to point the CC downward to the listening area. This is only visible on the soffit detail rendering.
• I am planning to stop the soffit on the left and right of the projector so that the projector can be nearly butted against the back wall
• The fabric panels will be either linen or burlap and the wood panels will be most likely oak plywood stained cherry.
• While the entry door does not show up on these renderings, it is located near the right front speaker about 2 1/2 feet off the screen wall.
• The surround speakers are not shown in the rendering but go in the back corners of the room, mounted to the soft corners.
• Planning on a Lutron light controller for the soffit downlights and wall sconces.
• The grills on either side of the stage are for the subwoofer ala Bud's stage.
• I plan on building a large, GOM fabriced black frame to cover the speakers and all of the screen wall, to give it all the minimalist black look.
• The equipment cabinet is recessed into an adjacent guest bedroom. A small 24" x 24" x 8" enclosure with door will be built on that side to house it.
That is all I can think of for now, but I am sure there is much more to discuss. I will keep everyone posted with photos throughout, and I intend to post existing photos shortly. Thanks to everyone for these inspirational threads and to my brother and father for putting up with my annoying nonsense.
Time for the gurus to pick it apart!