My theater is named "Cheap Seats Cinema"... I am not looking for cheap theater seats. Sorry for the confusion!!
I sold my 1989 Mustang GT a few months ago. It was just sitting in the back yard, rusting, not generating any enjoyment whatsoever. So, a friend of the family decided to take it off my hands. I was sad to see it go, but saw an opportunity.
I had always wanted to have a huge screen in my house. I work in IT and as far back as 9 years ago, while attending presentations, thought a projector would be a perfect solution. So, one toy gone, time to buy others! I cleared it with my wife whose only stipulation was new carpet for the basement, which is also where the proposed theater was going to be.
A friend of mine has had a projection theater set up for a bit over a year. After sitting in his basement watching some demos, I was 110% convinced. Time for research. He pointed me to the AVS forums and I started reading... and reading....... and reading some more. Now, everyone has a budget, but mine was pretty low. Most folks spend more on a single plasma TV than what I spent on my whole theatre, including carpet!
Here's where I spent my money:
- BenQ W500 720p Projector
- DIY 100" screen (3/4" MDF, painted with
S-I-L-V-E-R
)
- Onkyo TX-SR605 AV Receiver
- Ascend Acoustics CMT-340 front stage
- Mach5 Audio IXL 18.4 (18") Sub (built into an
Easy Button
box)
- Behringer Europower 2500 pro-audio amp (for da sub)
- Denon up-converting DVD Player (model?)
- 3BM Smart Switch dimmer
- Logitec Harmony 720
- miles of 12 AWG speaker wire and a 20' HDMI cable
Everything got plugged into our basement in a room that's 26' X 22', but only 13' x 22' used for the theatre. There are currently no acoustical treatments, base traps, or other gizmos.
Now for finances... The total cost, including new carpet was around $6000 give or take a few hundred. Without the carpet, about $4300.
Here's some pics:
Temporary ugly test setup (the 'Before' picture). Love the carpet!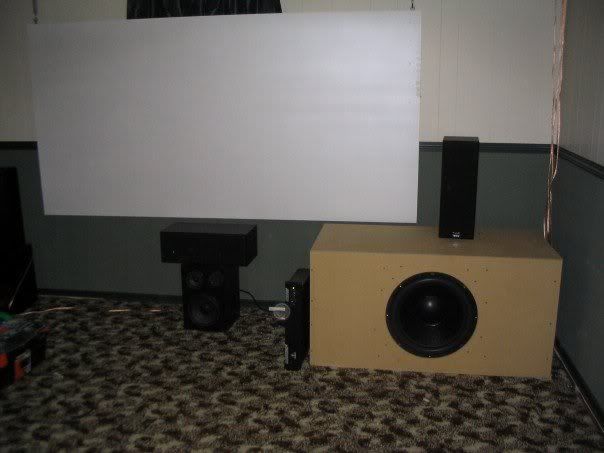 Building the sub box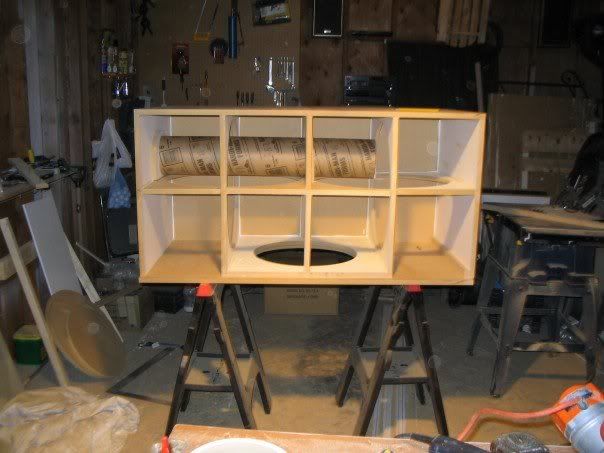 Ripping out the bar
Bar's gone
Carpet is coming out... I hate rubber-back
Still ripping rubber. Check out the 'AV Rack'!
Rubber is gone. Brutal cracks in the floor
...