This session was a continuation of the listening tests conducted at PBC's place in September.
http://www.avsforum.com/avs-vb/showthread.php?t=913510
.
It was decided that for Part 2 we move to a larger HT dedicated room with room treatments and equalize all the subs. So I volunteered my room last Saturday and the group consisting of myself, PBC, Huff, Jesse S, the Bogg, and Soundemon (from Canuckaudiomart) gathered at noon for a day of chatting, comparing gear, food and beverage. And we also listened to a few subs.
The room is 19'x21'x8' ft with floor to ceiling basstraps in the corners. The entire front wall is covered in Roxul R12 acoustical panels hidden behind heavy Velvet curtain. A quarter of each sidewall is also covered with Roxul 12 panels. Overall the room is well damped but not overly so. The A/V gear consisted of the following: 7 Totem Model One speakers crossed at 90hz, Arcam avp700, Outlaw 770 amp, Toshiba XA2 HD-DVD player, JVC-RS1 projector, Vutec Silverstar screen, SMS-1 equalizer.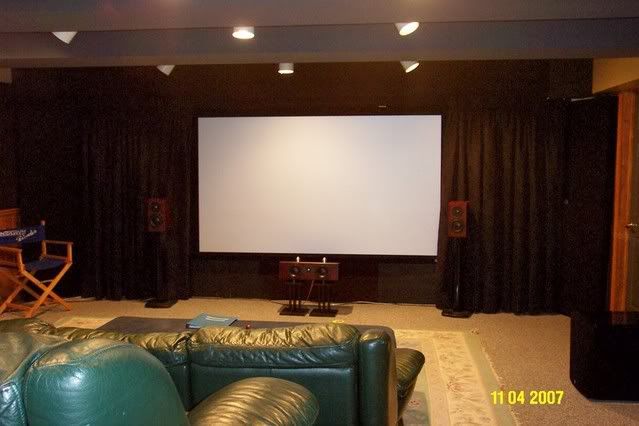 We spent the first couple of hours setting up the subs on the left side midwall 3 metres from the seats, and connecting them to a switchbox for blind testing. Each sub was equalized flat using an SMS for easy switching as well. All subs were calibrated flat at 80db, 2db hot or 3db below Dolby reference. The idea was to test these subs using a variety of demanding music and soundtracks, and in particular to see how they behaved when pushed near their limits.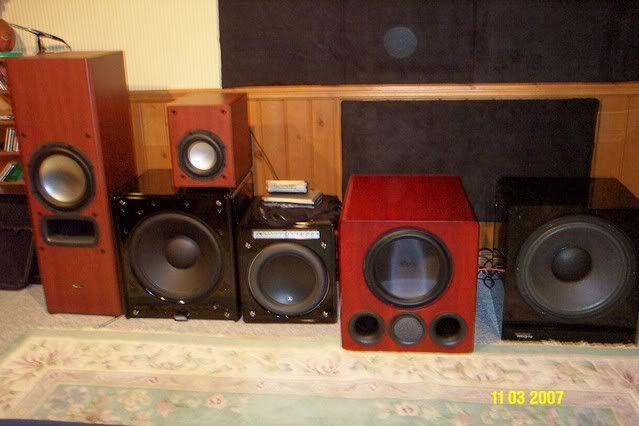 The subs for this session consisted initially of from left to right: Axiom EP600, Velodyne DD-18, EP400 pair, JL113, SVS Ultra-13, and an older Velodyne FSR (HGS)-18. The FSR-18 response appeared to be oscillating when we tried adjusting it with the SMS so it was dropped from the actually listening session.
After equalizing the subs we spent an hour or so acclimatizing ourselves with tunes and soundtracks. After a food and beverage break
the group got down to business, blind listening as I switched subs with various soundtracks and some music. Because I was doing the switching and knew the identities of the subs I will save my comments for last but it was interesting listening to impressions.