This thread could fit in either the AV dist. section or the Automation section. I have been very active in the Home Theater Construction area but have not yet done anything in this portion of the forums. I am re-doing my house since it got hit by a tornado in April of 06. The build has been slow... but it is almost time to move in. I finished structured wiring for the house. I wired for:
1. An
AVAtrix
feed to every room
2. An off-air antenna feed to every room
3. Hole house audio (
CAV 6.6
or similar) w/ control panels in all rooms.
3. Mic/Speaker in each room for automation.
4. Standard Structured Wiring in all rooms (2 cat6, 2 RG6, and multimode fiber) also 1 or 2 cat5e per room for phone, etc.
5.
Touchscreens in all rooms (UTMA in-wall)
6. Alarm sensors on exterior doors and windows, plus glass break sensors, water leak sensors, garage door sensor, doorbell sensor, phone sensor, and smoke/co alarms tied in to the panel.
7.
Electric door strikes
on front door and door to house from garage.
8.
Proximity card access
for unlocking doors.
9.
4 exterior security cameras and 4 interior cameras
tied in to
IP ready DVR
.
10. Dedicated wiring for several satellite dishes (Dish Network, C-Band, and KU Band FTA)
11. Conduit for future expansion.
12. Tornado saferoom wired for AV and exterior antennas.
The HT will have all the above A/V connections...plus dedicated 7.1 surround, and independent A/V connections.
The house will be controlled by an
ELK M-1
/
MainLobby
configuration.
All light switches will be
UPB
.
All video/audio,computer, etc. equipment will be in a 6 foot rack.
Other items will be mounted on the plywood wall.
So lets just say I pulled ALOT of cable.
I won't be able to buy everything at once, but I have the wiring in place for when I make the purchases :-)
Here is a pic of the equipment room (and cable pull) where the brains of the house will be. Excuse the mess... I have not trimmed the wire yet.
Elk Panel:
Flat panel connections in all rooms are like this: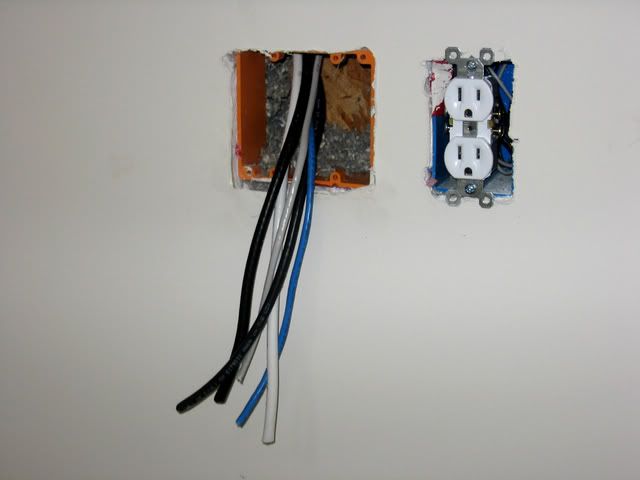 The rear of the house has a pole for satellite dishes, etc.
Here is the home theater room so far:
...and looking back to the riser and the edit bay: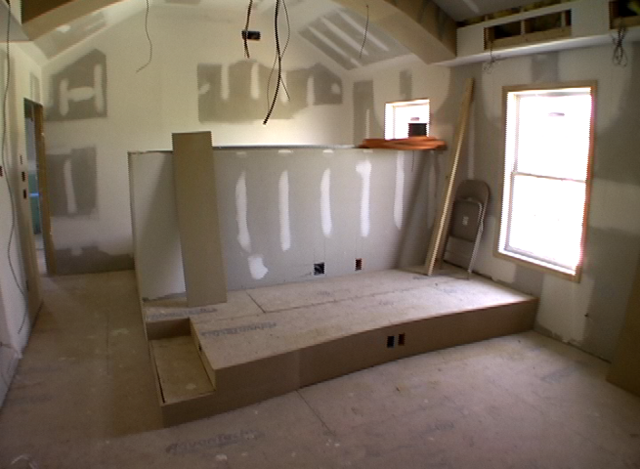 Projector connections: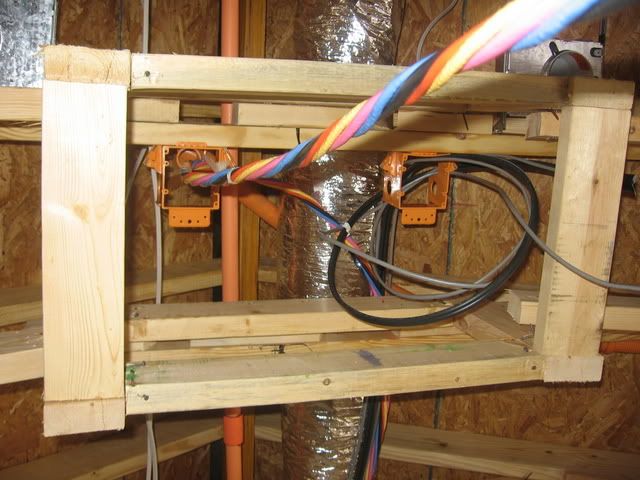 UNL-12 Electric Doorstrikes:
Saferoom Entrance:
I have been concentrating mostly on my theater... and the above ideas for equipment were drafted several months ago. So if anyone has other ideas for whole house AV other than an Avatrix and a CAV system...please share.
Thanks,
Cam