I have a 42" Panny plasma and fugly clunky Onkyo HTIB with black speakers. I used to have a big projection sitting on a huge entertainment center I built which is kiddie-corner, taking up tons of room, and has like 5sqft of dead space behind it.
I'd like to hang my plasma on the wall for wow factor (and to save space) but don't know what to do about the speakers or components. I can build an entertainment center or TV stand but once you put the huge speakers on it it looks bad and sound is much lower than the TV height (and not far enough apart).
What do you suggest?
1) leave TV kiddie corner, build shallow entertainment center, sacrifice sound quality/surround sound by keeping speakers in the tv stand. leaves room to buy a big chair and ottoman for other corner.
2) hang TV on center wall and put tv stand beneath it and hide speakers in it or put speakers on top of it or buy in-wall speakers to install in wall. i'd like to hang tv but not sure how to handle speakers or stereo.
3) build built-in bookcase and either sit tv in center or still hang on wall. that way speakers can be at corners of room in side bookcases but this takes up tons of space
4) some other option (shelving, different speakers, something creative)?
here are some pics/possibilities that i have been considering. are there any websites of installs and furniture solutions?
looks good but once i add my huge speakers to left and right of tv will look bad. maybe can incorporate front left/right speakers into stand kinda like my current one is but speakers would be low to ground.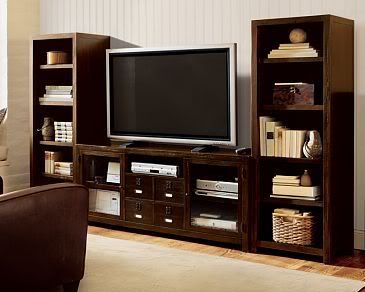 don't like the towers on left and right look plus would dominate my room.
this looks horrible and what i'd like to avoid if i do a wall install.
this is kinda what i mean by built-in bookcase although it would be more basic (shelving on top, cabinets on bottom)
here are pics of my family room so you can see the amount of room and the wall space and the current tv stand i built for my old projection tv.