Quote:
Originally Posted by
wajo
I went all over town to see if I could find some "cheapo" HDMI cables to try... nada.
I'm wondering, the Philips HDMI cable we both used is straight cable to the end fittings, and it doesn't have the ferrite cores like the highly regarded Monoprice.com cables have. I was looking specifically for a cable with those cores.
A cable with the added cores looks like this pic from Monoprice.com: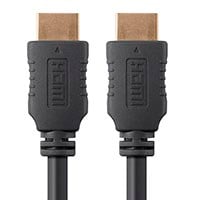 Does your 99-cent cable that you like best happen to have those extra cores behind the end connectors?
The philips cable was a 3ft without ferrite core. The 99-cent cable is 6 ft and does have ferrite core on each end.
BTW, I tried dark scenes from 3575 on HDMI while playing DVD with this new HDMI cable. The vertical purple lines are all gone. I could see only one such line, that too comes and goes and when it is there it is very light. So it was HDMI cable interference problem.
Also I got Incredibles DVD from library and ran THX optimizer. My contrast, sharpness, color, tint etc are all set as they should as per optimizer. Only difference is my brightness is set a bit higher than recomended. Recomended setting says that I should not 3 darkest black shades out of 10, but by my seeting I see all. If I set brightness to hide the 3 black blocks, then while watching TV and DVD I loose details in black shadows and picture is too dark. Hence I increased brightness back to where it was. My setting is 40 (out of 1 - 60), but as per optimizer, it should be 27.
My TV has Blue enhance, Green Enhance, Enhance color, Dinamic contrast control, Tint control, etc. The best picture and with natural color I get when I set those ALL to OFF. My TV also gives Lamp control 1 - 7. I have set that to 6. That really improves the picture.
Hope all this info help everybody.