Quote:
Originally Posted by
xj-boonie
Thanks for the response about the cooler and IGP.
Hopefully last question: I currently use an optical S/PDIF to my receiver. It doesn't look like either the A-N78HD or GA-M78SM-S2H have optical S/PDIF, and GA-M78SM-S2H looks like it has coaxial S/PDIF but newegg list it as optical. If I were to go with A-N78HD, what would be the best way to get the sound to my receiver (which does accept 5.1 analog sound input, I believe).
GA-M78SM-S2H has only a coaxial S/PDIF out in the rear panel. Doesn't your receiver have coaxial in? S/PDIF is a preferable way to onboard analog. To get S/PDIF (coaxial) from A-N78HD, read
Build a Coaxial S/PDIF Bracket Yourself
.
If you are lucky, you may be able to find Gigabyte Motherboard Coax SPDIF In & out Audio Cable at eBay.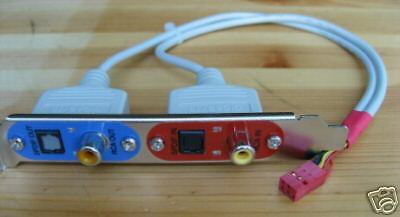 Or you may use a
Coaxial to Optical Digital Audio Converter
.