Dvico M4110sh, a famous media player in the world form south korea.
Istar Mini, the new mini media player from china
which is better?
Dvico M4110sh: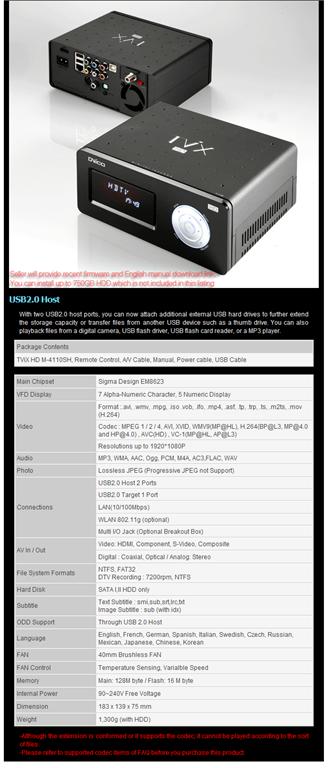 Istar Mini:
Main Chipset: SIGMA DESIGNS 8635 REV C (the newest chipset installed)
Memory: HY 256M
FLASH:SPANSION 32M
HDMI:SIL9002 (1.1) HDMI 1080P no glint and chromatic aberration.
SIL9134(1.3)
SATA: *1
IDE: *1
Network: RTL8201L 10/100M 802.11N Wireless 300M (optional)
Stereo: AC3 DTS output
USB2.0: *1
Optical output: *1
Coaxial output: *1
Power:12V
Connections:
1 12V 5A FSP Power
2 HDMI *1
3 Optical output *1
4 Analog output *1
5 Network Connection Line *1
6 User Manual
7 Remote Control
Video:
o MPEG1/2/4 Elementary (M1V, M2V, M4V)
o MPEG1/2 PS (M2P, MPG)
o MPEG2 Transport Stream (TS, TP, TRP, M2T, M2TS, MTS)
o VOB
o AVI, ASF, WMV
o Matroska (MKV)
o MOV (H.264), MP4, RMP4:
o XVID SD/HD
o MPEG-1
o MPEG-2
? MP@HL
o MPEG-4.2
? ASP@L5, 720p, 1-point GMC
o WMV9
? MP@HL
o H.264
? BP@L3
? MP@L4.0
? HP@L4.0
? HP@L4.1
o VC-1
? MP@HL
? AP@L3
Audio:
o AAC, M4A
o MPEG audio (MP1, MP2, MP3, MPA)
o WAV
o WMA:
o WMA, WMA Pro
o AAC
o MP1, MP2, MP3
o LPCM
Built-in DTS decoder
Built-in AC2 decoder
Picture : JPEG, BMP, PNG, GIF
Other file format: ISO, IFO
Plug subtitle format: SRT, SMI, SUB, SSA