Quote:
Originally Posted by
bplewis24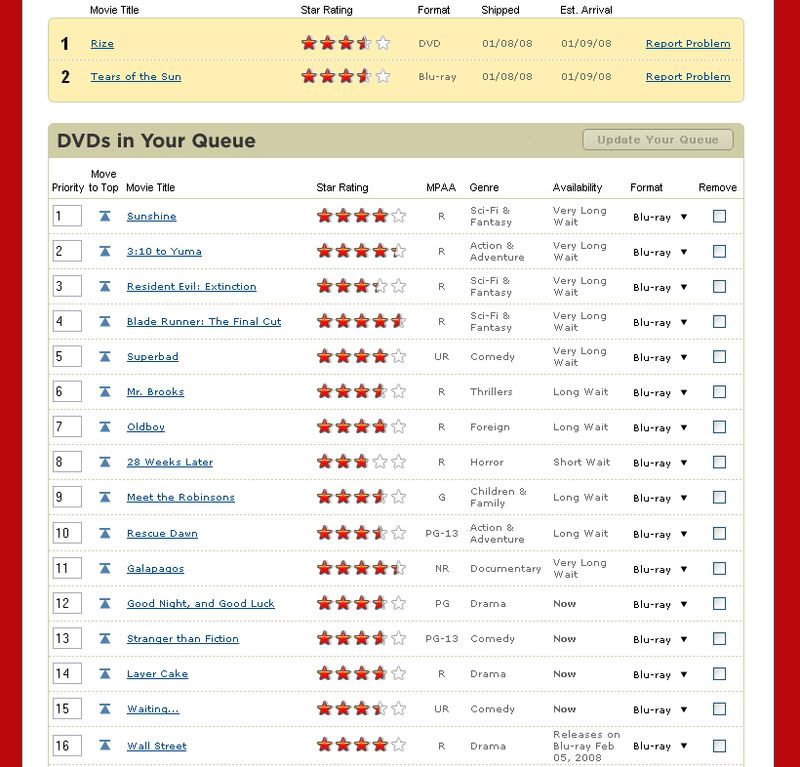 Here is my netflix queue. It was a lot worse about 3 weeks ago when I had 25 or so BDs in my queue. For about 2 weeks straight before that point I hadn't gotten
ONE
BD. And let me tell you it sucks to drool over what BDs you might be getting that week and end up stuck with DVDs
You'll notice titles like Mr Brooks and Superbad have been out for nearly a month already and other titles like Oldboy and 28 Weeks Later have probably been out longer than that. What really sucks is that one day a week ago I noticed that netflix had received my return that morning, and Oldboy was available "now" for the first time. I was sure I'd get it, but instead got some DVD instead.
Brandon
I just sent Sunshine back on Thursday maybe that will help. I've been sitting on Mr Brooks for a week or so. I'll try to watch it this weekend and send it back.
IMO Sunshine is not worth the wait.