[Moderator note: Here's a link to PS3 BD player discussion thread:
http://www.avsforum.com/avs-vb/showthread.php?t=650544
This PS3 as a BD player guide/FAQ will supersede post #1 in the previous link. Please help Steve with new info and only use this thread for contributions or corrections. PS3 talk should go in the linked thread. Thanks.]
The PS3 is a very complex media device, with many many options. It can be daunting to try to comprehend all the video and audio options available, and it can be daunting to approach the multi-thousand post PS3 thread as a new or potential PS3 user. This FAQ is intended to guide the new user through the baptism process. The key word is
guide
: you need to do some of the work yourself.
How do I turn the PS3 on?
OK, that one doesn't get asked very often. But the number one piece of information we can give you is
RTFM
. Start here, with the
Online Playstation 3 Manual
. It's a very clear walkthrough of the available video and audio settings.
After reading that, ask away in
the main PS3 thread
. But please don't ask "what does the
Cross Color Reduction Filter
do? RTFM.
What is the difference between the 40GB and 80GB models?
As a PS3 game machine and Blu-ray player: none. The 40GB lacks PS2 backwards compatibility, SACD playback, and has two rather than four USB ports. The 80GB has a memory card reader.
http://www.us.playstation.com/PS3/Ab...b&LCTN=LP_40GB
I have a widescreen TV but I still see black bars on some movies.
This one is easy to understand. Really. Movies are rectangular, and they come in a lot of different size rectangles (aspect ratios). If the movie rectangle isn't the same proportions as your TV's rectangle, it won't fill the screen unless you distort it by stretching it vertically or horizontally. This article by Joshua Zyber explains it pretty well:
http://www.highdefdigest.com/news/show/764
How do I check my firmware version?
On the PS3
XMB
, choose Settings, System Settings, System Information. The current version is 2.1.
How do I update my firmware?
The simplest way is to connect your PS3 to the internet. Then, from the XMB, choose Settings, System Settings, Update via Internet.
If you don't have a network connection, you'll need to download the update and copy it to a USB memory stick or a memory card if your PS3 model has a memory card reader. Get the update and instructions
here
.
AUDIO SETTINGS
**************************************************What audio codecs does the PS3 support? Should I use Bitstream or LPCM?
In a nutshell: Use Bitstream with an optical connection, LPCM with HDMI.
The PS3 will not bitstream advanced audio formats to your receiver. It will not send advanced multi-channel formats over optical. It will decode all but DTS-HD and convert them to LPCM and pass that to your receiver via HDMI. It is rumored that DTS-HD MA support will be added in a future firmware update. In the interim, a 1.5mbps DTS track will be extracted from the DTS-HD MA source over optical or HDMI.
Quote:
Originally Posted by
chris0
For those still a bit confused by all the audio stuff here are two links that should help.
This one explains the difference between decoding in the player (sending it PCM) or in the receiver (HBR bitstreaming, which the PS3 can't do.)
http://www.highdefdigest.com/news/show/853
The relevant part is about halfway down under "New HD Lossless Audio Formats."
This one explains all the different codecs. It's a long read but a good one.
http://www.highdefdigest.com/news/show/1064
Does the PS3 play CD's?
Yes, and it upconverts them to up to 176.4 KHz with selectable digital filters.
Does the PS3 play SACD's?
Yes,
except
the 40 GB Model. You need HDMI to get the best sound and multi channel play. The optical and analog outputs give you 2 channel sound, but only 44.1 KHz over optical.
See this
PS3 SACD FAQ
Does the PS3 have analog outs?
No. Well, there is stereo analog out from the AV Connector.
**************************************************
VIDEO SETTINGS
**************************************************Under Video Output Format (HDMI), what are RGB, Y Pb/Cb Pr/Cr and Auto for?RGB
: A colorspace used by the PS3 to output video levels at a desired range. This colorspace is mostly designed for PC monitors. This is the desired colorspace for use in the PS3's
XMB
interface and also for
video games
because they are encoded in sRGB.
Y Pb/Cb Pr/Cr
: Another colorspace for use with displays that accept Y Pb/Cb Pr/Cr input. If your display supports it, this is the desired colorspace when watching
DVD, Blu-rays or AVCHD
videos.
Auto
: Just like it sounds, it automatically selects between RGB or Y Pb/Cb Pr/Cr colorspaces depending on the source of the video. Selecting "Auto" will most likely result in the PS3 using RGB Levels for the XMB interface and Video Games, and Y Pb/Cb Pr/Cr for DVD and Blu-ray discs.
Which one should I choose?
That depends on your display, connection and calibration settings. Try using starting with "
Auto
" (see why above under "
Auto
" above).
I notice weird things happening with colors when selecting Y Pb/Cb Pr/Cr or Auto. What should I do?
Try forcing the PS3 to output
RGB
levels to see if this eliminates the problems. Your display may not accept, or may have trouble with Y Pb/Cb Pr/Cr input.
Does it matter if I'm using component cables?
TBD
So then under Display Settings, should I have RGB set to "Full" or "Limited"?
Most TVs can experience "black crush" when "Full" is selected because the colorspace is being mapped beyond what the TV is expecting. Start with it set at "
Limited
" and calibrate your TV accordingly. Use grey-scale test pattern images if necessary during calibration.
See
this discussion
for a more detailed discussion (for and against)
What about Y Pb/Cb Pr/Cr Super-White? "On" or "Off"?
Y Pb/Cb Pr/Cr Super-white is used to pass Blacker-than-Black (BTB) and Peak White (WTW) levels during video playback. Setting this to "
On
" should benefit your display as long as your TV accepts Y Pb/Cb Pr/Cr input over HDMI. Again, try using a test pattern DVD/BD to calibrate your display after this is turned on.
Not all displays are alike, so use common sense. If you notice a decrease in picture quality after changing any of the above settings either try recalibrating the TV or revert back to the previous setting.
How does the video compare to standalone players?
Most users think the PS3 is in the top tier of upconverting players, falling somewhat below only those with high quality dedicated chips like the Toshiba XA2.
Link to be added.
How good is the DVD upconverting?
PS3, Upconversion and Blu-ray
**************************************************What are the differences between Blu-ray Profile 1.0, 1.1, and 2.0?
Blu-ray profiles explained in detail
Is the PS3 Profile 1.1 compatible?
Yes.
Is the PS3 Profile 2.0 compatible?
Not yet, but Sony has announced that it will be, via a firmware update.
Can I use my Harmony remote with the PS3?
Only if you use a USB IR adaptor:
http://www.nyko.com/nyko/products/?i=113
http://www.schmartz.com/main.sc
How do I use the controller as a remote?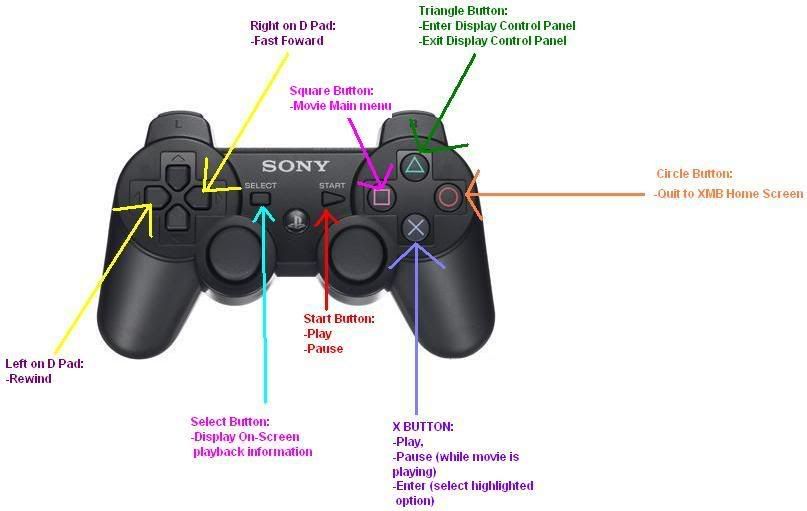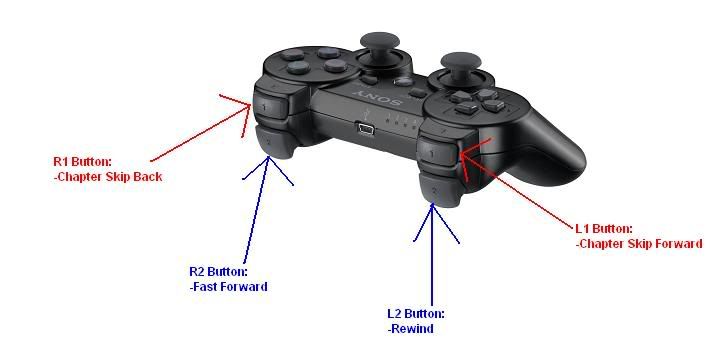 What's the best way to connect my receiver and display?
If your receiver has HDMI inputs and outputs, connect your PS3 to your receiver with an HDMI cable, and connect your receiver to your display with HDMI.
If your receiver only has optical inputs, connect your PS3 to your receiver with an optical cable, and connect your PS3 to your display with HDMI. If your display doesn't have HDMI, you'll need to purchase the
PS3 component AV cable
. If your display doesn't have component, I'm sorry for you.
Can the PS3 output video over component while simultaneously outputting audio over an HDMI connection?
Yes, and other combinations, like video over HDMI and audio over optical, are supported.
Can the PS3 output audio over HDMI and Optical at the same time?
No, only one audio output at a time.
Where can I get a good deal on the PS3?
Generally the PS3 sells for full list price. Occasionally there are some bonuses, such as adding on a free Sony remote. If you apply for a SonyStyle credit card
here
you can get a $100 credit on a PS3 purchase directly from Sony.
Should I buy the PS3 or the xxxxx?
Sorry, you're going to have to make up your own mind on that one. You might want to take a look at the
Help a guy choose a Blu-ray player thread
for some opinions.
How do I stream content to the PS3?
Apple:
http://www.nullriver.com/index/products/medialink
Windows Media Player 11:
http://www.microsoft.com/windows/win...a/default.mspx
TVersity:
http://www.tversity.com
How do I configure the WiFi?
If your WiFi is unprotected, just go to Settings-> Network Settings -> Internet Connection and choose Easy. If it's protected, choose Custom and you'll be prompted for the SSID and the security key, which you'll need to get from your router's configuration page.
What is Folding@Home?
Folding@Home is a distributed computing project for scientific inquiry into protein folding as related to disease. You can donate time on your PS3, as a member of the avsforum team, no less. You can set a timer to shut off the PS3 after running for a specified period or when the next work unit (WU) is done. You'll need an internet connection to download WU's and folding software updates.
See folding@home
web site.
I think the PS3 is ugly
Sorry, that's not a question.
Thanks to chris0, geko29, CasualViewer, bplewis24, joeblow, Rich Davenport, 30XS955 User, BigScreen, splinters.