Mike -
I haven't heard the Denon, but here is some objective findings on the Classe and the Denon that you might find helpful.
Jitter level comparison (lower is better):
Jitter with SPDIF input:
10ps Classe SSP800
15ps DCS Scarlatti
37ps Pioneer SC-LX81
40ps Cambridge DACMagic
50ps Arcam AVR600
121ps Sony SCD-XA5400ES
183ps Yamaha RX-V3900
250ps Denon 2500/AVP-A1
430ps Onkyo PR-SC886
470ps Onkyo TX-NR906
485ps Audiolab 8000AP
560ps Denon 3808A
Jitter with HDMI input:
5ps Arcam AVR600
21ps Classe SSP800
50ps Pioneer SC-LX81
200ps Sony XA5400ES HATS on
2200ps Denon 2500/AVP-A1
3700ps Denon 3808A
3860ps Onkyo TX-NR906
3920ps Onkyo PR-SC886
7660ps Yamaha RX-V3900
8000ps Sony XA5400ES HATS off
8490ps Audiolab 8000AP
HDMI is notorious for high levels of jitter-- in the thousands of psecs on average, so just 21 psecs of jitter through HDMI on the SSP-800 is stellar performance.
While the threshhold for the audibility of jitter is often debated, it is good to see some objective validation of the SSP-800's performance.
HFN technical review: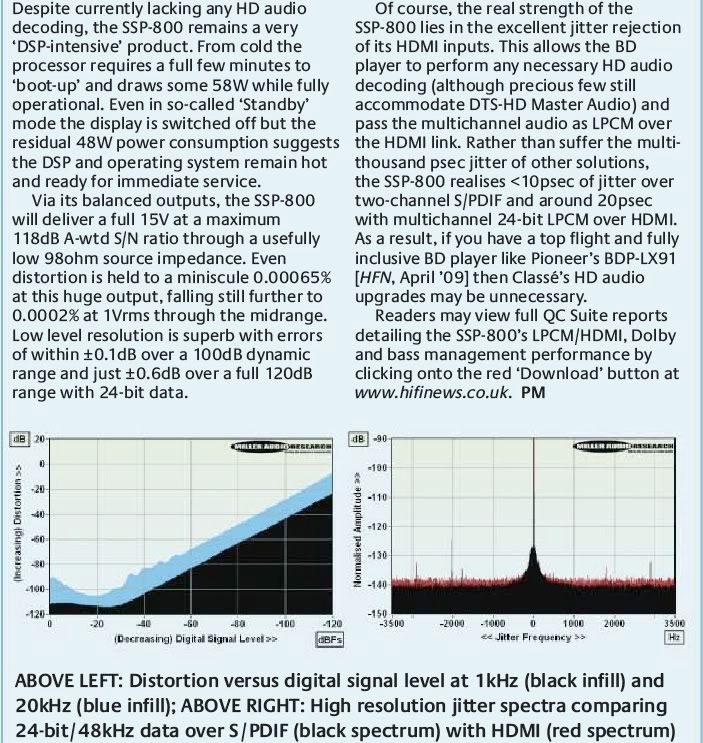 FWIW - I chose the SPP-800 over the Anthem Statement D2, and the Lexicon MC12HD.