Quote:
Originally Posted by
pmeyer
That would be a no
. I'll definitely report back.
I'm not too worried about the slides themselves jamming. The rack 'racking' forward and back I'm not too worried about because I'm essentially building solid 3/4" plywood sides firmly attached to steel rails at the front and the back. I'll drill big holes as needed for ventilation.
I *AM* a bit worried about the rack racking laterally. For the back, I'm planning to go with 5" tall plywood at the bottom and top, and some steel cross braces.
The front is tougher. I clearly don't want angle braces on the front, and I'm too cheap (for now) to buy heavy duty face plates for all of my equipment and machine them. I've got two HBL2 2U (3.5" tall) thick aluminum front blank plates for the top/bottom. I'm hoping they give me some racking support in the front. We'll see.
The funny thing is that I'm WAY overbuilding this for some potential future use. For now, I'll probably have:
AVR: 30 lbs
PS3: 10 lbs
Cable Box: 10 lbs
When I'm done, my RACK will probably weigh as much as all the equipment combined!
But, I'll have a lot of fun building it! And for years, I'll be able to talk about how it'll be able to handle my separate amps and video processors and HTPC's and all the other stuff that I'll actually never get. But I'll have racks that can handle them!
LOL... sounds WAY too much like me and my plans for what I'm going to build.
Quote:
Originally Posted by
ejhuzy
Here's a shot of my DIY rack. Mine's real simple, but spacious and effective. It didn't have to be real pretty because it's living in a closet.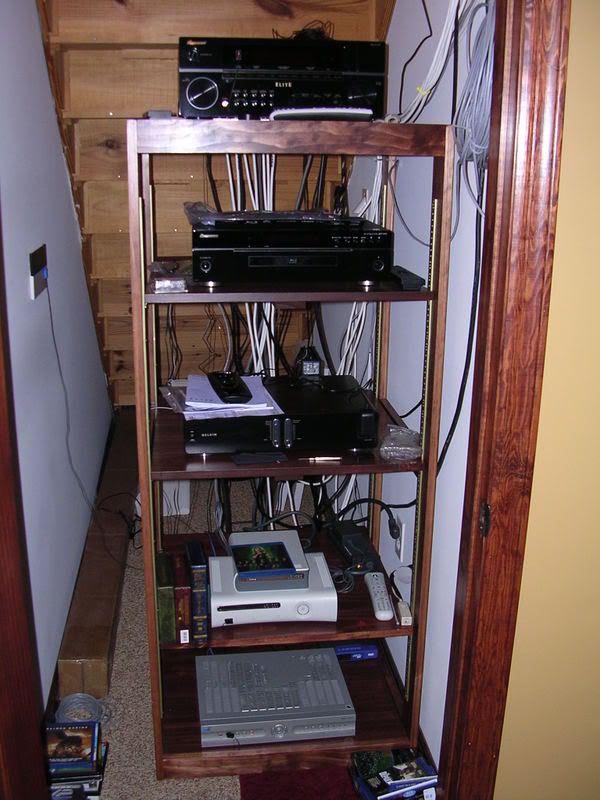 Get's the job done and it only cost around $75 for materials. Shelves are all adjustable. I used those furniture moving pads on the bottom to make it easy to move around.
The area that my components will be housed looks almost identical to that. However I'm going to turn them 90 degrees to the left and open a hole in the wall on that side as that is the room my HT is to the right. Cant wait to get started on the new house and project then post pics.