Project is finished. Here are INITIAL screenshots of the home-theater before the screen, seating, final equipment went in. Final pictures can be found here -
http://www.avsforum.com/avs-vb/showt...#post18094233: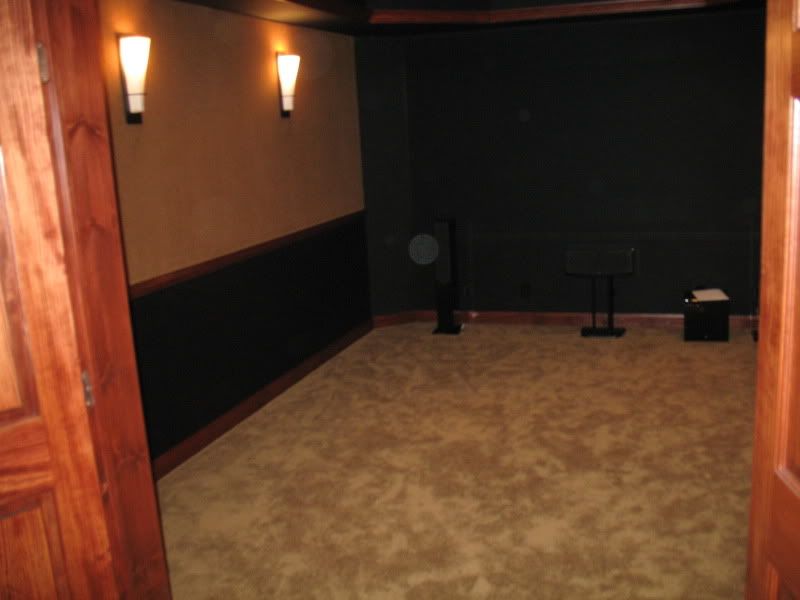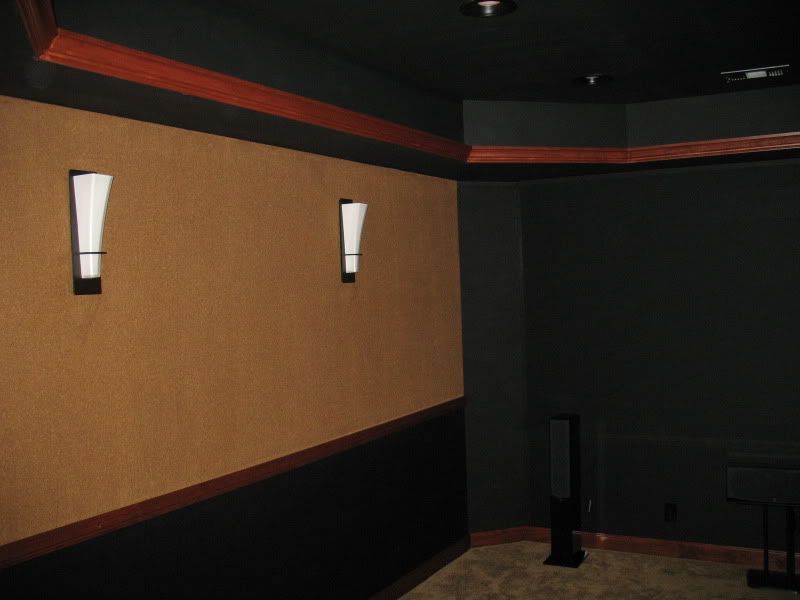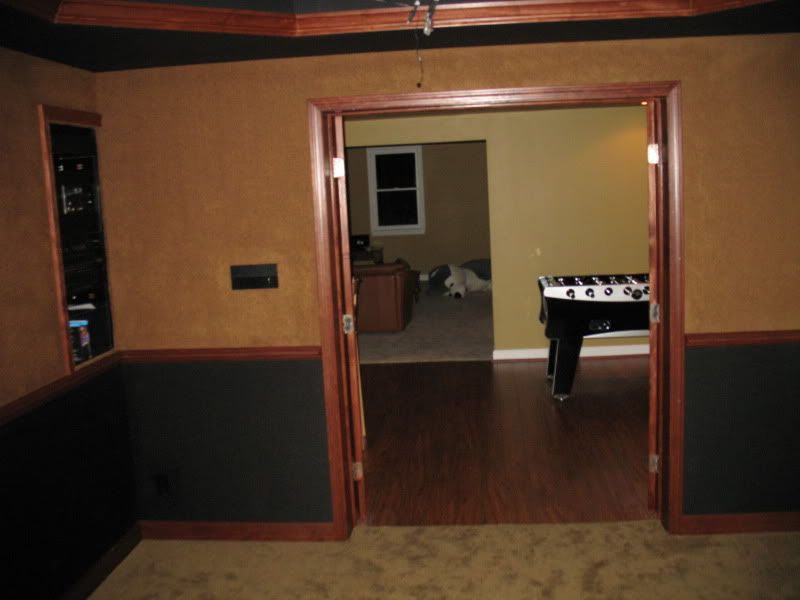 Here's the original beginning of the thread:
Am finishing a 1,500 foot basement and am now at the stage of ready to begin the "hard stuff" with the home-theater room.
Our goals for the room are:
Mainly movie watching
92 or 100in screen for a projector
Center, Right, and Left speakers free-standing, surrounds in the walls
Room for five family members
5.1 surround; 7.1 if possible (but room size may be an issue)
Leave back open to open up the room to bar area of the basement (see photos)
Manage sound as our master bath is over the bar area (room adjacent to the HT room)
Room measurements:
Length - 15ft
Width - 12ft
Ceiling - Almost 9 feet
Soffit Height (around entire room) - 8 ft
Room framing is completed (metal and wood) framing, and all outlets/wiring has been run. HVAC and plumbing complete. Electrical is complete with a Grafik Eye 3104 (4 zones) in place. All ethernet, speaker (7.1 is run), subwoofer, audio & video, and IR has been run. I did everything except the HVAC and plumbing.
Major issues under consideration for this week are:
- What to insulate with? Immediate thoughts are mix of R13 on the sides, then R25 in ceiling. R13 would go in soffit areas.
- What can I prepare for prior to drywall?
- What special considerations should be taken considering the back is open to the bar area?
- What to prepare for in cleaning up the acoustics of the room? Been reading the acoustics thread quite a bit lately.
Basically, What Would You Do?! (WWYD)
Would appreciate the guidance, and I'll post more photos as it progresses.
Here's entrance to the room, from the bar area - door is 62in in width:
Front of the room where screen will sit: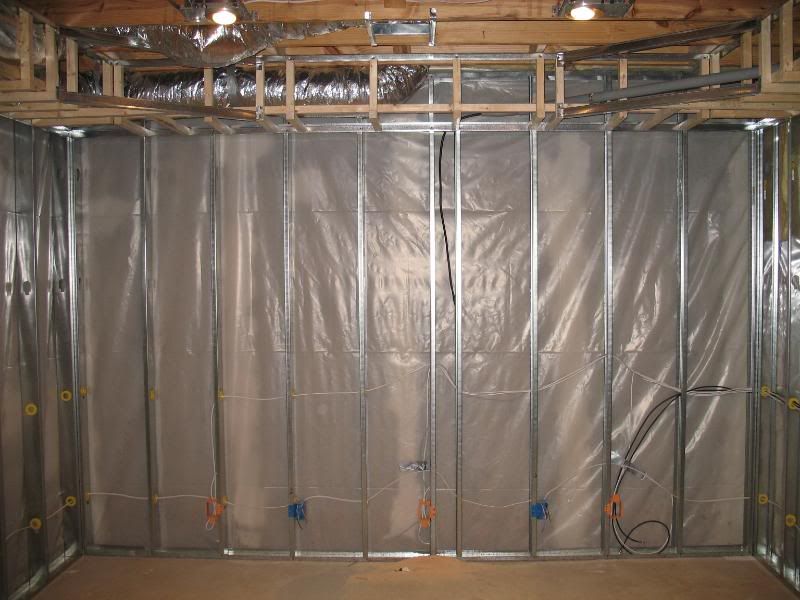 Right side with rack placement in the back right corner:
Left side, back of the room: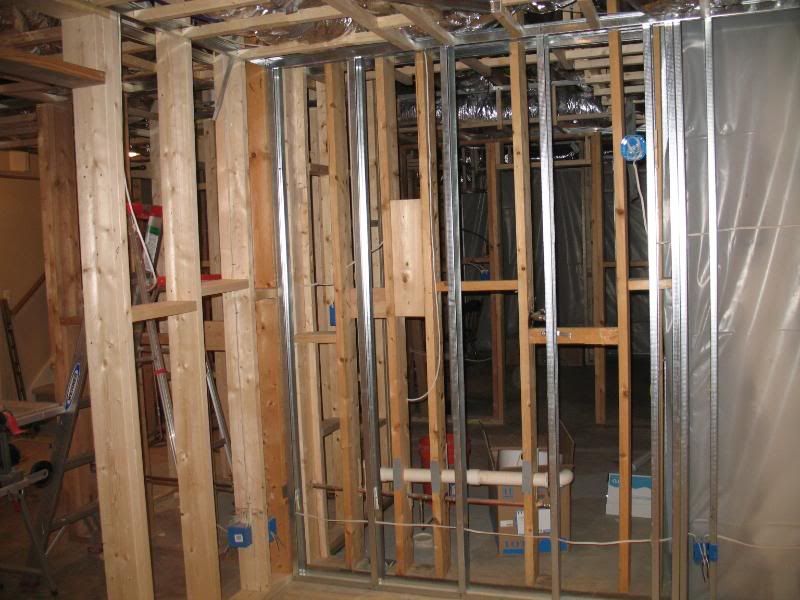 Rack - patiently awaiting drywall: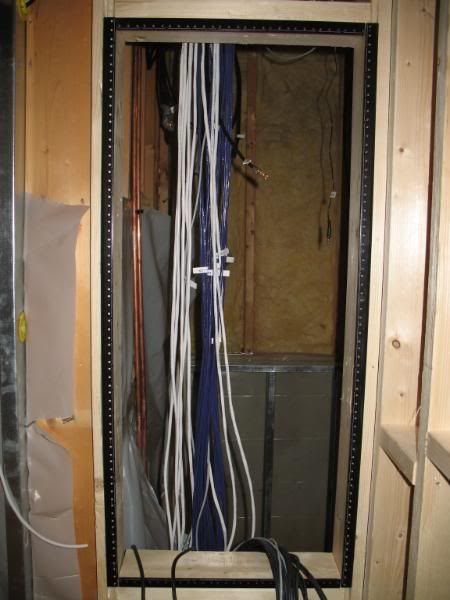 Projector placement - to the right is a 20amp line for it, and to the left is the 15amp line for the dimmable rope lighting that will go in the tray ceiling.