A Bonus Room Home Theater.
We have a bonus room above our three-car garage. The room is roughly 13 feet wide by 28 feet long. The ceiling is 8 feet in the center, but the center of the ceiling is only 8 feet wide. Beyond that, the ceiling slopes down to knee walls 64 inches high. There is a window at the far end, overlooking the street. My challenge ... to take this acoustically ideal room and turn it into a combination of thumpy muddled bass, unintelligible dialogue, and harsh reflections. Or do I have that backwards ... ?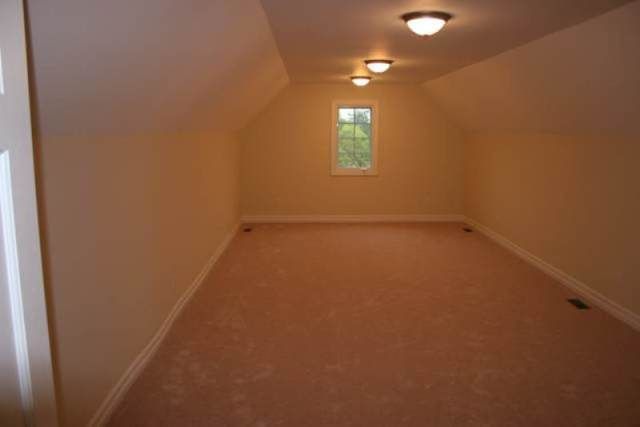 I intend to board up the window in a fashion that it looks like a dark room from the street. That will be the screen-wall end of the room. I also intend to construct a new rear wall, so that the footprint of the theater is 13' x 21.5'. This will give me sufficient room for a lobby entryway into the theater, and will allow me to partition off an equipment room behind the projector. This will also be a craft room for my lovely and talented helper.
Floor Plan
Someday, when I actually get around to sketching the floor plan, I will put a picture of it here.
Screen
This will be a 2.40:1 Aspect Ratio theater. I am currently planning on using SMX Acoustically Transparent screen material for a DIY 102" x 42.67" screen. I bought the material before SMX stopped offering its fabric only. The screen material has been rolled up in the box it came in since I received it. I am hoping it hasn't become unusable for whatever reason. If it did, I'll need to rethink the screen.
Gear
I am planning all new gear for the theater. As I acquire gear, I will update this list, noting which items are in hand, and which items are more of a wish list.
Speakers
Left/Ctr/Right Paradigm Reference Studio SA-35
Side Surround Paradigm Reference Studio SA-ADP
Rear Surround Paradigm Reference Studio SA-30
Subwoofers (2) SVSound PC12-NSD
Onkyo NR-5008 A/V Receiver
Epson Pro Cinema 6010 Projector
Seating
Two rows of two. It seems so tiny. But with the way the ceiling slopes, and having to enter the room from the rear, I didn't have much choice. I might be able to squeeze a third chair to the right in the back row, but for now, I am planning on four Berkline 187 recliners. In leather.
Lobby
Concession snack counter. Eight ounce popcorn machine. Fridge. Beer tap. The usual.
Electrical
Two dedicated 20 amp circuits to power the electronics. The projector will be powerbridged from a UPS. The subwoofers will be powerbridged from a surge protector of some sort. The concessions will have a dedicated 20 amp circuit for the fridge and popcorm machine, and whatever neon lighting I might use there. The theater lighting will be controlled by a Grafik Eye 3106 wired into the existing house circuit in the bonus room.
Lighting
Six circuits on the Grafik Eye
1. Fiber Optic Star Ceiling
2. Rope Lights in Ceiling Light Tray
3. Sconces on Side Walls Near Screen
4. Wash Lights on Side Walls
5. Stage Down Lights / Screen Wash Lights
6. Riser/Stair Rope Lights

A single scene push button will set the entry scene from outside the front door.
Soundproofing
Green Glue with Double Drywall. Green Glue with Double OSB on the floor. I am probably making a big mistake not using hat channel, or ripping out the existing drywall. But when I am all done, I can tell myself "I told you so." But I will seal all wall penetrations and drywall seams with acoustical caulk. I will make a return air plenum with rigid fiberglass duct board, and I will make a custom MDF door with an automatic door bottom and soundproof seals in the jamb.
Acoustical Treatments
I am going to cover the front and rear walls with 2" Fiberglass (OC703). I am going to make panels with Linacoustic and Poly Batting for the side walls. The sloped ceiling will be untreated, but wallpapered with textured Anaglypta wallpaper. The ceiling will be untreated for the most part, just fabric over Homosote panels. Maybe treat the reflection points.
And with that, It is time to tell my story ...