View Poll Results

: Which option to choose?

Down Firing with concrete base
0
0%
Down Firing with concrete legs, use floor as base
0
0%
Front Firing with wooden planks as grill
0
0%
Front Firing with classic, cloth, grill
0
0%
Voters: 0. You may not vote on this poll
Member
Join Date: Sep 2015
Posts: 30
Mentioned: 0 Post(s)
Tagged: 0 Thread(s)
Quoted: 3 Post(s)
Liked: 0
DF SW concrete base plate OR FF SW with wooden grill
---
Hi,
I am thinking about my next subwoofer design. Did a lilmike horn design before, liked it, but prefer to go for sealed due to the size and it has no lag.
Decided to go for a sealed subwoofer, 1 big 18" unit. I have a sundown ZV4 18 for sale locally which I'm thinking about.
2 options: down firing or front firing.
For the WAF factor however, I am thinking about a
down firing subwoofer
. I quite liked the look of this: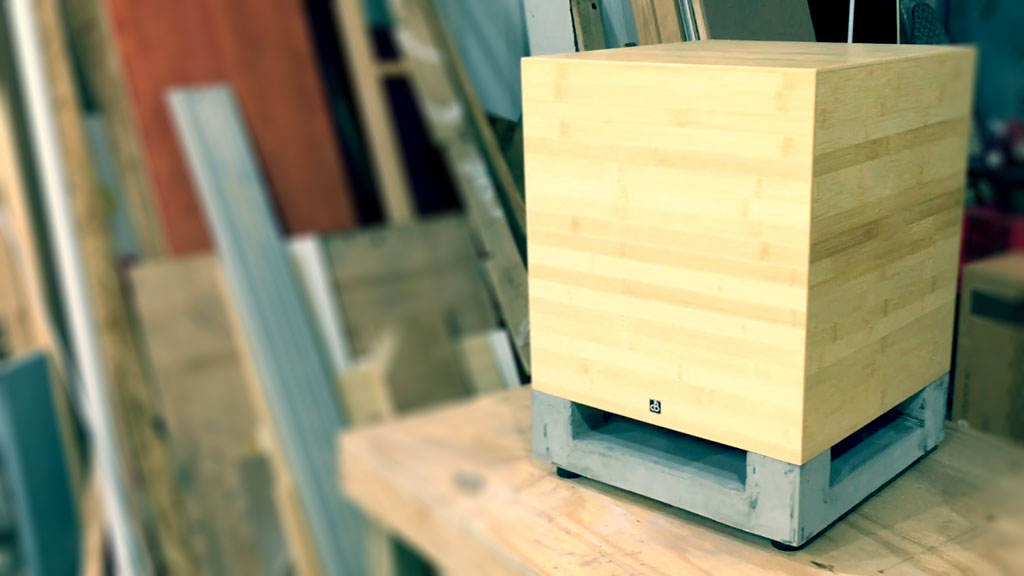 description here:
https://soundblab.net/diy-subwoofer-...concrete-base/
I would add a concrete top (6-8cm thick) and put it next to our sofa, as a 'table'. This would improve WAF factor even more, and the weight will give even more presence to the box.
I wonder however if putting concrete as a base plate is wise, as I've read many reviews claiming it's better to put a rug underneath.

We have a house with a concrete base plate with hardwood flooring (about 3cm thick), a basement underneath.
I am just wondering what would be best, make just concrete legs but no plate (just for the looks, to make it fit with the concrete top)
I will also test, as the sundown is for sale in an (ugly) box, the
forward firing option.

If I go for the
front firing
option however, I would like to make it look good for the wife. I would like to put wooden spaced planks in front of the woofer, as a grill, so it's less obvious. Like this:
I haven't seen a build like this yet, would like to know if anybody has experience with it, or knows a design which uses it, and would also like to know if it's any good, as the wood might flex (?) and interrupt the sound waves (?)
Thanks a lot in advance!
Posting Rules

You may not post new threads

You may not post replies

You may not post attachments

You may not edit your posts

---

HTML code is Off

---