Member
Join Date: Sep 2006
Posts: 174
Mentioned: 0 Post(s)
Tagged: 0 Thread(s)
Quoted: 21 Post(s)
Liked: 15
3 way CE dimmer problem
---
I am having issue installing a CE 3 way dimmer. I have installed plenty of dimmers in my life and this one is not normal. I identified the hot wire in box one, installed dimmer in that box, Wired hot to hot screw on dimmer. connected the two travellers and neutral. went to box two, identified load wire, connected load wire to black screw of a 3 way switch and two travellers to brass. tied neutral together. Dimmer turns on but only if switch 2 is in the on position. does anyone see anything thing different in the attached diagrams that makes my wiring way wrong?
AVS Forum Special Member
Join Date: Jun 2005
Location: Northern, VA - Washington, DC
Posts: 6,797
Mentioned: 103 Post(s)
Tagged: 2 Thread(s)
Quoted: 1712 Post(s)
Liked: 1254
Sounds like switch 2 isn't a 3-way switch. The drawings you show are a bit tough to follow IMO, and really you should only have one scenario that matches you setup.
Sounds like the feed comes in on switch one, and your load is on switch 2, so that should be this setup: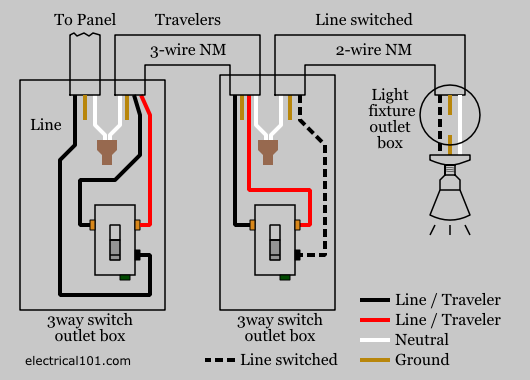 I'm not an electrician, and I always have to look up the diagrams when I'm doing any 3-way stuff, but I've yet to have any issues either.
---
AV Integrated
- Theater, whole house audio, and technology installation in the Washington DC metro area.
Posting Rules

You may not post new threads

You may not post replies

You may not post attachments

You may not edit your posts

---

HTML code is Off

---