| | |
| --- | --- |
| BigJoeMoose | 05-05-2008 03:53 PM |
---
I think it will turn out well, at least it is symetrical.

Few updates. I am going to do a DIY star ceiling, I have been looking at different options, for my ceiling I will have about a 14 x 9 space to work with. It would be a shame to spend all that money and not have the coolest ceiling on the block as well.

I think based on price and looks, the star-ceiling designer kits will be my best bet. I look forward to drilling 500 holes, lol. Most of the ceiling will be basic black fabric and mdf. I bought a new hitachi table saw to get all my special cutting done.

As far as acoustical treatments, I have been working with Bryan Pape for a few days and think i have that figured out.

All walls will be fabric covered, I am thinking the fabric mate system for clipping these in is the way to go for ease of use and price.

Going to go with the GOM cloth.

Front wall will have 2" 703 or cotton, corners will be stacked with bass traps

Back wall will have 2" 703 or cotton,

Sides will be 1"701 to about 60 inches, nothing but fabric above. Typical sand and stuff for the front stage.

Rear stage will be wired for butt kickers and set on rubber u boats to add to the fun of the vibrations.

Funny thing is, I will not be able to afford any speakers once this is done, but when i get them, they will sound great, lol. I am really digging the 1 level down from top rocket speakers looks.
| | |
| --- | --- |
| BigJoeMoose | 05-09-2008 07:27 AM |
---
Next step...soffits. I finished patching up all of the walls and am ready to get started on the soffits. After thinking about it for a long time, I am going to use plywood. The soffits are 30 inches and I want o gain as much head room above it as I can, hopefully it will no sag or anything in the future.

I also finished 3 of the 4 walls RSIC-DC04 clips as well, I hope to get the theatre all framed up this weekend, then I have to finish the rest of the basment framing (only about another 40 foot of walls total and bathroom.

HVAC is currently being thought out still, I am not sure where the best plac for the return/ supply is in a HT.

I also have screen samples from seymour AV/Da-lite/Carada on their way to start determining what the best route is, all will be less then 1000 for a 120" so works for me.
| | |
| --- | --- |
| BigJoeMoose | 05-11-2008 09:02 PM |
---
quick update....Will post pics tomorrow
I finished all of the theatre walls and mounted all of the isolation clips (DC04) to the I-beam and reapaired all of the walls. I also am about 90% done with the rest of the basment framing, only the bathroom and 2 10 foot walls remains.
I hope to get the rsic-1 and hat channel done by next weeked so I can start working on the soffits.
I also bought all the MDf and Fabric to start working on the panels for the star ceiling. I need a side project that is fun that I can do, like the star ceiling.
Going to order them from starceiling designer.
-DIY kit with controller, can't beat LED mixed with IR and other stuff for that price
-Extra light unit for more stars, also more FIber optic, area is 90 sq feet to cover
-Two Shooting star kits
- 1 twinkle module with 100 stars
I also am going to add two of these to the front of the stage because they are awsome and remind me of the start of a Wb movie
http://www.americandj.com/pdffiles/dj%20spot%20250.mov
That is just too fun to think about, all dark room, then spotlights, then led rope lighting followed by twinkle and shooting stars, should harness the WHOA effect.
| | |
| --- | --- |
| BigJoeMoose | 05-16-2008 07:41 PM |
---
Almost finished with whole basment framing.
Bought a speaker system, due to all the budget going towards rooms/screens/chairs/etc.. to make due I got an Athena ls-500 set from audio advisor, for the little ammount of money and the big sound I heard out of these at a co-workers, I could not pass it up, bought a whole 7.1 setup from them based on the ls series. I wanted to get the speakers early so I could visualize where to put them, etc...
Look what Santa brought from Monoprice..... 1 40" 22g hdmi cable, 2 LFE cables (for dual subs), 250 foot 12 gauge speaker cable, a bunch of black cable/box drops, and the monoprice 15 dollar projector mount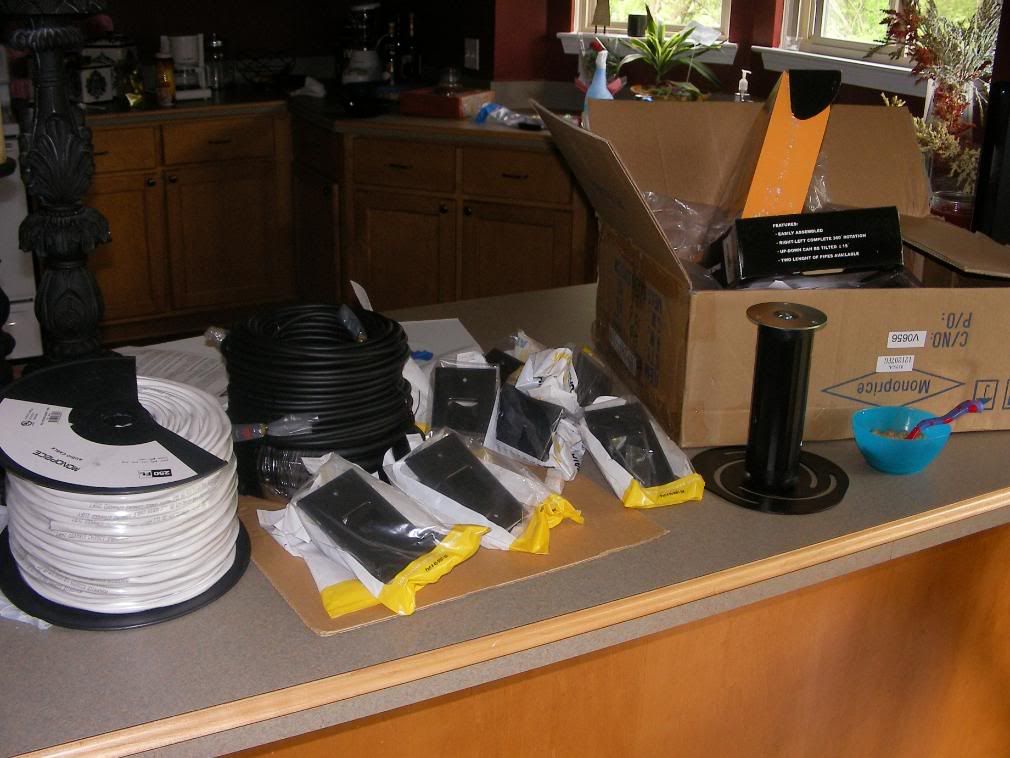 Finished all of the DC04 Isolation clips under the I-Beam
Hung first row of RSIC-1 clups for top of soffit to hold against.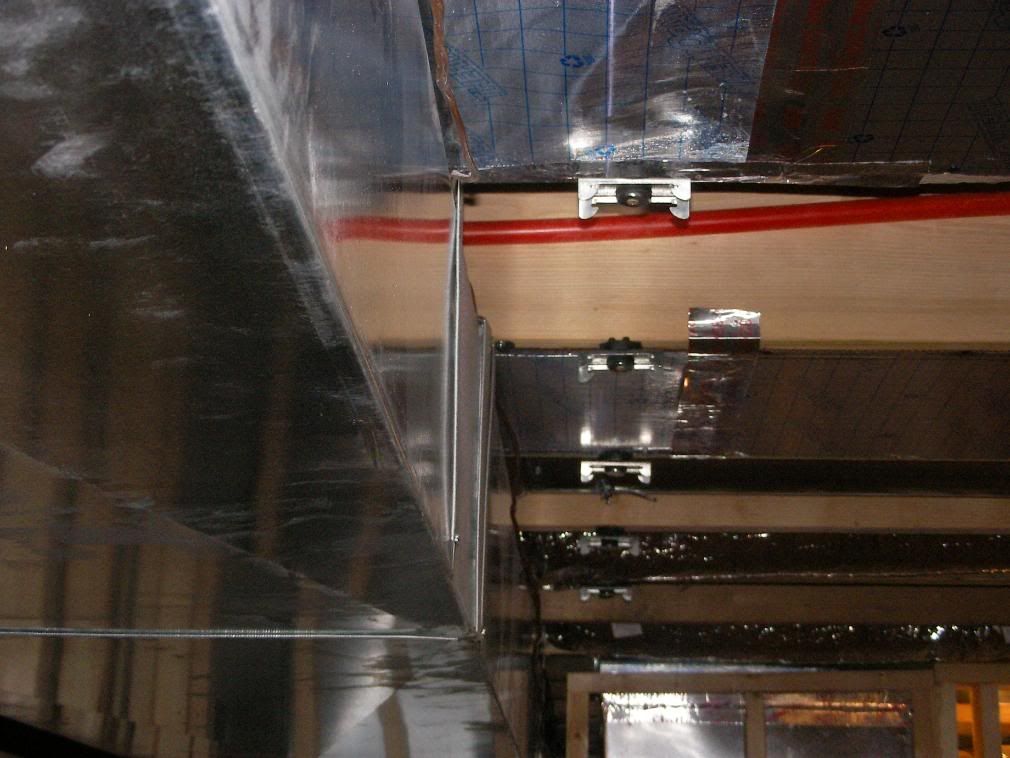 Moved / rerouted all of the existing HVAC duct work and replaced it with Flex Duct 6"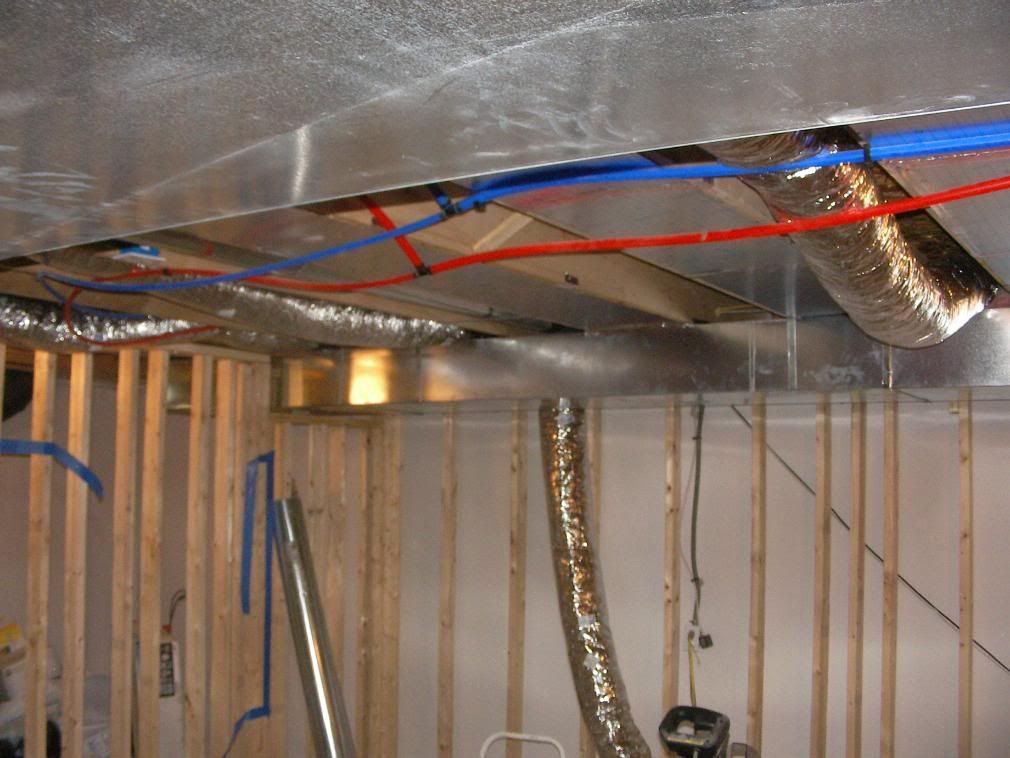 New Safe-n-sound solid core 78" door with arches (heavy door by the way, I was suprised)
My buddy is coming over tomorrow to help me construct hand the soffits, after that I gotta finish the bathroom and some gas line re-routing and I an good to begin electrical.
| | |
| --- | --- |
| BigJoeMoose | 05-17-2008 08:29 PM |
---
As far as the screen goes, I have gotten samples of Carada, Da-Lite, Seymour AV, and Black out Cloth From Joanne Fabrics, I am sure this is nuts, but the one I liked best was the Seymour AV and Joanne Fabrics white BOC.

I watched 20 minutes of 4 movies,: HP and the Sorcer Stone, 300, Transporter 2, and Kingdom of Heaven.

No matter how hard or what angle i looked at them at the Black Out Cloth looked good enough to make it happen. I was planning on a 120" 2:35 Carada (gonna use poor man's zoom CIH on the MIT HC4900)

So saved an easy 900 - 1000 bucks by going with the BOC (which I can always replace when my tastes improve.
| | |
| --- | --- |
| BigJoeMoose | 05-22-2008 08:57 PM |
---
Here is an update...
half way done with one of the soffits, kind of a pain to setup.
I got my athena speakers today and have them warming up on my Panny xr-55 amp.
\\
| | |
| --- | --- |
| Ted White | 05-23-2008 07:28 AM |
---
Curious, did you build the soffits completely, then install? Or do it as 2 sections? Did you have help?

Just trying to collect best practices. Thanks
| | |
| --- | --- |
| BigJoeMoose | 05-23-2008 04:24 PM |
---
Ted,

I actually built the left half first, then the right half. Because the top hat track has to be drilled into first from the inside, before the bottom hald seals up the plate.

Thanks again for the design idea, I was just recreating what we discussed on the phone.
| | |
| --- | --- |
| Ted White | 05-24-2008 08:39 AM |
---
You're very generous with your pictures. That helps everyone.
| | |
| --- | --- |
| BigJoeMoose | 05-25-2008 09:29 PM |
---
Thanks Ted, I try to help, everything i am doing now was learned from someone on this board posting their stuff.

Update for Sunday....Took today off, but worked all day Friday/Sat will also work on Mon/Tuesday as those are days off.


Finished all of the main wall framing for the whole basment, only need to finish off the soffits in the HT.

Bought all of the PEX plumbing stuff today for the bathroom/concession area, will work on the on Tuesday as well.

Rack room is done as well, went ahead and set it up for venting out the back as well. Bought all the stuff for the electrical install, got a good deal at Lowes, 6 pack of 4" cans for 22 dollars per box. Price mistake i think, bought i bought all 5 boxes!

Also ordered all the Velvet for the front wall and Screen, Got all the BOC today from Joanne fabrics, those women are evil I swear it.
| | |
| --- | --- |
| BigJoeMoose | 05-29-2008 08:07 PM |
---
Some progress has been made...
Got about half of the soffit work done, only need to stuff em with the pink stuff and drill in the bottom plates.
This is the SOB that has scared me at least 12 times in the basment, I thought it was funny so I leave him up..
Going for a DIY equipment rack, avessible from back, will vent it with some fans as well
back side of the rack where I can access it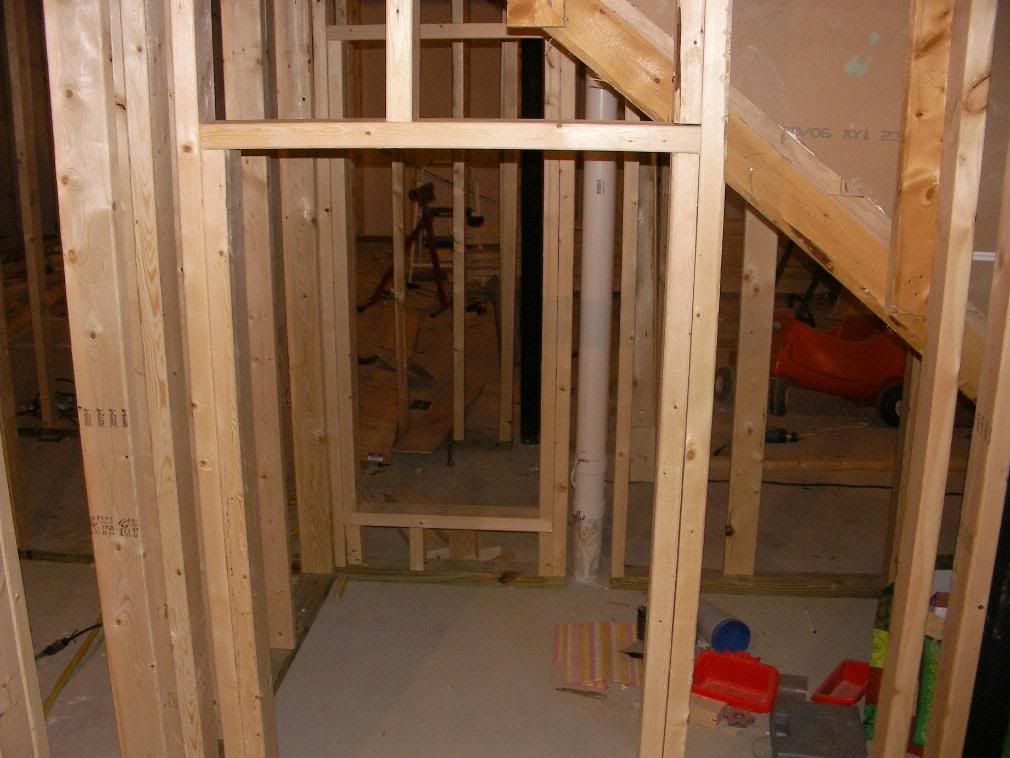 Plywood soffit continued with RISC clip Top
View from bottom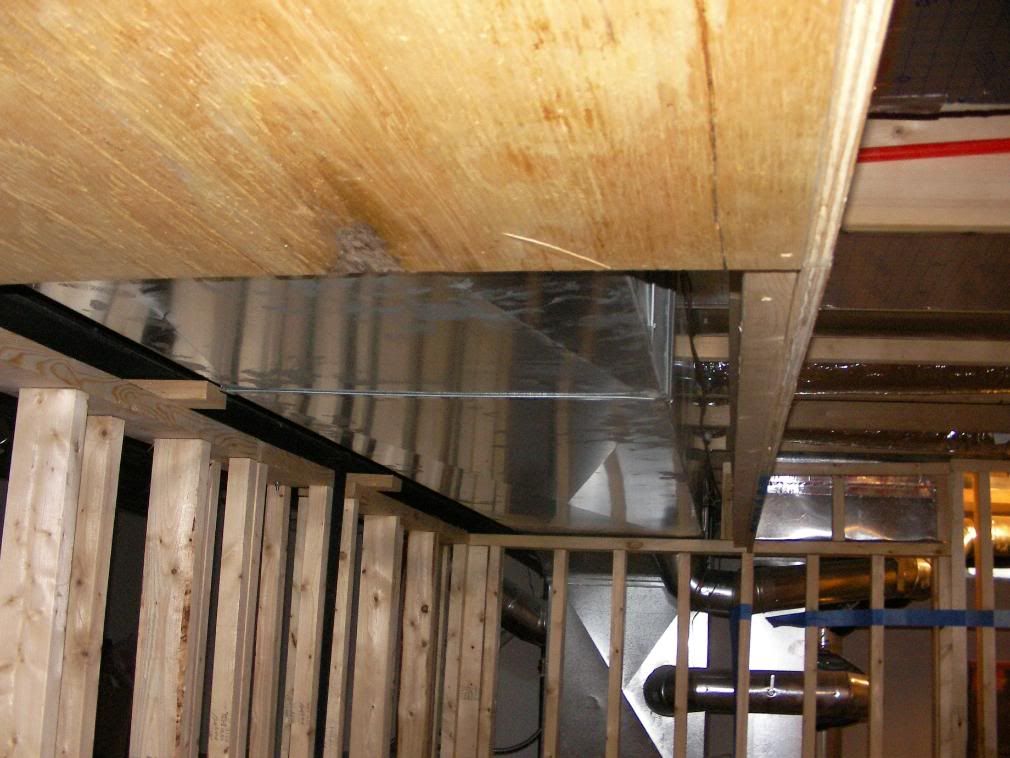 Other side of soffit
Risc Clips with Soffit
And Finally I am going to do a DIY screen frame. Here is 4 years of white/white BOC from JoAnne fabrics and triple black velvet from SYfabrics.com, about 7 dollars per yard and is VERY black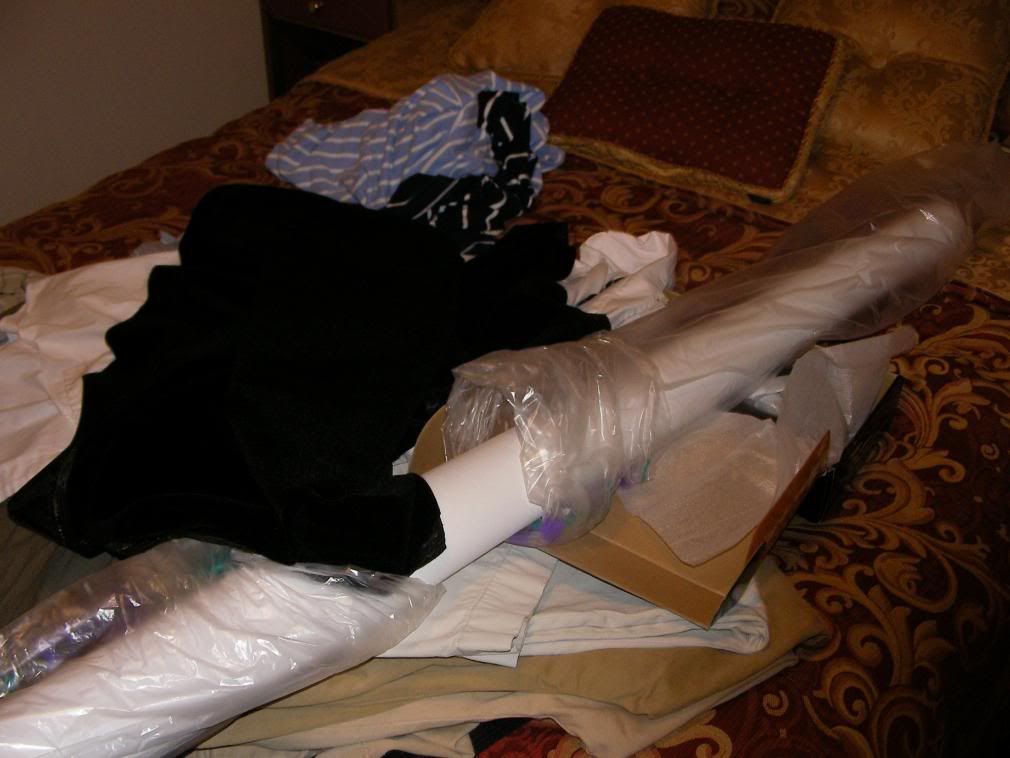 Lets hope i get all the rest of the little framing stuff done this weekend, I will probably do the screen so I can get an estimate fo some of my other stuff
| | |
| --- | --- |
| cheapmonkey | 06-05-2008 04:48 PM |
---
Great post Moose - I love all the pics. I should definitely try harder to follow your example. How are you liking the Mits in your tests so far? I'm doing my projector shopping right now and (like you) I'm finding it hard to look past its price!
| | |
| --- | --- |
| BigJoeMoose | 06-06-2008 09:20 PM |
---
Chris,

It is a really nice projector, i was concerned with using it as a CIH setup with a 2.35 screen, however, it has been really good with the stuff I have used it with. Just zooming in and out.

Would not hesitate to buy it again.
| | |
| --- | --- |
| BigJoeMoose | 06-19-2008 12:31 PM |
---
Have not updated in a few days, been kind of busy, I work for the Utility Company in MI and we got hammered last week. Nothing more fun then babysitting poles and power lines for a few days all night long. Also kind of fun at 3:00 in the morning chasing away people trying to cut the 1300 Volt power lines to steal the copper. went though all my flares scarring them away. most would ride up with lawn shears in the back of their bikes, lol.

As for the theater, I finished about 50% of the electrical wiring of the theatre, still have to run all of the cables for the parts. I am using the blue and orange carlon turbing ot future proof it, so that is taking some extra time.
| | |
| --- | --- |
| kjlewie | 07-17-2008 12:36 PM |
---
Moose,

Nice thread - very helpful pictures. How do you plan to keep your in wall DIY equipment rack from being a weak link in your sound isolation process? I'm planning for an in wall DIY rack, but concern for sound escaping makes me think locating the equipment in another room is a better idea. What do you think?

kjlewie
| | |
| --- | --- |
| mn_hokie | 07-17-2008 12:42 PM |
---
Scarecrow man reminds me of one the bad guys in the Half-Life video game. Did he get to close to a saw??
| | |
| --- | --- |
| BigJoeMoose | 01-25-2009 04:59 PM |
---
Its been awhile since I posted, kind of been busy, here are some update pics. I am insulating this weekend and then two weeks away from drywall being completed. Here is the latest framing pics of the theater
Outside looking in from Concession Bar area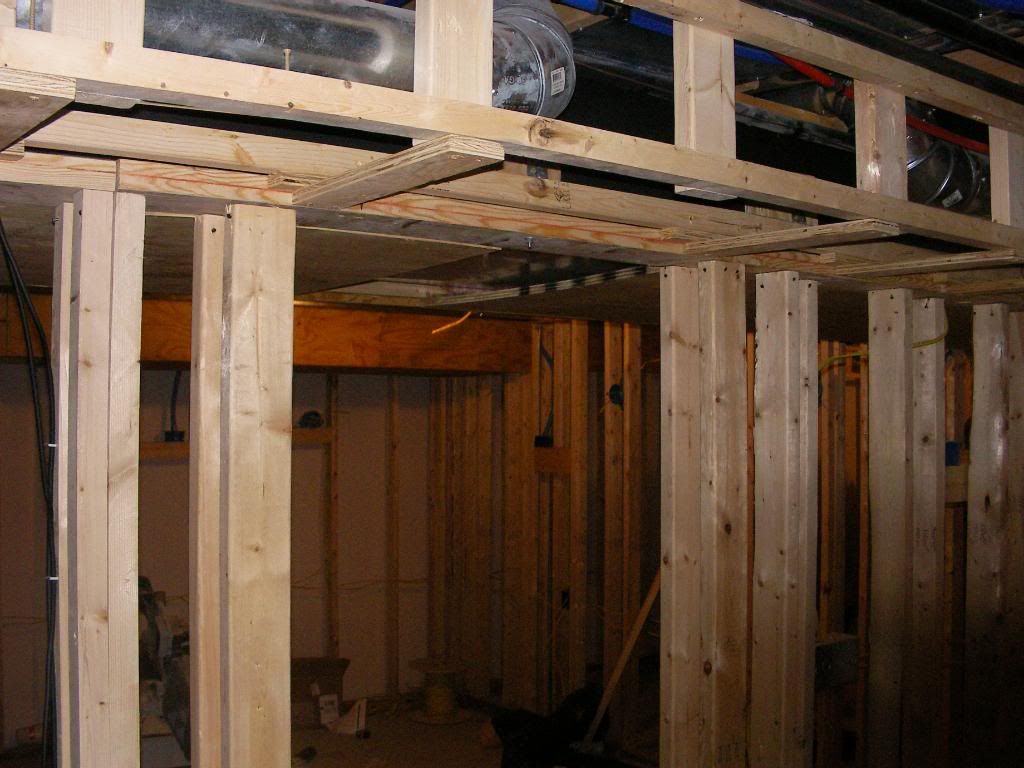 Back wall with tubes ran for speaker wire and scones
Grafik Eye box wired with rope light zone, sconce zone, stage lights, and riser floor zones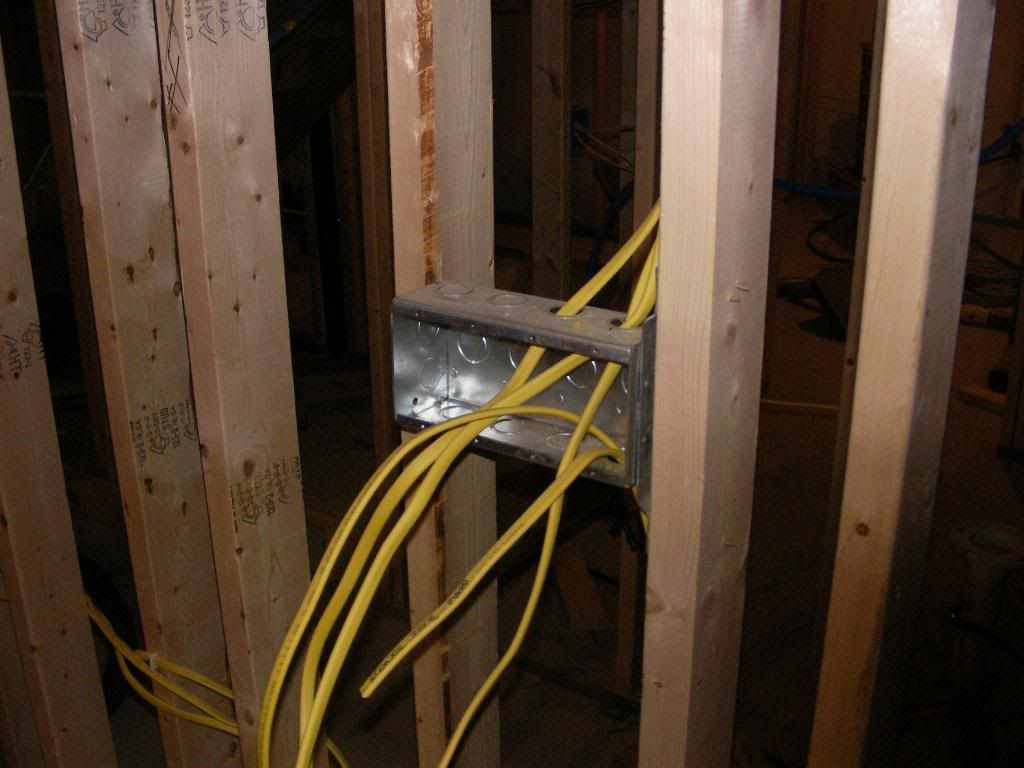 This is under the stairs where all the equipment will be, wires end here
Just a pic of turbing for speaker wire pull through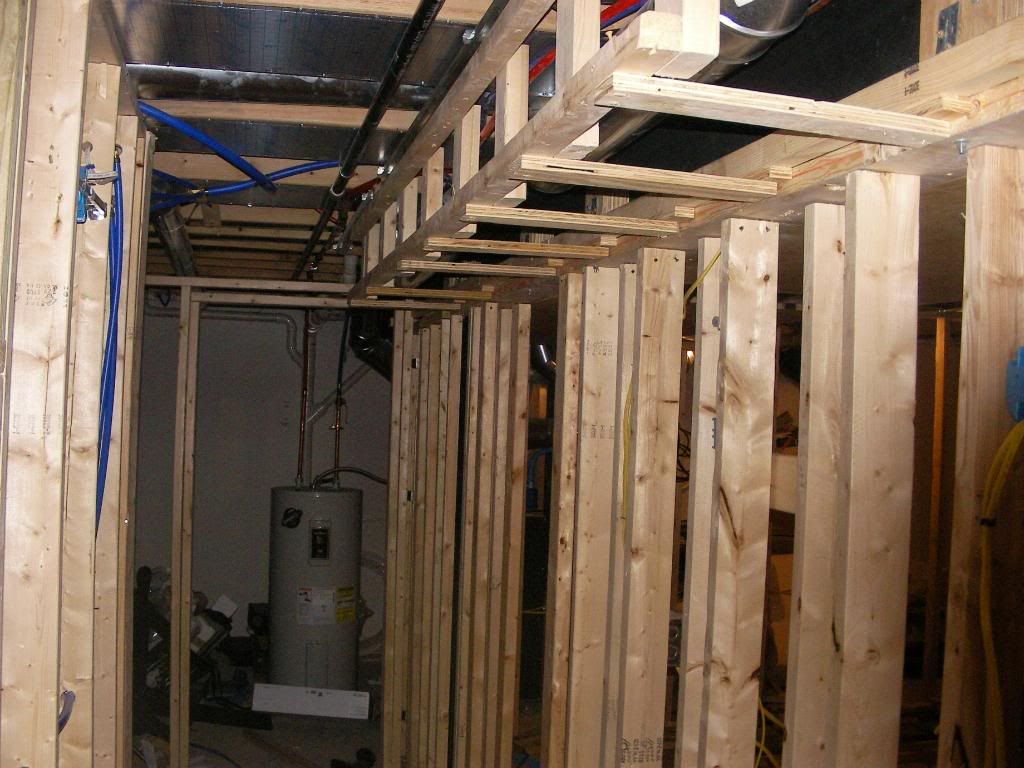 Here is a pic of the side view with of door and finished soffit.
I will order my GG from soundproofing company tonight or tomorrow and should start seeing some real results here soon. The rest of the basment is what is taking me so long, the theatre is the easy part.
| | |
| --- | --- |
| BigJoeMoose | 03-22-2009 09:50 AM |
---
Well I have made a ton of progress. The theater is completely drywalled and the rest of the basement is near complete.
I am working today on my new DIY marquee sign with 20 bulbs that chase. I will be damned if I am gonna pay 2000 for a circuit i can wire in 15 minutes with a DIY kit.
The theater is complete with Double 5/8 layered in different directions covered in two tubes of green glue for each piece of drywall. anywhere drywall met I use acoustical silent seal caulk from the sound proofing company.
I just ordered a ton of OC 703 and will begin stage/ riser construction soon.
Here are the pics.
OUTSIDE THEATER
Inside Theater - soffits turned out good that was Ted Whites design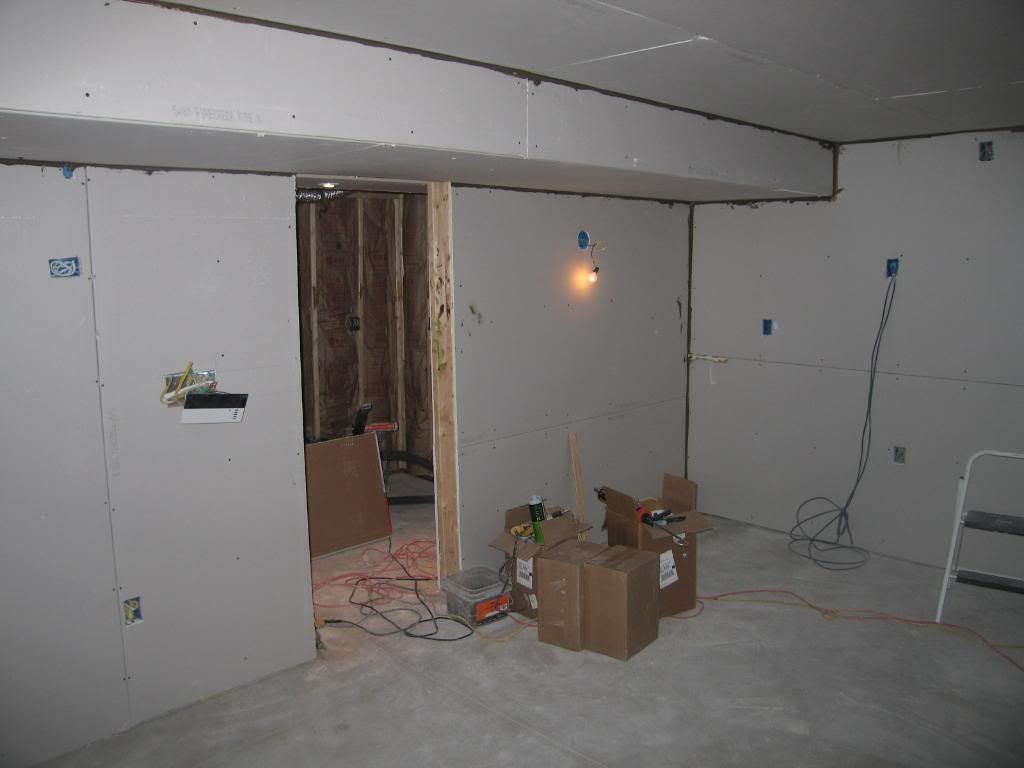 Grafik eye works thank god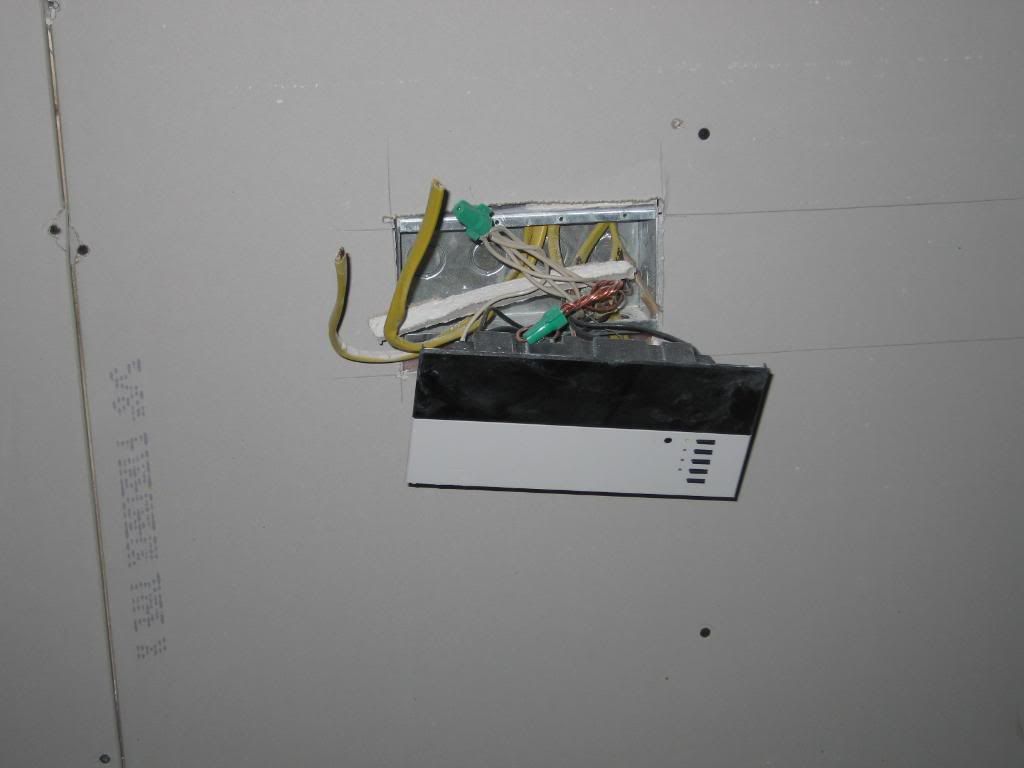 Lost of Green Glue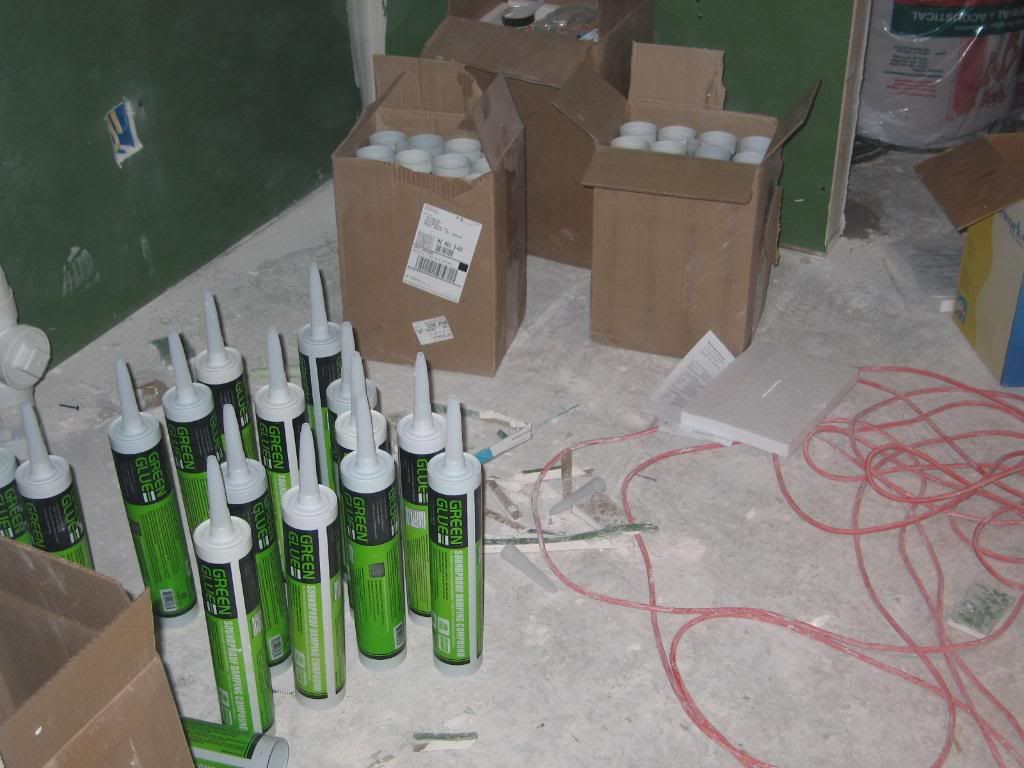 I will add some pics of the second layer with the green glue later, my camera is charging.
Thanks for the comments
| | |
| --- | --- |
| BigJoeMoose | 04-19-2009 07:57 PM |
---
Hello,
Ton of progress, completed the riser, framed the stage, cut all the mdf for the columns.
Check it out!!
Outside Hall leading to theater and dead vent return. The dead vent is powered by a duct fan hooked to a variable speed controller.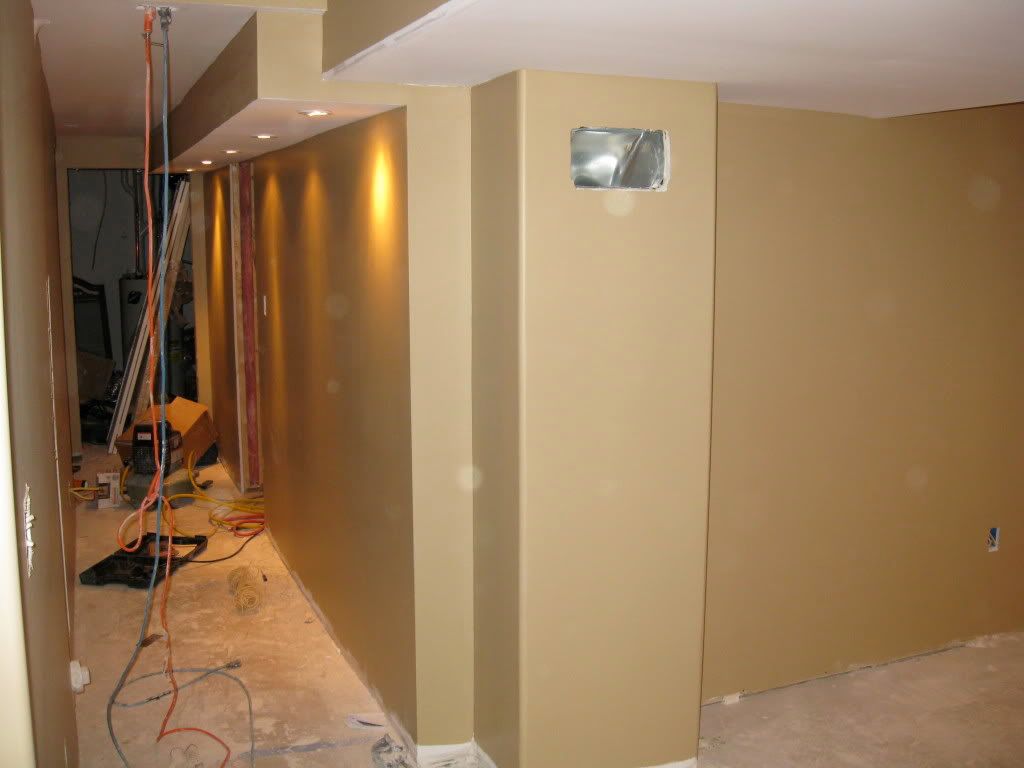 Stage
rear riser and columns. I am using a bipolar speaker so it will be coverd in gom on all sides eventually
closeup of column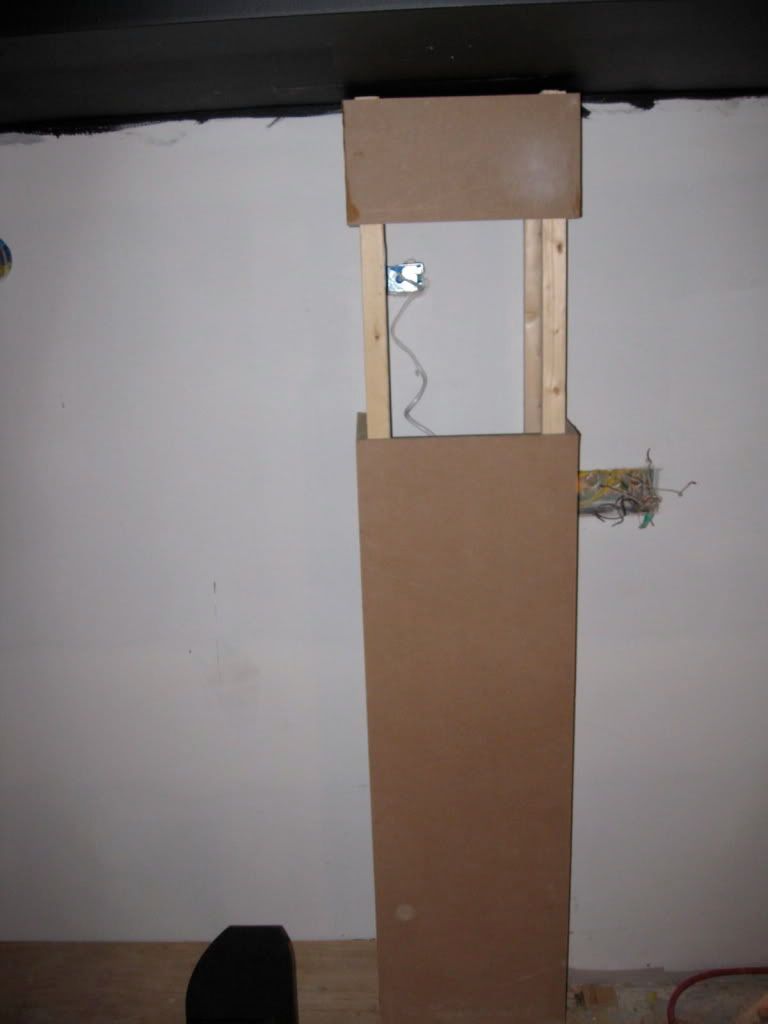 another angle of stage including black ceiling, eventually will be a star, I have the stuff just need the time to finish it.
rest of basment pic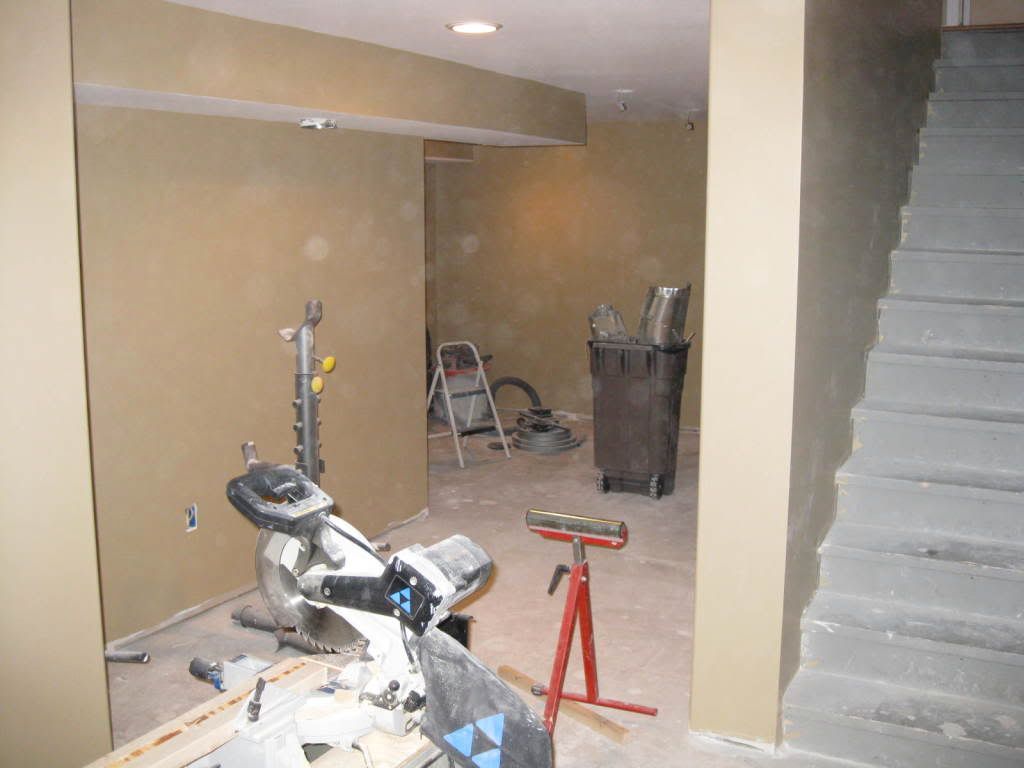 equipment closet and other stuff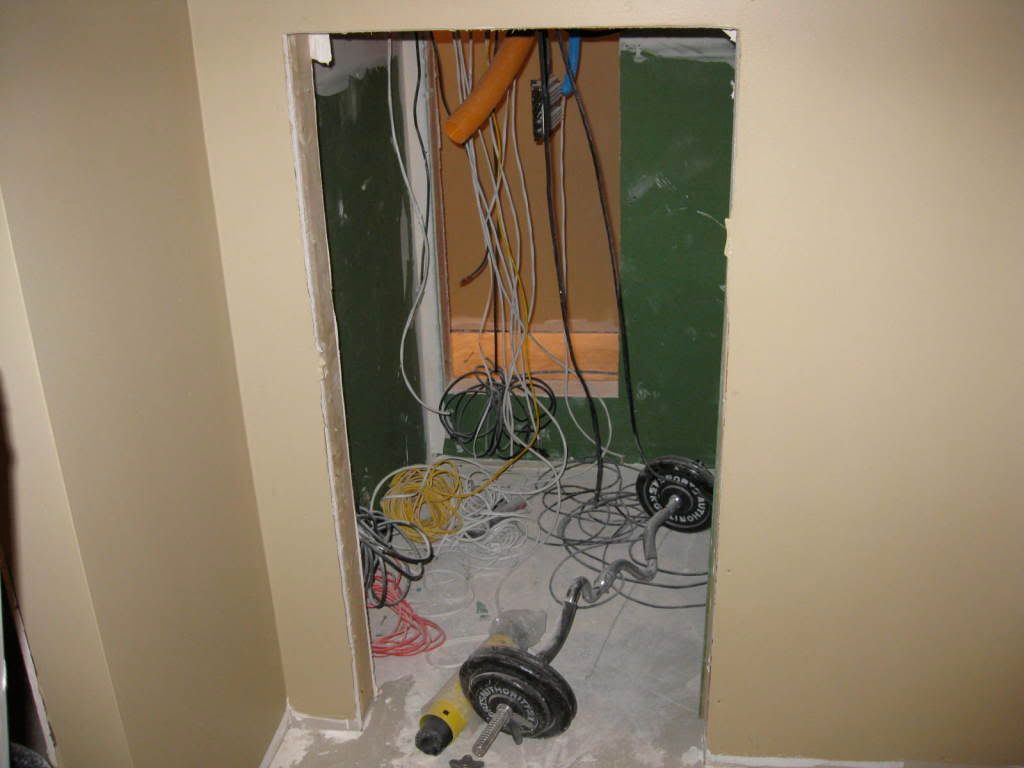 new downstairs only furnace and AC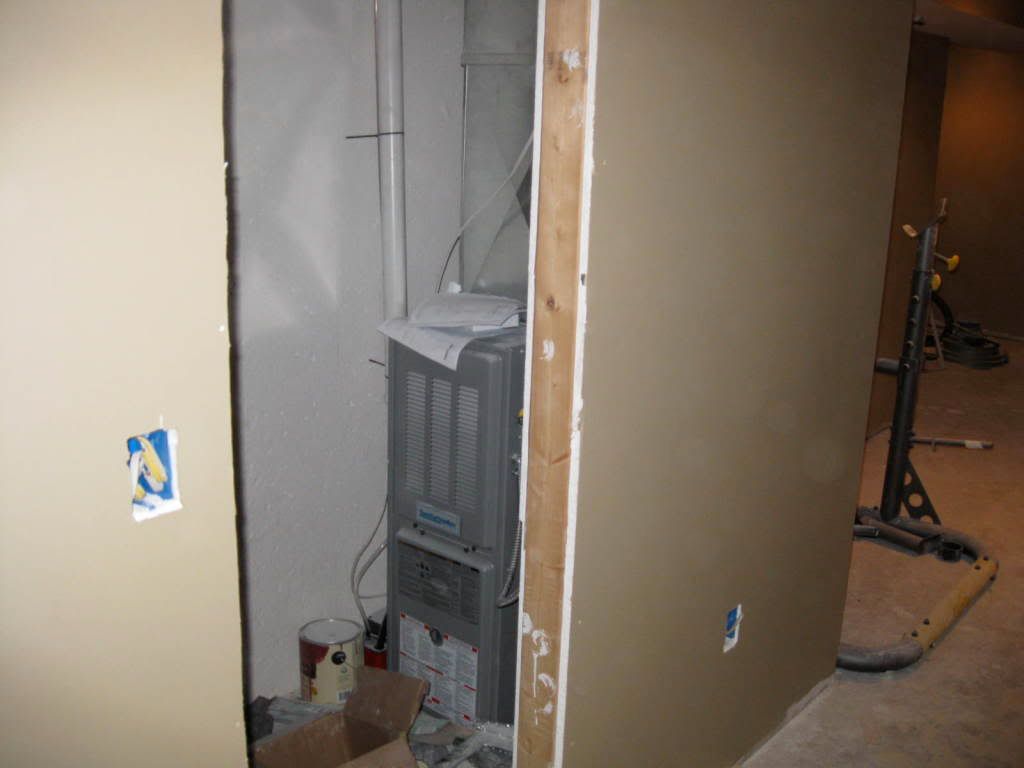 Made a ton of progress..
I have stolen almost every thing in my theater from reading on the posts, you can probably tell which ones it is from.
Order like 38 yards of GOM going with light moss and black fr701 with sliver metallic trim and black columns with metallic silver overlay trim.
will post pics of the color selections later.
Joe
| | |
| --- | --- |
| tjambro | 04-19-2009 08:55 PM |
---
Is that metal duct to your dead vent? Any chance you can use flex instead? I think the metal duct will allow too much sound out through the dead vent.
I plan on doing a dead vent for my build...do you have any shots of it before you closed it in?
| | |
| --- | --- |
| mn_hokie | 04-19-2009 09:40 PM |
---
I really like the hall next to the steps with the lighting under the soffit. Will this be a "coming attractions" area?
| | |
| --- | --- |
| BigJoeMoose | 05-27-2009 10:48 AM |
---
HUGE NEW UPDATE!!!!
Things are starting to fly together, finished the stage, screen wall, bass traps in front corner, columns, crown, some trim, rope molding, and screen. Screen was a DIY, god bless the kregg jig.
All I have left is mounting the projector, speakers, and finishing up the wall panels, should be finished by the end of the week as I took it off to finish my 1 year build.
Corner Bass Traps from BPAPE, thick cotton cut into corners with a table saw
Wall covered in 703+ Screen Wall GOM+Columns + gold crown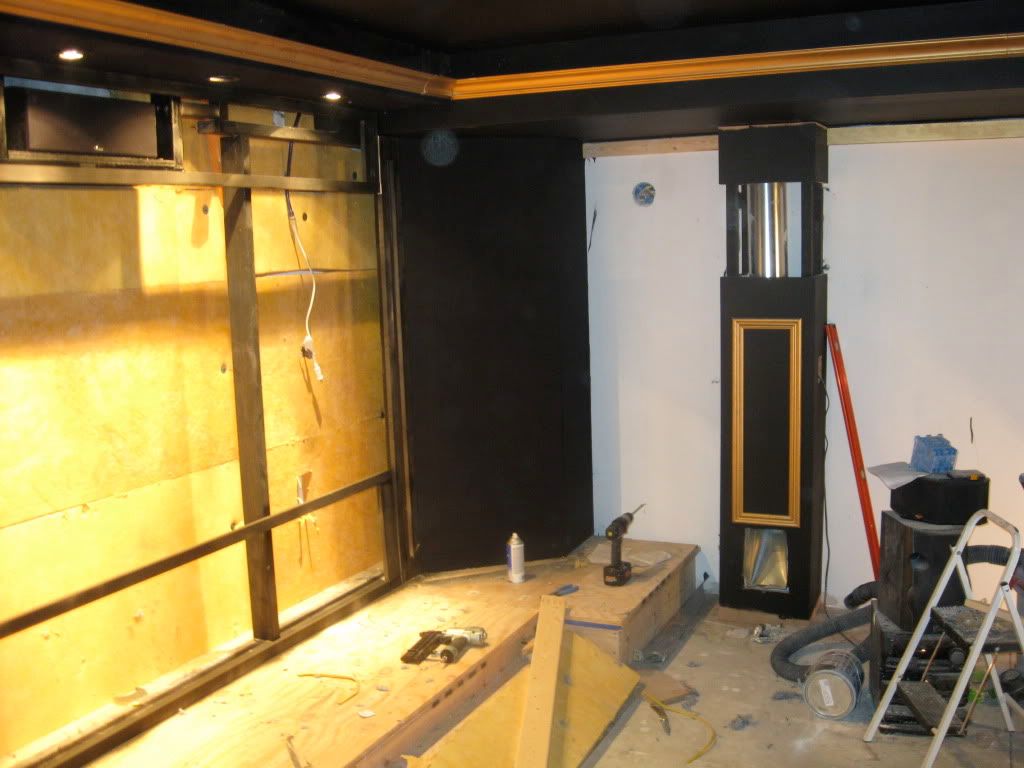 Picture of Sconces, I had 6 made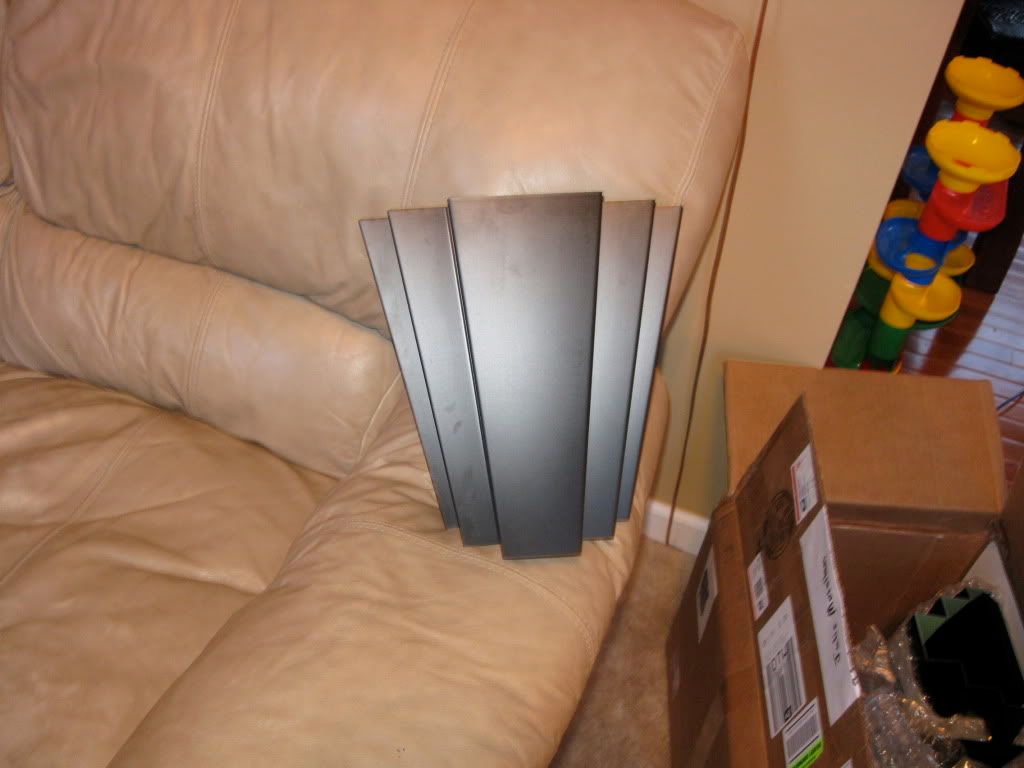 Columns in progress+Gold crown in corner + Up
Other Side
close-up of front center channel above screen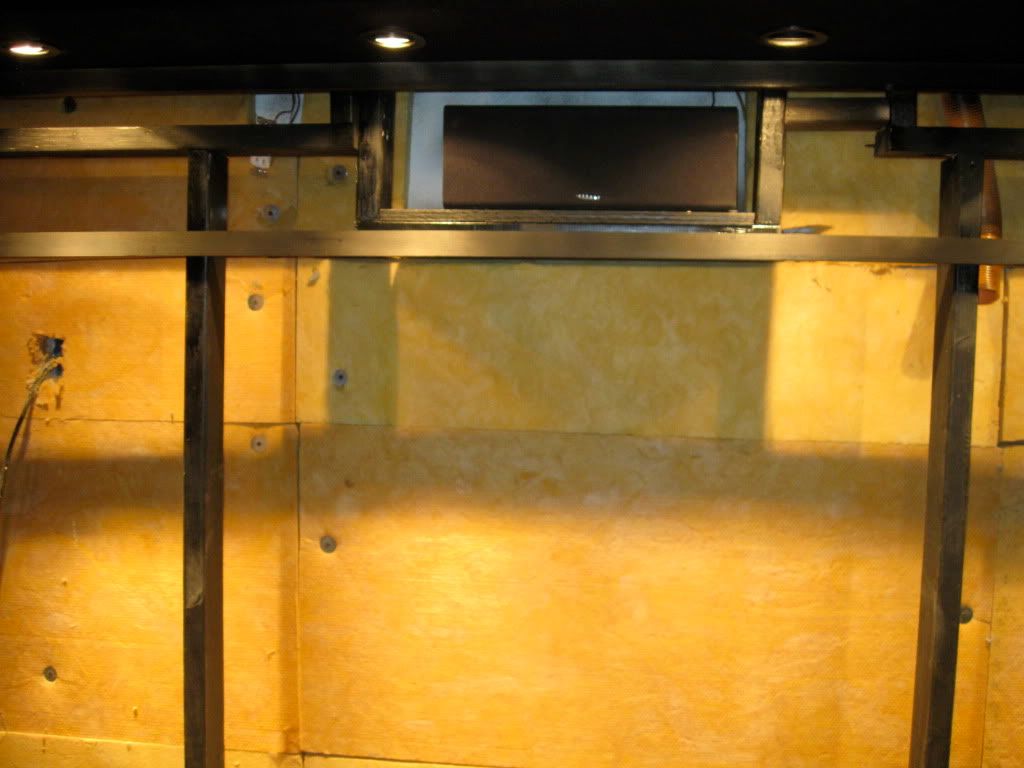 removable GOM panels for Right speaker
Screen Finished with GOM and custom homemade screen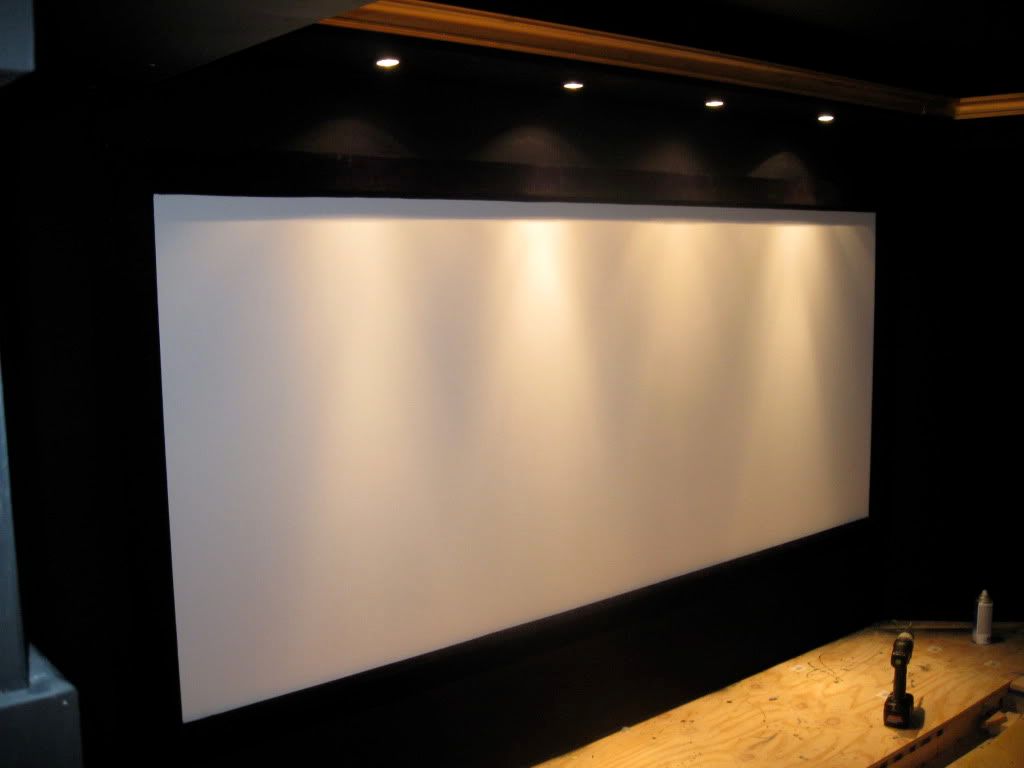 Front shot of finished SCreen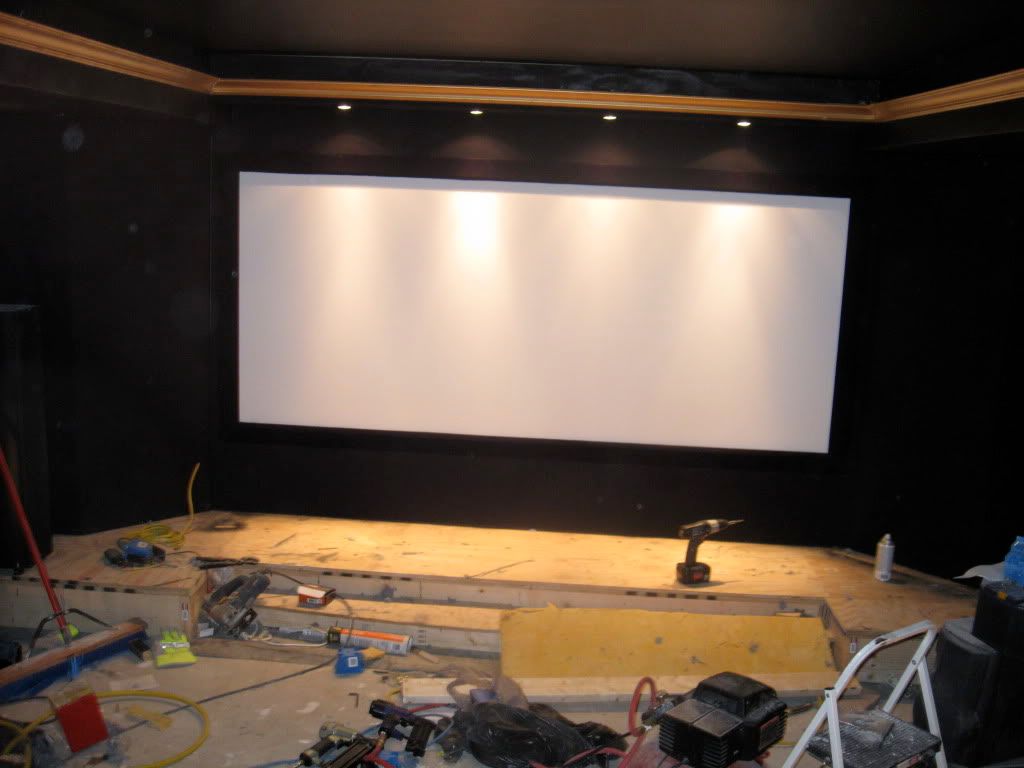 Hope to finish this week keep your fingers crossed,
If I ever see a fabric frame again after this, I will burn it, my fingers are raw from pulling that stuff taunt
| | |
| --- | --- |
| BigJoeMoose | 05-27-2009 10:49 AM |
---
double post....whoops
| | |
| --- | --- |
| Ted White | 05-27-2009 11:00 AM |
---
I see you're so excited you posted 2x!

Looks really great.
| | |
| --- | --- |
| BigJoeMoose | 05-27-2009 02:59 PM |
---
Hey Ted, the GG worked great. Even without a door you cannot hear anything upstairs, it is kind of amazing. Thanks for the help with all of that stuff. The sound proofing company really helped me out with the build.

It is nice to see it actually look like something resembling a theater
| | |
| --- | --- |
| BigJoeMoose | 06-07-2009 09:21 AM |
---
Some progress... All the wall frames are built, just need to add the 703, fsk, and gom cloth.
Also ordered some new spekers went the MA silver RS6 front RSCLR center and a HSU VTF2-MK3 sub, MA Silver in wall for read and MA Dipoles for sides.
More time work is to be done but here are some updated pics
Trim with additional trim in center and on top of columns under soffit
Closeup of trim under soffit
Whole column
Rear Wall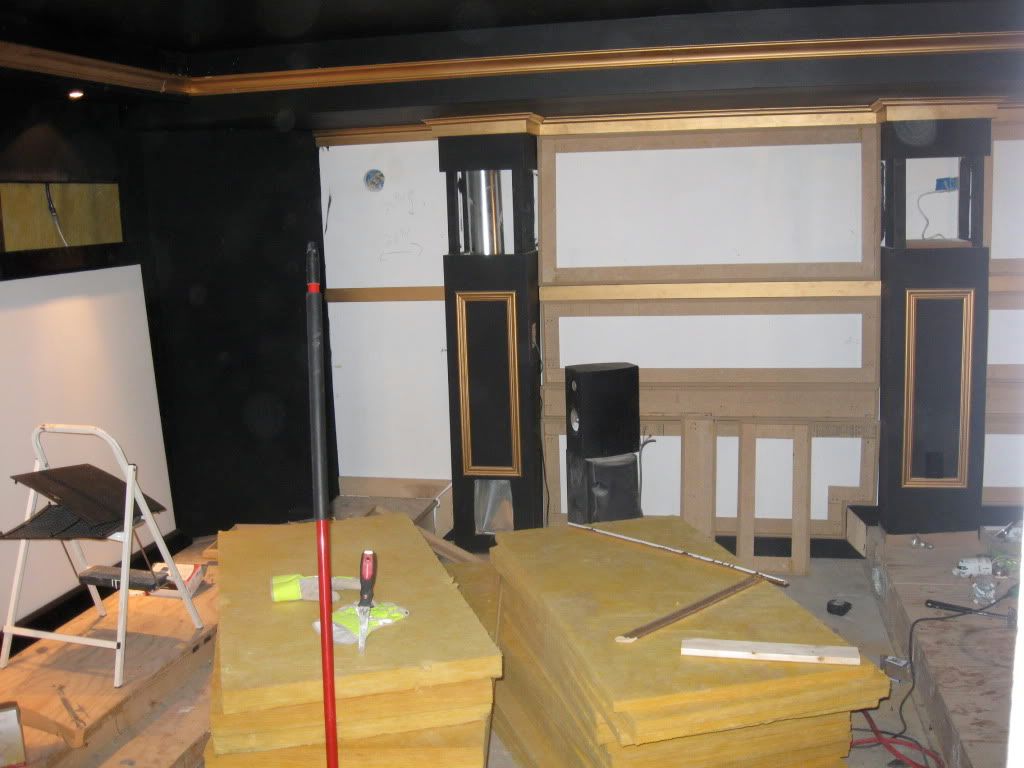 entrance wall with door and unfinished trim and columns, all built and painted just need hung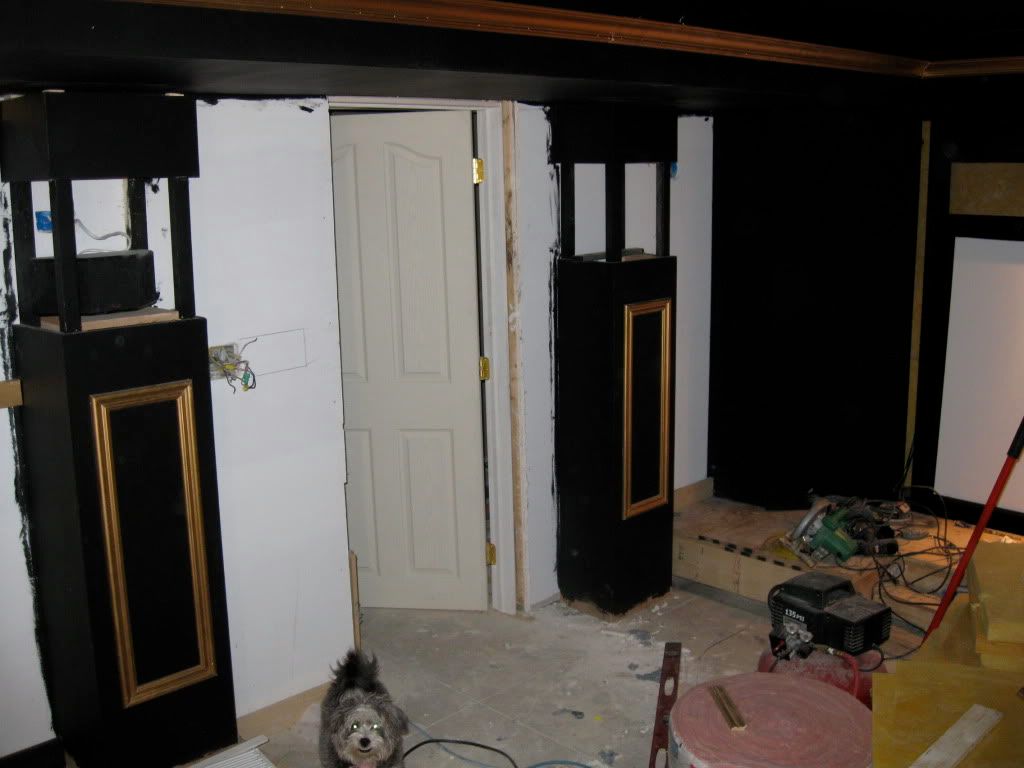 Other side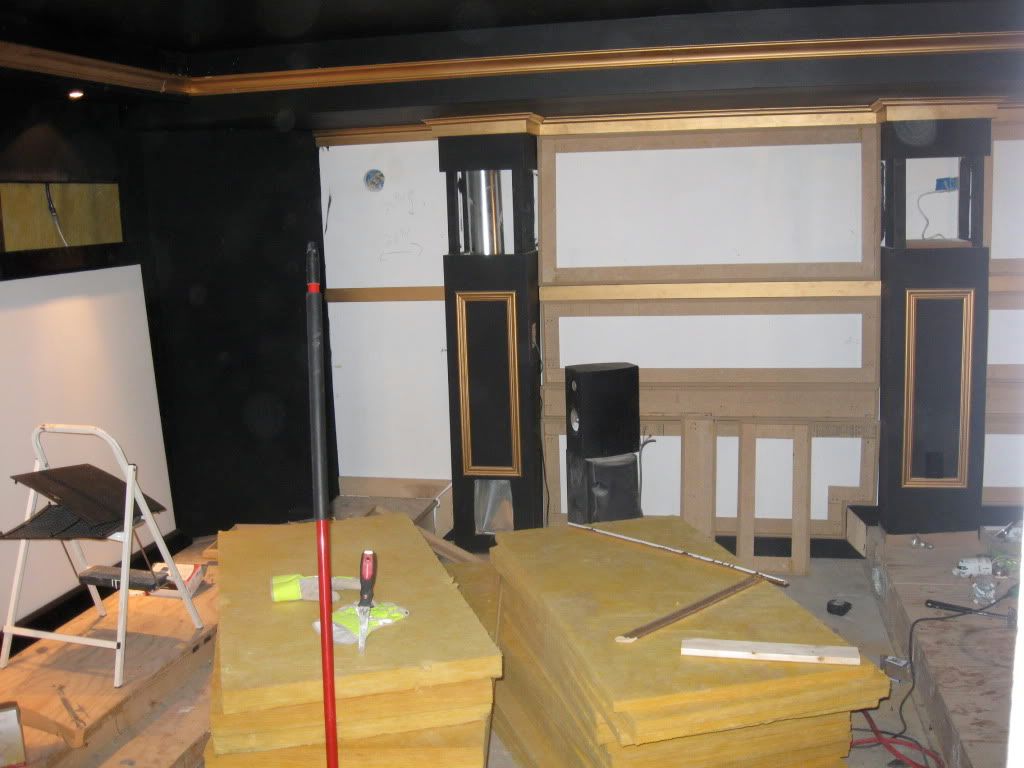 Closeup of empty frame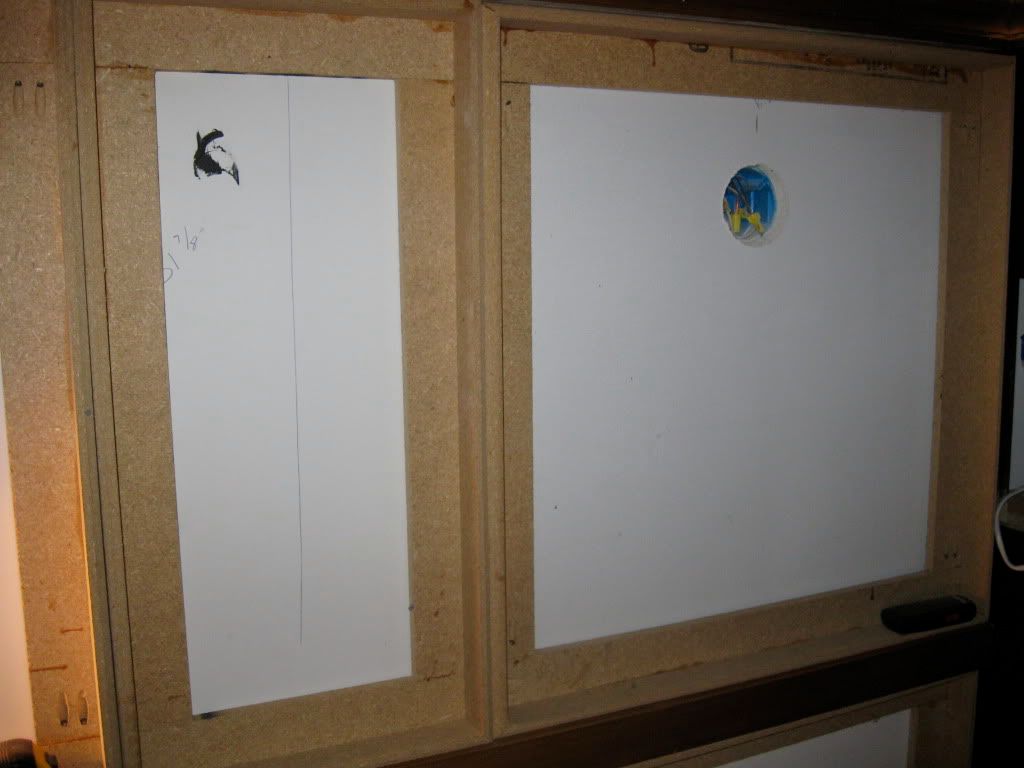 creative work around a mistake in duct location
| | |
| --- | --- |
| cuzed2 | 06-07-2009 10:10 AM |
---
Joe,

Just enjoyed reading (and subscribing to your) thread. Nice build and great documentation!

Between You and Shawn Walters; I am really liking this black and gold look. I'm committed to burgundy and black (now I'm thinking - maybe some gold accents later).

Looking forward to seeing your finished photos - keep up the good work!
| | |
| --- | --- |
| mn_hokie | 06-07-2009 11:57 AM |
---
Looking good. I really like the detail on the columns. Nice job.
| | |
| --- | --- |
| BigJoeMoose | 06-14-2009 08:24 PM |
---
Finally looking like a place to watch some movies. The new HSU vtf2-mk3 sub came and man can that think shake your chest, what a sub. Never heard anything as crisp
I think I found the name of the theater too...The Golden Ticket
Making the projector a little more classy with a medalion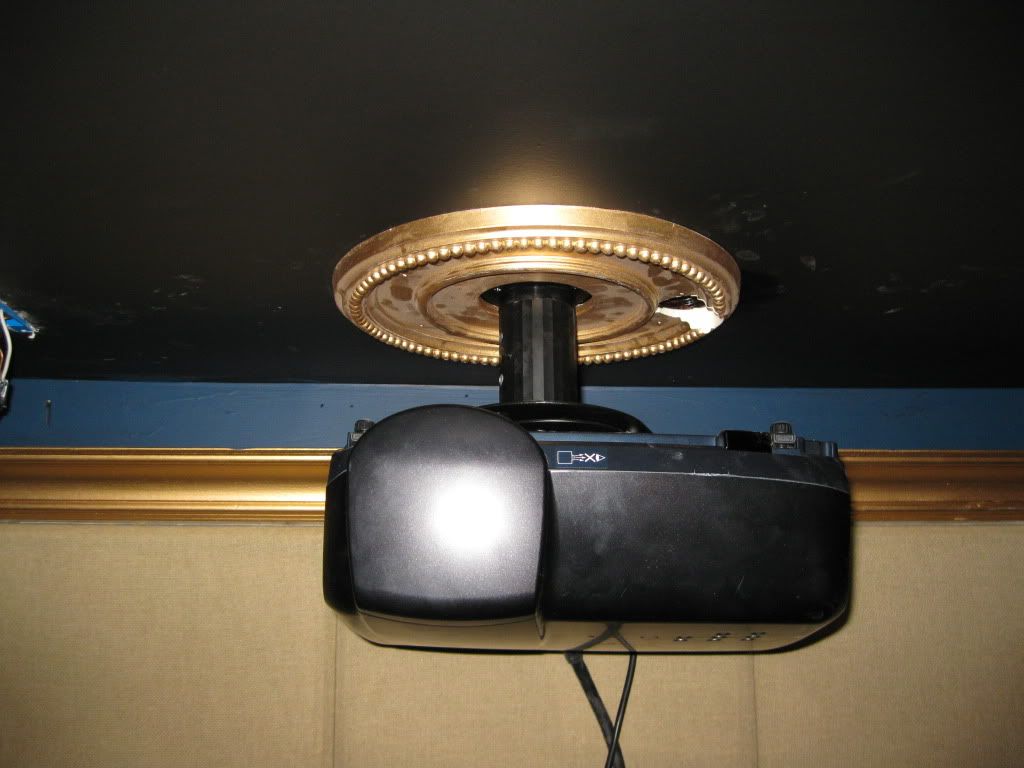 Side Wall - wall is finished you can see the upper part which is a sand color GOM
Back Wall almost done - all 2" 703 wrapped in Skrim cover in GOM in frame
Last picture of screen before carpet comes next week.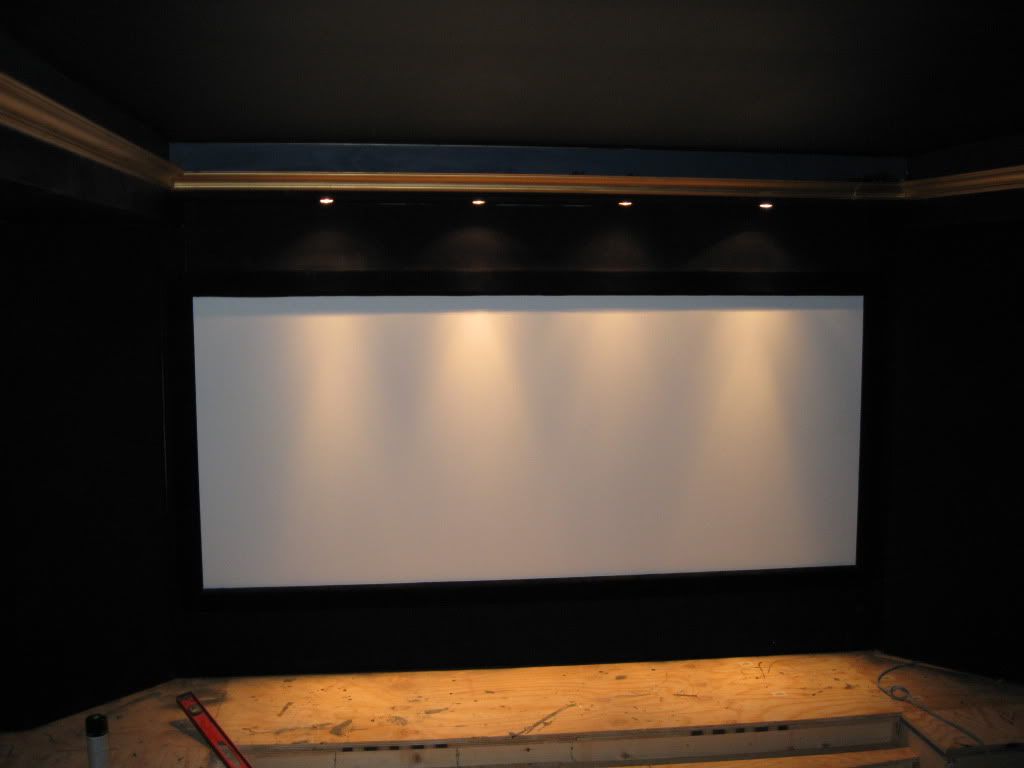 Other side- frames are done, just need to put fabric on them
Up close of crown and midnight blue for light up of rope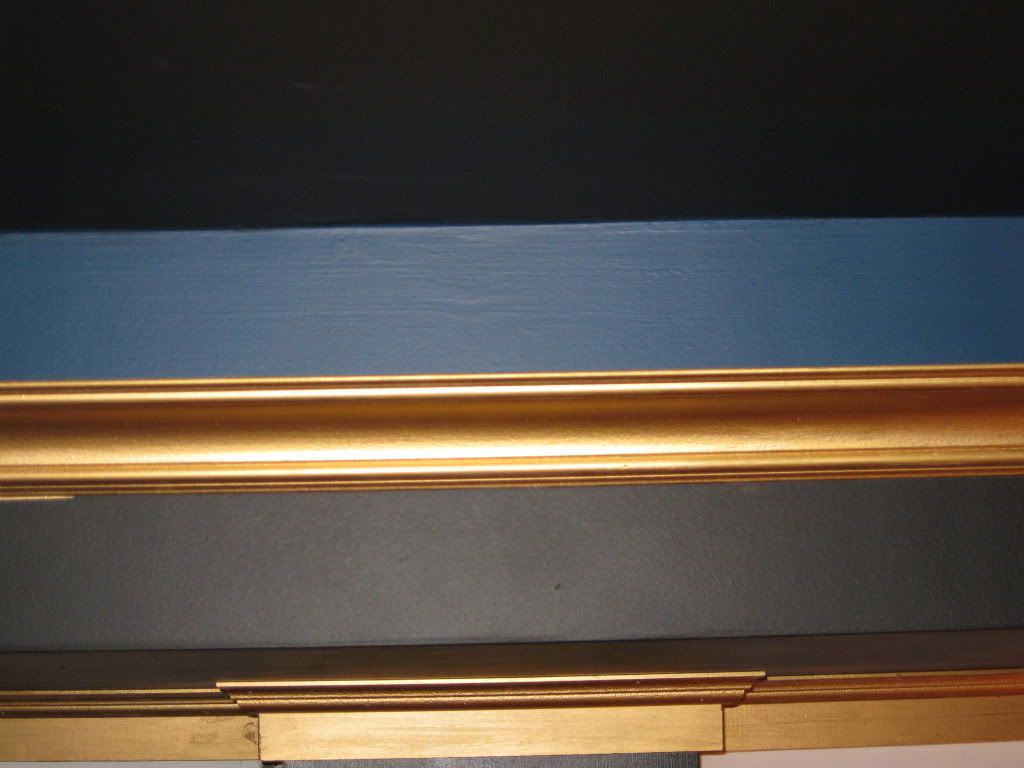 Up Close of rear column detail, rope runs through box, box is home made out of old crown
Up Close of top of Column
up close center chair rail two pieces painted gold + Bevel+Fabric
total column finished (minue speaker fabric) +poly added
| | |
| --- | --- |
| bsuave | 03-24-2015 09:05 PM |
---
Were you able to finish??
All times are GMT -7. The time now is

03:28 AM

.
Powered by vBulletin® Copyright ©2000 - 2020, Jelsoft Enterprises Ltd.
vBulletin Security provided by vBSecurity (Pro) - vBulletin Mods & Addons Copyright © 2020 DragonByte Technologies Ltd.

vBulletin Optimisation provided by vB Optimise (Pro) - vBulletin Mods & Addons Copyright © 2020 DragonByte Technologies Ltd.
User Alert System provided by Advanced User Tagging (Pro) - vBulletin Mods & Addons Copyright © 2020 DragonByte Technologies Ltd.