| | |
| --- | --- |
| vanice | 12-27-2011 09:57 PM |
---
After spending countless hours on here trying to soak up all the knowledge that I can it has come time to jump in with both feet and start my own build.

I will be finishing a full basement along with the theater room but the theater will take a little higher priority. So here are the details of the room:
Overall space between studs: 19'-9" x 12'-6 3/4" x 8'-6"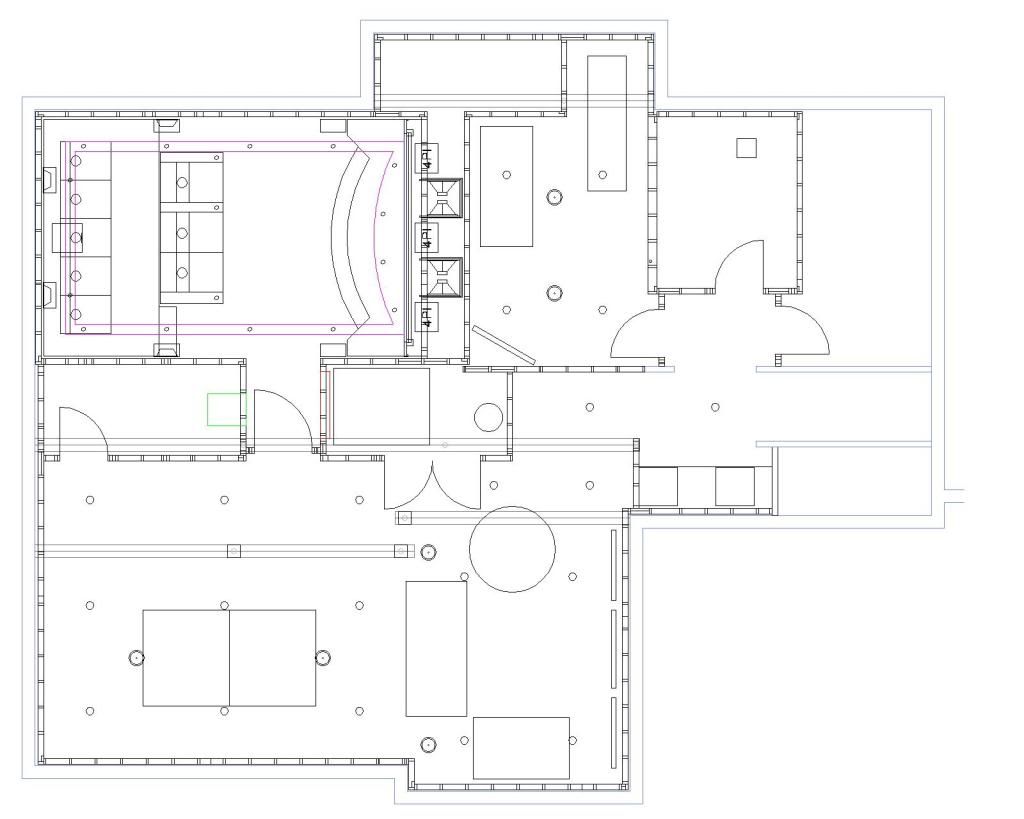 Room construction will be DC-04 clips to decouple walls and whisper clips and channel on ceiling. Two layers of 5/8" drywall with green glue all around. Hoping this will help keep the sound in and the noise out. All walls will be fabric frame with room for sound treatments (similar to Damelon's). Front wall will have an AT screen with a stage and back wall will have a riser for second row seating. Speaking of seating, there will be two rows. First row will consist of three recliner style theater seats while the second row will consist of 5 theater style rocker seats.

Equipment will consist of:
- IB sub build consisting of (4) IB3 18" subs in a manifold configuration
- LCR speakers will be DIY 4Pi
- Two pair of Emotiva ERD-1 speakers for surround duties
- Video provided by JVC RS45 projector (currently sitting in a box and mocking me)
- Xbox 360, PS3, and UnRaid server (with PCH A-300) for video sources
- hopefully a new receiver and amp in the future

Here is the current layout plan:




And here are a few pics of the space as it sits now:

Looking at future theater rear wall.



Looking at right side of future theater.



Supplies ready and waiting!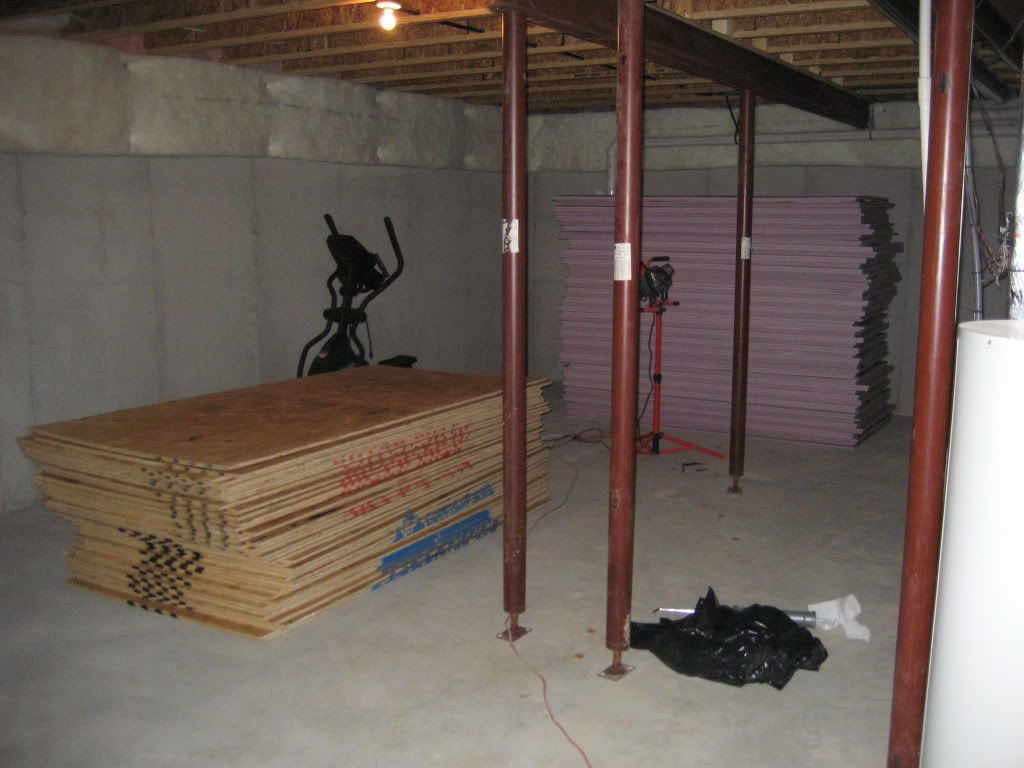 Here's to hoping this thing works out.
| | |
| --- | --- |
| vanice | 12-27-2011 09:58 PM |
---
Construction has begun! Pics to follow later this evening.
| | |
| --- | --- |
| BIGmouthinDC | 12-28-2011 04:31 AM |
---
Good looking plan. Couple of observations. That is a huge investment in space for your IB sub. Something that I'm not sure I could ever commit to if I were building for myself again. On the 4Pi's, Wayne and others advised me to toe in the L/R but space prohibited me from doing that.
| | |
| --- | --- |
| Ted White | 12-28-2011 05:32 AM |
---
Consider an initial layer of OSB instead of drywall. Very handy. Where's the stairwell?
---
Would the side IB section on it's own, have enough volume for the IB sub? You could shrink the front AT space's depth by moving the AT screen wall forward 12-14". This additional length could be used to pull the seating forward (with the back row now off of the back wall). The IB subs could be stacked vertically and fire into the room from the front left hand corner, just in front of the AT screen wall.
| | |
| --- | --- |
| BIGmouthinDC | 12-28-2011 04:29 PM |
---
I like Tedd's idea, you might be able to do recliners in the second row then if you are interested.
| | |
| --- | --- |
| zamboniman | 12-28-2011 04:40 PM |
---
Quote:
Originally Posted by
BIGmouthinDC
Good looking plan. Couple of observations. That is a huge investment in space for your IB sub. Something that I'm not sure I could ever commit to if I were building for myself again. On the 4Pi's, Wayne and others advised me to toe in the L/R but space prohibited me from doing that.
+1 on taking a different direction and ditching the IB sub..
Compromising way too much to include it. Immensely powerful and capable subwoofers are readily available and therefore giving up precious room space for it doesn't add up.
The other problem with the IB sub is that you have zero flexibility in moving it without an entire reconstruction. The benefits of the extra space and the ability to slide a subwoofer a few feet here and there along the front wall would overrule it for me..
My 2cents.
| | |
| --- | --- |
| vanice | 12-28-2011 06:10 PM |
---
Big - Thanks, I've spent numberous months tweaking the layout and will probably tweak some as I go as well. As far as giving up a lot of space for the IB, I don't feel like I am sacrifising too much and will hopefully get a lot in return. The enclosure is only about 30" deep and the space to the top of the layout is kind of wasted space. It is very ackward (only 4' deep) and using it for the IB just made sense. See pic below of the bumpout...
As far as the recliners, I like the theater rockers and think they would be a nice addition. Though having extra depth is never a bad thing and would definitely open up more options should my plans change as I get closer to that stage.
Ted W. - Has there been a move away from using double drywall and going to OSB/drywall? I know the benefits of being able to install anything anywhere you want without trying to find a stud but want to make sure that I am getting the same soundproofing benefits as drywall. The stairs are located on the far right side of the layout...
Tedd - The section under the bumpout would be approx. 5.5x Vas for (4) IB3 18" subs. I would be adding insulation inside the chamber so I might be able to get that up over 6 which I believe to be acceptable. I had not thought about stacking them and having them fire in from the side. It is an intriguing idea. Not sure how that would change the output and how much easier/difficult to tune. I believe you need about 2 feet clear for each box (so that you are not firing it into a solid surface) so it might be tough to stack them with only 8'-6" of height. The line array is another option and probably my best bet if I decide to go this route. Will definitely look into the idea.
Zamboniman - The IB has been a part of my design from the beginning and I also like the idea of having a different sub setup than most. Others have been able to tune them so I think I can work with it's limitations. Gotta want it.
| | |
| --- | --- |
| vanice | 12-28-2011 06:24 PM |
---
Today's progress...
Not as much done as I would have liked but still progress. Nothing fancy, still working on the sheathing and plywood. A few pics...
Looking toward the rear of the future theater space.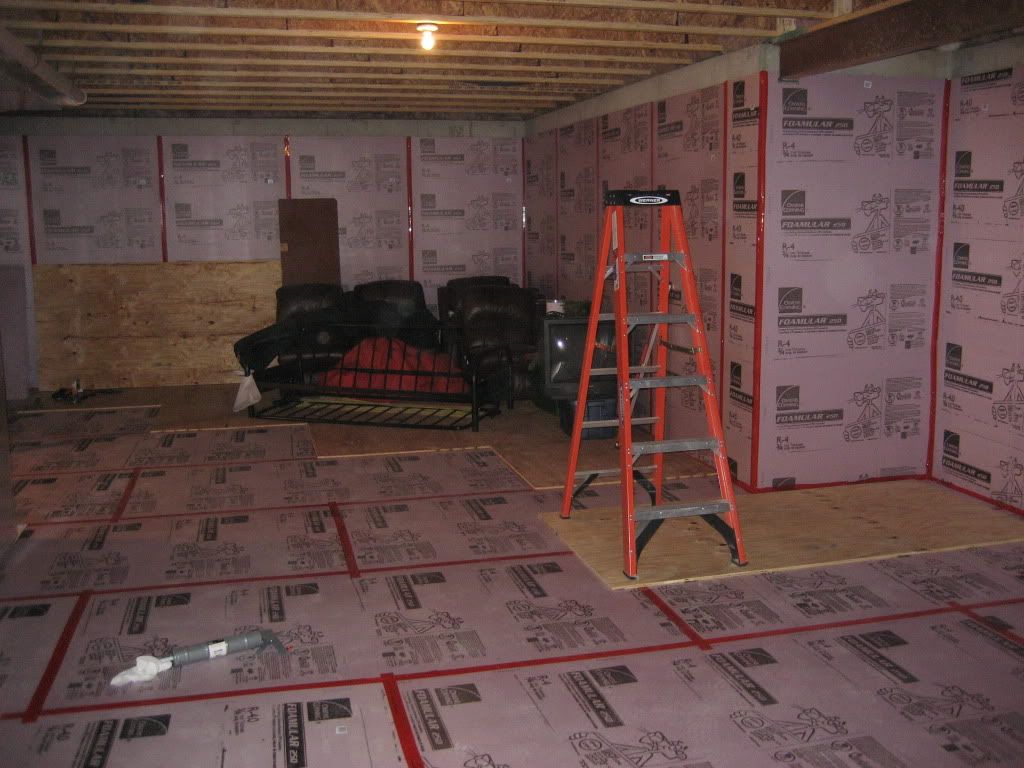 Looking from the right of the future theater spacer.
Hoping tomorrow to have more of the plywood floor in. If all goes well I should complete this stage of the build by early next week. I tend to overestimate my ability so don't be surprised if I am still working on this next weekend.
| | |
| --- | --- |
| vanice | 12-29-2011 02:29 PM |
---
About 2/3rd's of the way done with the foam today and a few more sheets of plywood down. I will be happy to never have to anchor anything ever again. EVER!
| | |
| --- | --- |
| stockmonkey2000 | 12-30-2011 08:22 AM |
---
Just came across and subscribed to your thread. Looks like you have a good space to work with. I agree with you that you are not giving up much space for the IB. If you were to leave enough room for speakers and a decent sub behind the false wall it looks like the screen would end up pretty close to where you are now. With the speakers recessed it looks like a good use of space.

I agree with Ted's recommendation to use OSB as the first layer. I did OSB and then 2 layers of 5/8 drywall and being able to put screws anywhere comes in really handy. Saved me a lot of time later when putting up soffits.
| | |
| --- | --- |
| Ted White | 12-30-2011 09:08 AM |
---
The third layer of mass and second layer of damping really pays off with the low frequency bass isolation. A change in the clip / channel pattern will accomodate the added load of the third layer.

Yet another change in the clip pattern can boost the load potential to over 13 pounds a square foot. So clips and channels can certainly be used with heavy loads. The clip pattern / quantity of clips can be varied to accomodate different loads like projectors, lighting and soffits. The goal being to match up the right clip pattern with the projected weight load. More clips without more load means a stiffer spring = higher resonance = less bass isolation. Balance is the key
| | |
| --- | --- |
| stockmonkey2000 | 12-30-2011 09:13 AM |
---
I'm very happy with the performance of the 3 layers - Even with 4 18" subs going there is significant reduction in bass outside the room.
| | |
| --- | --- |
| GoCaboNow | 12-30-2011 10:41 AM |
---
Welcome, in advance, to the 4pi/4 IB3 18 club.
You've got a nice space there - good luck!
| | |
| --- | --- |
| stockmonkey2000 | 12-30-2011 10:46 AM |
---
Guess I need to get the 4pi's so I can join that club. I'm set for speakers, but when the theater is done I'm thinking of building the 3pi's with the AE woofer and DE250 Compression driver.
| | |
| --- | --- |
| GoCaboNow | 12-30-2011 11:05 AM |
---
All right, welcome in advance to you too!
I went with the JBL and DE250 upgrades. The 4pi is shorter than the the 3pi and I am height constrained but the AE woofer sounds like a winner though and cheaper than the JBL now, I thought I heard? Either way, I really like the way these blend with the IB.
| | |
| --- | --- |
| warrenP | 12-30-2011 01:06 PM |
---
You have the space to do two doors, an inner and outer door, so to speak. Your plan suggests sound isolation is important, and since you do have the space to do it, I'd suggest going that route.
| | |
| --- | --- |
| vanice | 12-30-2011 06:45 PM |
---
Thanks for all the comments.

I am definitely looking forward to joining the 4Pi/4 IB3 club! I have the DE250's already but don't plan to upgrade to the JBL's yet. I can't justify the extra cost right now. Maybe down the road that would be a nice upgrade when cash isn't flowing out for other things.

I am looking into possibly doing the line array as suggested above to save a little depth and add some into the theater room and some into the gym area next door. My only concern is making a wall that could withstand 4 18" subs.

I never gave it much thought in doing two doors into the theater room. Right now the plan is to have one. The small little hallway will house the equipment rack on the left (equipment room is to the bottom left of the theater room and a couple of shelves on the right for movies and gaming accessories. Will probably stay with one door but might reconsider as I get farther into my build.

Small update today. More of the same from the past two days. I will have foam board and plywood in my nightmares tonight.
| | |
| --- | --- |
| vanice | 12-31-2011 04:56 PM |
---
I have been trying to download the AVS 709 file so that I can test out my projector before boxing it back up for who knows how long. Anybody have some tips or access to the MP4 file they could send me?
| | |
| --- | --- |
| misugrad | 12-31-2011 06:13 PM |
---
Great looking space. Re; the IB, mine came out to about 6 Vas; though I only have 2x 15". Just those give quite a response. I can only imagine the 4 x18" like StkMonkey and yours. If you have the budget and space for the OSB, do it. I'm subscribed; looking forward to your build out.
| | |
| --- | --- |
| vanice | 12-31-2011 06:41 PM |
---
No work updates today. Needed to rest up a bit. Starting to realize just how out of shape I am.
| | |
| --- | --- |
| vanice | 12-31-2011 09:32 PM |
---
Happy New Year everyone!
| | |
| --- | --- |
| vanice | 01-03-2012 11:36 AM |
---
Just thinking out loud here hoping to get a little feedback on this idea. Based on my layout I have a workout room on the backside of the theater (to the right in the plan). What if I were to use that room as the back wave enclosure for the IB subs? It would be double drywall (or OSB/drywall) like the theater with clips and channel. Would have to treat the door like the theater door (heavier solid core door with some sort of seal at the bottom). I could then eliminate the other IB enclosure (gaining more space for the workout room) and also increase the length of the theater (possibly giving some of the added width to the workout room) allowing me to pull the second row farther off the back wall. Thoughts?? Other than having subs exposed in the workout room what drawbacks would I be looking at? Any potential damage to the workout equipment?
| | |
| --- | --- |
| stockmonkey2000 | 01-03-2012 12:17 PM |
---
The only negative to that plan is the added cost and effort involved in soudproofing the workout room. The additional room in the theater would be a nice benefit and the additional VAS might give you a marginal improvement in performance. Now if you were to take the additional VAS and to 8 18" subs that might make a difference.
| | |
| --- | --- |
| vanice | 01-03-2012 12:36 PM |
---
Wow! Never thought about using the extra volume for adding more subs. Not sure I could squeeze that one by the finance committee (wife). But I think she would approve of the added space in the workout room. Would probably have to frame that wall with 2x6 to gain some strength since I wouldn't be able to brace back against another wall.
| | |
| --- | --- |
| stockmonkey2000 | 01-03-2012 12:41 PM |
---
4 more subs would probably be a drop in the bucket compared to the sound isolation for the workout room.
| | |
| --- | --- |
| vanice | 01-08-2012 05:41 PM |
---
Well, finally finished the plywood. Nice to have that part complete. Here are a couple of pics.
Foam is nearly done. Just need to complete a strip around the top of the foundation.
Have to get back to another project I started before the basement so it may be a week or two before I can get back to the basement. Also need to wait until lumber goes on sale so I can get the framing materials.
| | |
| --- | --- |
| cuzed2 | 01-09-2012 07:51 AM |
---
Vanice,
Just subscribed - Looking good!
I realize we haven't had much in the way of cold weather -however; I'm curious if you are noticing a different feel with the floor insulated?

And a question: Have you considered sealing and insulating the upper 2 feet of your walls with the spray foam (including the plate/sill area)?
| | |
| --- | --- |
| vanice | 01-10-2012 05:18 AM |
---
Thanks for checking out my build (well, at least the prework). Very true, it has been pretty mild so far. I'm sure we will pay for that soon. The plywood is still cool to walk on but not near as bad as the bare concrete. I think it will pay off once I get all the other insulation in there and get the ambient temp up a little. Right now it floats around 63-64 degrees with just one small vent feeding the whole space. That's only a few degrees off what we keep the rest of the house so hopefully it won't take much to keep the basement at a comfortable temp. One thing I noticed that I didn't expect was that the humidity has dropped a few percent since I started. Right now I am just under 50% humidity.
I originally wanted to pull all the insulation around the top of the foundation and spray all the cavities but I don't really have the additional funds budgeted for that (after seeing what kind of money is going to be needed for other parts of the project
). Also thought about cutting up the pink sheathing and filling each cavity with that but that would be more trouble than it's worth I think. I have a large pile of insulation that I pulled off the top 2 feet of the concrete walls that I can use. Plan to frame the walls around the perimeter and then stuff more of this insulation into those cavities to help bring up the R value. Will have 6-8 inches of insulation around the top of the foundation so I think that should be sufficient.
Hope to get back at it soon. Currently finishing up a project that I started before the basement that the significant other would like to see finished before I get lost in a new project. Also, still shopping for the best pricing on lumber for framing. Looking forward to that stage of the project.
All times are GMT -7. The time now is

03:23 AM

.
Powered by vBulletin® Copyright ©2000 - 2019, Jelsoft Enterprises Ltd.
vBulletin Security provided by vBSecurity (Pro) - vBulletin Mods & Addons Copyright © 2019 DragonByte Technologies Ltd.

vBulletin Optimisation provided by vB Optimise (Pro) - vBulletin Mods & Addons Copyright © 2019 DragonByte Technologies Ltd.
User Alert System provided by Advanced User Tagging (Pro) - vBulletin Mods & Addons Copyright © 2019 DragonByte Technologies Ltd.