-
Speakers
(
https://www.avsforum.com/forum/89-speakers/
)
| | |
| --- | --- |
| HT_New_Guy | 03-17-2006 06:23 PM |
---
How do you like the PSB Image speakers?
| | |
| --- | --- |
| firebook23 | 03-20-2006 03:31 PM |
---
I really truly like them. I listened to Paradigm and a few others, but for the money they sounded the best to me.
They are a very flat speaker that adds nothing to the recording giving you nothing but what the artist had in mind.

I might move up to the PSB Platinum M2 Bookshelf speakers as i am moving into a condo and don't need the loudness anymore but would prefer a little more detail


are you thinking to buy PSB?
| | |
| --- | --- |
| stony1999 | 03-25-2006 09:02 PM |
---
Do you mean the PSB tower speakers are too loud for a condo? I am now living in a condo and thinking of that, what about sub-woofer? what level of sub-woofer power shall I consider in a condo? I don't want my neighbours knocking my door all the time.
| | |
| --- | --- |
| L84dinr | 03-26-2006 07:07 AM |
---
Hello, I have PSB Golds in a 2 channel set-up. Nad 7000 am/fm receiver set-up as a pre-amp. Two NAD 2400 thx amps for bi amping the Golds. A GCD 700 Adcom cd player. and sometimes a turntable; an old Denon. The children like the novelty of the records.
Over all I like the sound of the Golds. Previously I had a pair of Maggies, Smga's. I much preferred them. But my wife didn't. So ended up with the Golds. The Golds aren't quite as intrusive as the maggies, And definitely the Golds have more BASS, which my family really enjoys. I like the speakers OK. I have gotten tired of listening to them and looking to try something else. I imagine I would have better luck changing the CD player... so I might trade it out as well later on down the line.

Not much to read about, but when the music is turned up, it's enough to get the family dancing and having fun.

We just purchased a new TV set a 50" Sony SXRD. We will probably be going to a HT set-up, so I will keep the Golds for front channels and look for some more PSB speakers, ie Silvers (finger crossed) to round out the HT system, (won't need a sub-woofer right off the bat with the Golds lol). I'll move the 2 channel to the bedroom.
Raymond
| | |
| --- | --- |
| Bhagi Katbamna | 03-26-2006 09:28 AM |
---
Mains: PSB Stratus Goldi's
Center: Atlantic Tech 450 (I know, I know, PSB didn't have a matching center)
Surrounds: PSB Image I 10, Altec Lansing THX dipoles
Subs: SVS CS Ultra, SVS CS-14-46i, Citation 7.4.

Very satisfied, will not upgrade. If I find a buyer for the center channel, I might get a matching PSB stratus center channel speaker.
| | |
| --- | --- |
| subversive | 03-26-2006 09:38 AM |
---
Towers may be more than you need in a condo; a good pair of bookshelves with a nice sub to fill in the lower frequencies would probably be perfect. In the same breath, though, I live in a condo and I'm probably going to buy towers from the new line that is replacing the Stratus series this year (as long as they sound great).
For your sub, keep it at a level that sounds good and still respects your neighbors. It helps having a receiver that has a good auto set-up; I'm very pleased with the level that my Pio 74 set my sub at.
| | |
| --- | --- |
| firebook23 | 03-27-2006 06:39 AM |
---
stony1999:
The point I was trying to make is that I wanted to get a more detailed speaker then the
PSB Speakers Image T55 Tower Speakers
Not to say that the T55's are not detailed, but more about the fact that I only end up stretching the T55's legs once a week or so. But if you want the option of blowing your friends ears off every once and awhile then the T55's would be a great choice.
as far as subs are concerned i Have the
PSB SubSeries 6i Subwoofer
. That matches very well. get that one or it's little brother
PSB Subseries 5i Subwoofer
both of these will have enough power for a medium space
I find if you invite your neighbors over for a movie once every 6 months of so, they tend to be much less gimpy about you playing music or movies loud.
| | |
| --- | --- |
| firebook23 | 03-27-2006 06:45 AM |
---
subversive:
I have seen the new
PSB GDesign Loudspeakers
they are very nice (very nice). They look to have a more rounded cabinet (like a kef).
Knowing PSB though i wouldn't hold my breath for them this year. but they might surrprise us.
| | |
| --- | --- |
| starcycle | 04-04-2006 01:18 PM |
---
a local dealer has a pair of PSB B25 he said he would let me audition for a week. i'd really be interested to hear more opinions on PSB (esp. image) and how they compare to ascend, energy, paradigm, etc.
one thread i was reading at ecoustics said that the PSBs sounded "livelier" or more airy and 3-D than the ascend 170s. i'm leaning toward auditioning them, but he doesn't take CC so i'd have to give him a check, and it's a bit of drive. but i probably will -- it's always hard to resist audition opportunities.
more PSB opinions please!
| | |
| --- | --- |
| srw1000 | 04-04-2006 07:17 PM |
---
I've owned a couple of different PSB set ups for about 15 years now.

My current set up is:

Mains - 800i
Center - Stratus C5
Surround - 10S
Sub - Hsu VTF2
Tactile transducer - ButtKicker

I'm a big fan of PSB, and feel they offer a good value for the cost. I've been contemplating an upgrade for almost a year now. Ideally, I'd like to have three PSB Stratus Mini speakers across the front, and adding an additional pair of 10S surrounds to be back.

In comparison, I recently purchased a set of three Ascend 340s, but ended up returning them. To my ears, they were a bit too shrill, and the bass was a bit boomy for my taste. In fairness, during my audition they announced their signature series which were supposed to address these very concerns. Maybe the new design would have sounded better to me, but I just wasn't floored enough by them to want to swap them out.

Please at least give the PSBs a listen. I think their sound is very clean and accurate.

Scott
| | |
| --- | --- |
| srw1000 | 04-04-2006 07:23 PM |
---
Quote:
Originally Posted by
firebook23
subversive:
I have seen the renderings of the new
PSB Stratus Loudspeakers
they are very nice (very nice). They look to have a more rounded cabinet (like a kef).
Knowing PSB though i wouldn't hold my breath for them this year. but they might surrprise us.
You don't happen to have any pictures, do you? I'm curious to see what they're going to look like. Were they keeping the four different types of Stratus speakers, or are they consolidating them?
I'm a little surprised that the stopped producing the Stratus speakers last year, and haven't even officially announced any details on the replacements yet. It's odd to leave that wide of a gap without any Stratus speakers to sell (other than what might be left in dealer's inventories.)
Scott
| | |
| --- | --- |
| firebook23 | 04-05-2006 11:22 AM |
---
I saw The new stratus on a computer screen (renderings) so I have no pictures, But I think there will be two towers two monitors and maybe a surround bi-polar.
Ill see if I can grab some pictures during CEDIA this Sept.
PSB Speakers
might have some prototypes on display. As far as the look of them they kind of looked like kef reference series without the mid, tweeter assembly sitting on top. In my opinion it is a huge step forward for them in design.
Not sure when they are coming out but I would say late 2006 would be a good bet, seeing as they announced new alpha line at CES and they are coming out within a week or two. (fast for PSB)
I think that the hole left by the Stratus series has been big, But they have not been updated since 2000! so they were well overdue. Besides you can probably get a
PSB Platinum Loudspeaker
for a lot cheaper then the MSRP. I heard of people buying T8's for about $3500 almost half the msrp.
---starcycle---
I would definitely take the
B25 Image Speakers
for a spin. I had them for a few months and loved them. I actually just bought a a par as an anniversary gift for my Dad.
If you do take them for a spin let us know what you think.
| | |
| --- | --- |
| firebook23 | 04-06-2006 12:42 PM |
---
hey PSB HEad's I came across these pictures on the web (I think it was on a employees personal site) and I thought you guys would like to have a look.
PSB Speaker Designer Paul Barton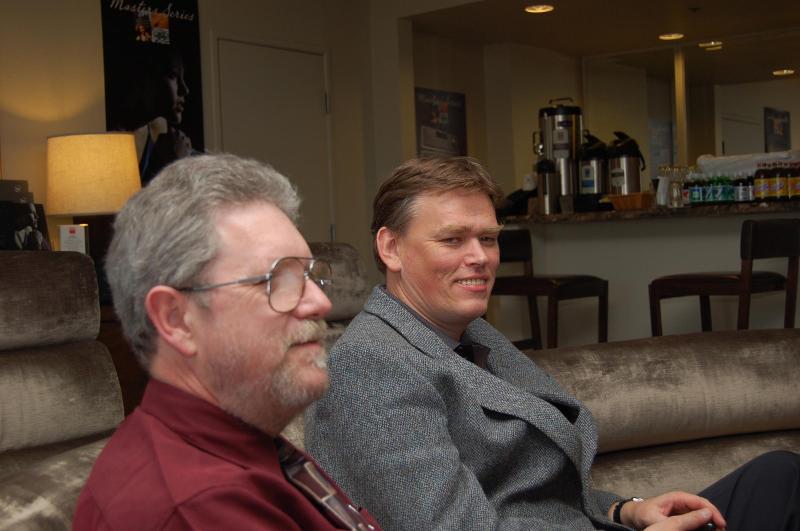 New Look PSB Alpha Speakers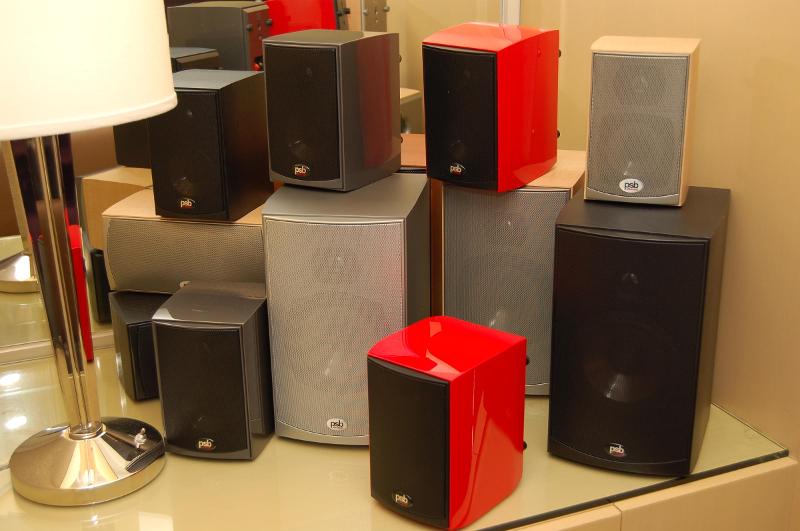 CHS40 and CHS60 In-Cabinet Loudspeakers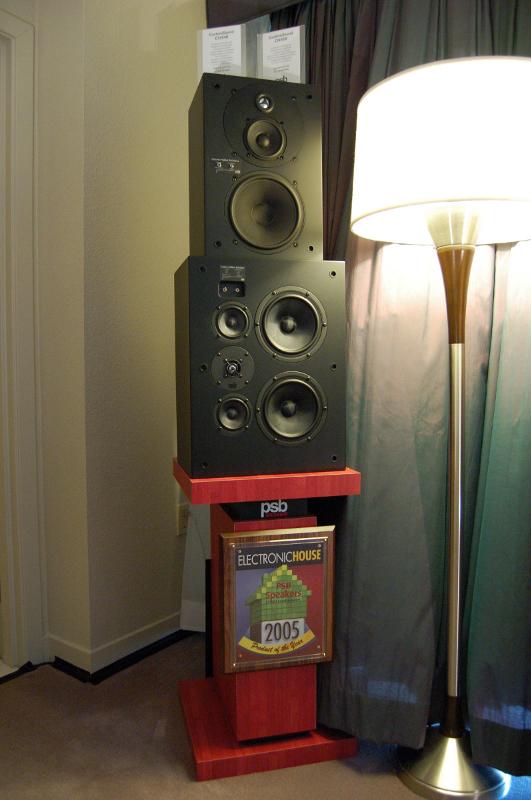 VisionSound Speakers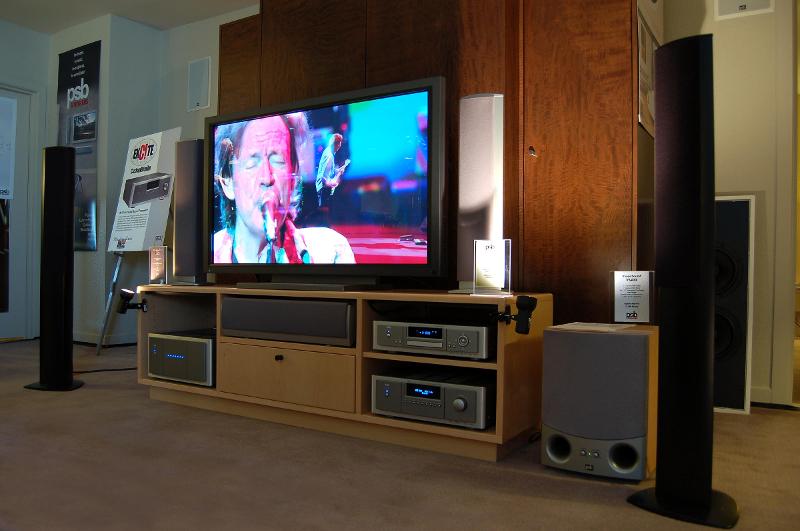 VisionSound Speakers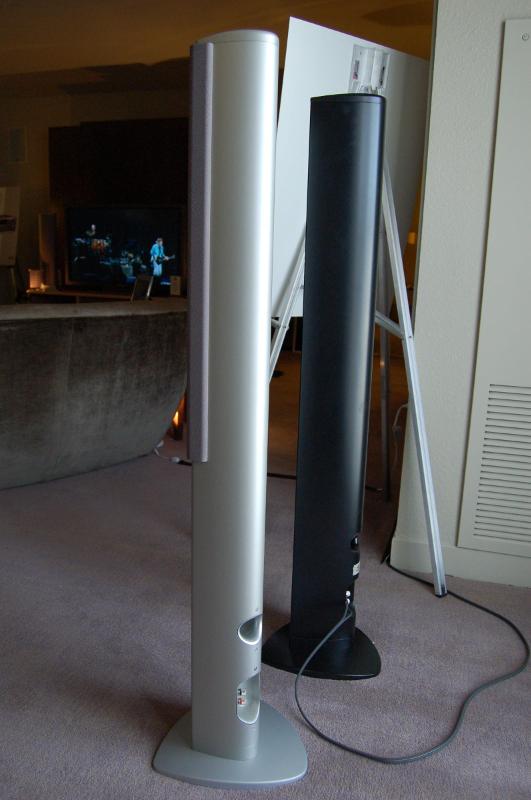 What do you guys think of the new alpha paint job? now CES is "international" remember so we might not get these color in North America.
| | |
| --- | --- |
| jmichaelf | 04-06-2006 01:32 PM |
---
Cool to see those Masters at work, too.
| | |
| --- | --- |
| FoeHammer865 | 04-07-2006 06:01 AM |
---
Those pics are great. I like the paint job on the Alphas. I'm not a fan of the red itself, but the I like the idea.
I gotta question for you guys. I started a thread in the Speaker forum regarding this problem. Here's the link :
Amps out on 7pts
I had a lightning strike a few months back that took out the amps/crossovers in my 7PTs
. Now, I have a speaker with a passive crossover for the Mid-Tweeter combo and nothing for the two bass woofers. PSB wants $275ea. for replacements. I can't afford that (baby #2 on the way
).
Any ideas as how to make these viable, whether making them passive or bipassing the amp and just using the active crossover?
Know any PSB or indigo(BASH) engineers?
TREVOR
| | |
| --- | --- |
| firebook23 | 04-07-2006 06:32 AM |
---
Hey FoeHammer865 sorry to hear of your bad luck, I actually did read your thread the other day and started to do some research on your problem. Here is what I found out.
The Amp in the 7PT is not a BASH amp. It is a classic AB amp so really any competent repair shop will be able to fix the amp. so you might try that. Also I have heard that you can turn your 7PT into a 6T with a little modification. It involves buying a few parts though and may end up being a little cheaper then buying new amps, but not by much.
I think fixing the amp is your best bet. but if you wanted to ask
PSB Speakers
what would be involved in modifying your 7PT into a 6T give them a call.
| | |
| --- | --- |
| starcycle | 04-07-2006 07:55 AM |
---
same here. basic black still rules (imho
) but they would cool in different colors, like those blue dali speakers. the dark gray ones look pretty nice, too.
---
I have: for 6 years now
PSB stratus SilverI towers
C6i- center
T+A surrounds (high-end German)
SVS-12sdi - sub
Denon 3803
Older Sony CE775Modified CD player-SACD
PanRP82 -DVD
NEC xr5 plasma

I have been reading and going to local hi-end Hi-Fi stores. I have been wanting to up grade my EQ. But where? The PSB Speakers are great Music & HT, the music fidelity is wonderful, and would purchase them again. However, I think the 3803 is underpowered and needs some help. So, I'm looking at a power amp.
Then I'll look at changing out the DVD player or CD Player. I am learning the source is the KEY.
dB
| | |
| --- | --- |
| Ericglo | 04-07-2006 09:19 AM |
---
I have owned Stratus Golds for six years. I use them with an ADA amp and a Marantz pre-amp. They have worked great and would love to go to a Gold surround set up.
Actually with the prices these days, a set of Silvers or Bronzes would be fine in back and a pair of Minis for center front and back.
Ericglo
| | |
| --- | --- |
| FoeHammer865 | 04-07-2006 12:21 PM |
---
I have:

Fronts: 7pt's (in limbo)
Fronts(for the time being): 2b's (normally the back surrounds)
Center: Image C40 (actually its predicessor, but my mind is blanking)
Surrounds/side-surrounds: 10S's
Subwoofer: S.S. 6i

Denon 3805
Pioneer DVC-503 (5-disk)
Dish DVR
Xbox

Future upgrade to Infocus IN76 (next 6-8 months, and also why the 7pts are in limbo)
I love my psbs. I also listened to Paradigms, Klipsch, Polk. Just didn't get the quality for the same cost as the PSBs. I guess that is just repeating what most coming to this forum already understand.

Firebook: How do you like that NAD T534 DVD Player?

My usage is probably 25% movies, 25% Xbox, 35% SDTV, 15% Music.

My room that is being built along with finishing the basement is about 2.5 months from completion. Once the system is moved down there the % of movies will go up considerably. The room is 15 X 24 X 9.
| | |
| --- | --- |
| firebook23 | 04-07-2006 12:43 PM |
---
I love my NAD Very musical, and great for movies. (dvd audio sounds great as well)
2.5 months you might be able to get the T535 DVD player that will be out soon ... or so i hear.
As you may or may not know
NAD Electronics
and
PSB Speakers
are owned by the same company so a lot of the time they sound really nice together.
-k
| | |
| --- | --- |
| hhawk | 04-08-2006 05:25 PM |
---
Another PSB Goldi owner. Ironically enough, I had some MG 2.7QR for a short while that my wife loved but just didn't do it for me. I also have a SVS passive sub and some PSB A/V rear speakers. I power them with a pair of Parasound HCA1200 amplifierw through an Audio Reseach LS3 preamp.
I really enjoy my Golds and second the recommendation above of the Stratus Silver, Stratus Bronze and Stratus Minis. All received great reviews and be found a bargain prices now.
| | |
| --- | --- |
| Craigslue | 04-09-2006 01:10 AM |
---
Platinum T6 = fronts
M2 = surrounds
C2 = center
Velodyne HGS 18 = sub
| | |
| --- | --- |
| sethwas | 04-09-2006 04:22 PM |
---
I'm seriously considering the Platinum T6/in cabinet CHS 60.
The only reason is because it is a speaker designed to outwit the effects of putting a speaker in a bookshelf/near a wall.
However it happens to be to my advantage that the components come from the highest end model PSB offers. Of course that makes it about 50% too much money. I have currently an all Onix Reference setup (still less than the cost of a pair of CH40's). I have heard ascends, JBL, canton, Athena, PSB alpha's, energy takes, Tyler Freedoms, yamaha, infinity, wharfedale, mirage, monitor bronze, martin logan, energy connoseur, kef, bose, orb, and some others that don't come to mind in the 60 seconds I took to write this.

Does anyone know how the platinums compare? Does anyone know where a good platinum setup can be heard that I can bring my ref 1's to hear against?

Seth W.
| | |
| --- | --- |
| firebook23 | 04-10-2006 06:53 AM |
---
--sethwas--
you can buy
PSB Platinum Speakers
at most
PSB Speakers Dealer
But as far as a demo, it may be a bit harder to find. Try.
Awesome Home Theater
351 Plaza Drive
Eustis
FL
32726
352-589-7012
Accusonic
Appointment Only
Miami,
FL
33175
305-220-8556
As far as comparing Platinum with
PSB In-cabinet Speakers
I found them very close. If you are looking for an in-cabinet speaker these are one of the better ones on the market today.
Have a listen to the
PSB Speakers In-Cabinet CHS40
which i think will work in most small to medium size rooms (with a good
Subwoofer
... that way you'll be able to save a bit of money
hope you find a dealer where you can take a listen because it will be worth it.
| | |
| --- | --- |
| sethwas | 04-10-2006 10:38 AM |
---
Yeah, I know the 80 in cabinet is overkill. The 60 may be as well. The 40 is the perfect size but it is the only model that does not have a direct 'sister' speaker in a non-cabinet design.

The appointment-only bit I'm shying away from and the other one, well, people underestimate the size of Florida. That's 270 miles away, as in over an hour flight. I'd have to book a flight to Orlando, then rent a car. Funny that some online resellers have their warehouses here in S. Florida but not the boutique stores. I thought there was a place in west palm (also a 90 minute drive) that had them.

Seth
---
My experience here with PSB, i read the AVS fourm -years ago- about "best speakers for $$$" so i went to try those different recommendions, PSB was one. I found a company here in a warehouse then did highend comerical installs-(resturants -new tech building) they where auth. reps. but most "normal" purchasers would not have gone to this location-or area......
They were planning to move to a new location (good move) and they said they would sell me their demos for a very very good price. they had less than 25 hrs on them . i have the orginal speaker box, the hardware was still in mfg sealed bags. couldn't be happier....
db
Dealer: still in a warehouse...... still Rep.'s them...
| | |
| --- | --- |
| firebook23 | 04-10-2006 12:54 PM |
---
The
PSB Platinum M2
is the sister to the CHS40.
Sorry to hear that there is no place to hear these speakers near you. I would see if you can get a hold of the PSB rep for Florida and see if he could be any help, or call PSB's 905-831-6555 and ask for PSB America
| | |
| --- | --- |
| FoeHammer865 | 04-11-2006 06:03 AM |
---
Quote:
Originally Posted by
firebook23
The
PSB Platinum M2
is the sister to the CHS40.
I'm not sure what you mean by this. The only thing they share between the CHS40 and the M2 is the tweeter.
The CHS 40 is a 3-way and has one 8" bass woofer, one 4" midrange, and a 1" tweeter.
The M2 is a 2-way speaker and has one 6.5" woofer, and one 1" tweeter.
Not trying to rain on your parade, but just curious as to what you found to be "sister" like. I agree with Samwas that the CHS40 is the only one that doesn't have "sister".
Foe
All times are GMT -7. The time now is

05:14 AM

.
Powered by vBulletin® Copyright ©2000 - 2019, Jelsoft Enterprises Ltd.
vBulletin Security provided by vBSecurity (Pro) - vBulletin Mods & Addons Copyright © 2019 DragonByte Technologies Ltd.

vBulletin Optimisation provided by vB Optimise (Pro) - vBulletin Mods & Addons Copyright © 2019 DragonByte Technologies Ltd.
User Alert System provided by Advanced User Tagging (Pro) - vBulletin Mods & Addons Copyright © 2019 DragonByte Technologies Ltd.