Discussion Starter
·
#1
·
Watch this space, Later today I will post up images of the construction of a 134" diagonal screen consisting of two pieces of Drywall joined together (screwed onto an existing wall) and Taped/Mudded/Primed
116" x 65" w/ SF 3.0 formula applied with a Wagner Control Spray "Plus" shooting a thicker viscosity Mix that normal.
To also show a time line, one needs only consider the amount of time between this first posting and the first time you actually see a projected image. A total of no more than 48 hours from start to finish. Heading out now to hang and mud the drywall.
04-01-10 Diagram & Photo update
OK...,
The Illustration below depicts how the two pieces of Drywall were joined. I used a 120" x 48" piece, and cut another 120" x 48" down to just 17" high, with the Factory tapered edges making the Union. As shown, the only Drywall screw fasteners used on the drywall were around and within a 1.5" perimeter area of the Screen, and across/inside the two tapered areas that adjoined each other.
You will notice I placed NO drywall screws within the projected Screen area. Also NO glue or adhesive was used as a supplement to the Perimeter screws.
When screwing the two "unions' together, it was easy to be certain the "joint" aligned perfectly by simply adjusting the depth of the Screws wherever needed, after each was run in until they dimpled the Drywall and held the Drywall flush against the rear surface. When I finished, the two edges aligned perfectly. I then applied a single width of Fiber Mesh Dry Wall Tape over the Horizontal Joint. All the perimeter screws received a coating of Mud, but just a token sanding because they are to be covered by the upcoming Black Velvet Trim overlay.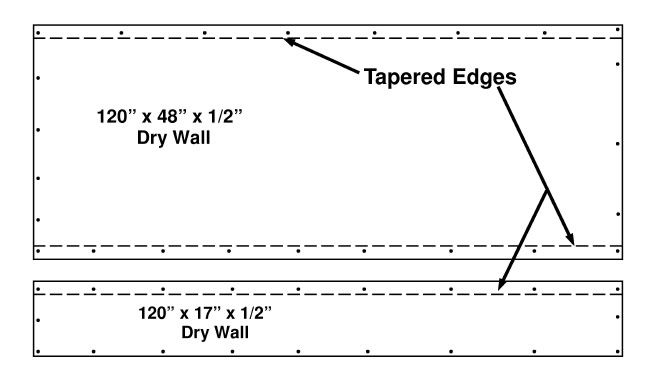 The 1st Photo shows the two pieces of Drywall already joined, taped, and with the first coat of Mud on the joint.
This 2nd Photo shows the Joint after sanding. Note how at places the sanded area has uncovered the straight edges of the Tapered area. To hasten things along, I did apply a thicker than normal initial coating of Mud. I paid for my haste by seeing several cracks in the mud after it had dried.
THAT
is why I had to sand enough that the straight edges of the tapers became apparent. Patience is a definite virtue when applying Drywall mud.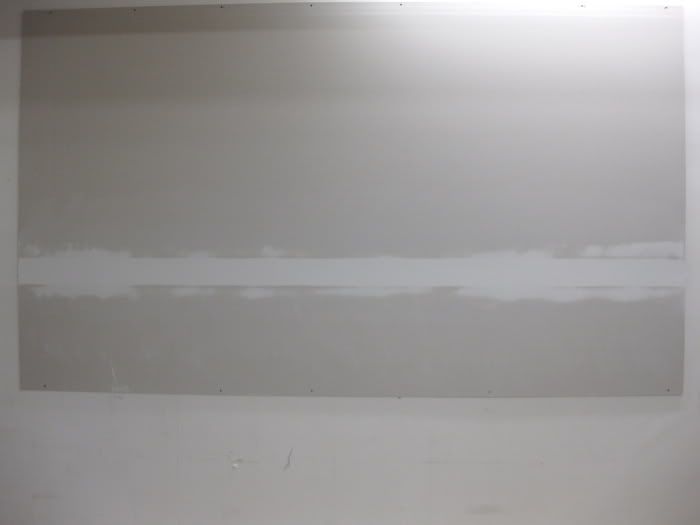 All-righty then....this 3rd Image shows the "Third" coat of Mud after the 2nd coat has been sanded smooth and the edges flush. You can clearly see the amount of sanding done by the "sweep marks" above and below the mudded area. Things are lookin' Mighty Flat.