Discussion Starter
·
#1
·

I'll start out by stating, I'd rate myself a super novice on this stuff.
I have a living room that opens pretty much to rest of the house on one side. Blue are windows, Grey is fireplace, Black is TV, Red is sofas, Green are Hsu speakers. Orange is just measurements.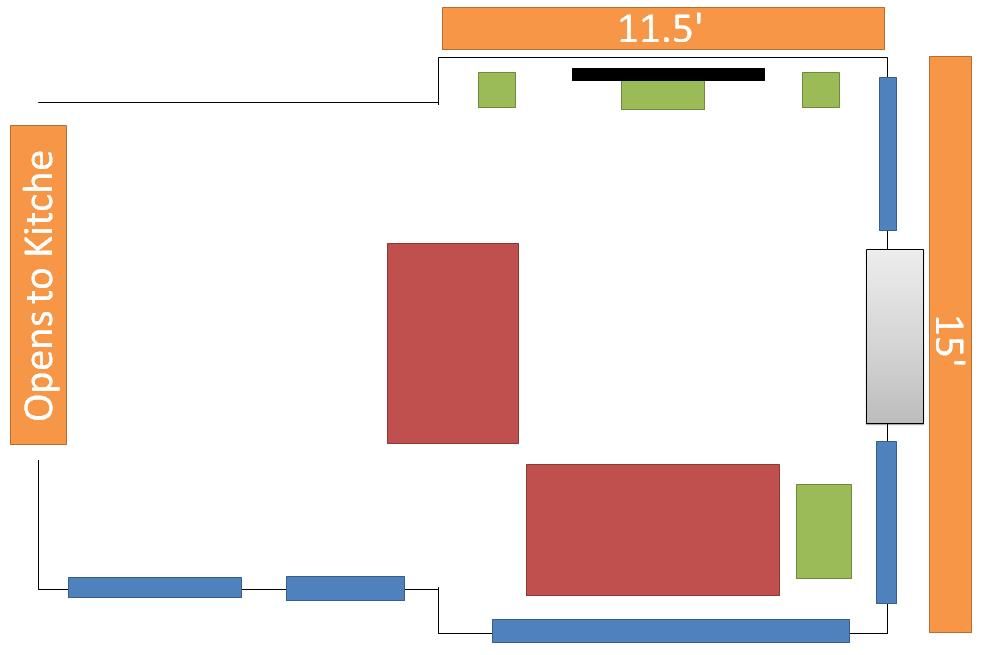 Ceiling is 9'
Here some pics of the place.
This is a pic if you are standing next to tv and looking into open area.
This is a pic from kitchen looking to TV room. TV would be on the back left.
Here is a picture looking straight on at TV. I will be wall mounting the TV to keep kids away a little better and I just like it on the wall.
So, I'm thinking 2.1 or 3.1.
I will be wall mounting the stereo speakers with the recommended AM-40 Side Clamping Speaker Wall Mount Bracket. If I get the center speaker, it'll go on the cabinet.
I do NOT want super bass system, but I'm going with the theory of buying a little more than needed and turn the sub down. (I have two younger kids, so I won't be able to crank it for some time).
Also, I'm not a super loud listener. I just like nicer looking and nice sounding things. Not loud (I know, not typical). I don't know what Amp to get yet. I would like something with 4k passthrough (for the future) and wireless so I can stream music.
This setup will be 95% TV/Movies, 5% music.
So,
I don't have a budget, but want to be practical. I'm not a super high end enthusiast, just the kind of guy that likes to buy it once and buy it right.
Any input on A/V Receiver (5.1 is the most I'll ever do)? Thinking around $250 - $700
Basically are your thoughts on a Hsu vtf3 mk4 for this? Is the sub enough/too much?
Anything else from the experts?