Discussion Starter
·
#1
·
INTRODUCTION
My goal is to build an AV system that can deliver all my AV needs in one room regardless of different format anytime any day.
My plasma displays all the OTA and pay channels content from Comcast via a CableCard and DVD/BD movie content from my HTPC. The same content can be easily switched between the plasma and projector. On the projector side, with 2 different gain material in different projector screens, I can pull down my back 16:9 screen, 2.8 high gain power, for day time viewing even with a lot of ambient light inside the room. In the evening, I can pull down my front 2.35 screen, 1.0 gain matte white, to enhance the black color for the 2.35 CinemaScope movie. The screen set up is so versatile, I can watch everything anytime I want and not to worry about the light condition in the room.
I have been thinking to get a projector that can accomplished the 2 screens set up. Panasonic AE4000 and RS20/750 are top of my wished list. Based on my my research, picture to picture, I believe RS20/700 will be able to deliver a better black and overall picture than Panasonic AE4000. Unfortunately, JVC does not offer lens shift and zoom features that Panasonic AE4000 offers. More info here. Why? Since this is NOT a CIH, Constant Image Height, set up instead of a CIW, Constant Image Width, set up, it does require the projector to resize and lens shift to different image sizes; between 16:9 and 2.35 image.
VIDEO
With Panasonic AE4000, I can easily switch between 2 format images, 16:9 and 2.35. When I want to watch 16:9 content, all I need is to press a 16:9 preset button from the remote and Panasonic AE4000 will resize the 16:9 image I saved before - that's it!
When I want to watch 2.35 CinemaScope movie, all I need to do are:
(1) Press a 2.35 preset button from my remote then Panasonic 4000 will resize the 2.35 image I saved before.
(2) Press the V-fit button, vertical stress the image for the anamorphic lens.
(3) Slide the anamorphic lens in front of the projector then I will have the 2.35 image in front of me. No more black top and bottom bar and using all the pixels Panasonic AE4000 offers.
HTPC
In 1st quarter of 2011, Intel introduced the 2nd generation of the I3, I5 & I7 CPU and H67 chipset a.k.a. Sandy Bridge. Thanks for such specifications, HTPC will be able to bitstreaming all the HD codecs such as DTS MA and Dolby TrueHD, without any downsampling, from HDMI MB port natively without any additional sound card such as Xonar HDAV before. Other additional features of H67 are USB3, SATA 6 Gbps... More info here.
Also, in last quarter of 2010, after years of 3rd party R&D and speculations, a fully working CableCard finally released. This is a great news for the HTPC user in US who want to watch all the HD pay channels natively inside Media Center, not S video, RCA or Firewire input from cable box to HTPC. Other benefits are HTPC will be able to record the pay channel content such as CNN, ESPN & HBO into our own hard drive instead of the cable box's hard drive. Last but not least, with CableCard, we don't need the cable box anymore since HTPC CableCard will be able to do just the cable box does and much more. More info here.
Since my HTPC is the main AV streaming device, I spent a lot of time to choose the best components I can find today. My HTPC is near silent since I'm using a Seasonic X-400 fanless PSU and only operating with a single 120mm 9db fan that share with Corsair Hydro Series H60 CPU cooler. As a result, it is a close-to-silent, drawing as little AC power as possible and all the features that HTPC can offer today.
CONCLUSION
To conclude, a dual screen format system to accomplish different time of the day viewing with 16:9 & 2.35 materials plus a 15 TB server connects to HTPC, I can easily enjoy 2 channel music file, OTA, pay channel programming or bit stream BD/DVD HD codecs to my pre-amp, Onkyo Pro 885, and powered by a 7 channels power amp, Theta Dreadnaught II, to 7 speakers, Martin Logan, via MIT Shotgun interconnect and speaker cables, the result is a powerful but yet multipurpose AV system that I can enjoy anytime of the day.
Room and Projector Data
Room size: 17' X 20'
Ceiling height: 9'
Projector to screen: 16'
Projector drop from ceiling: 14
16:9 with 2.8 gain screen: 110 96 X 54 with 14 black drop from top.
2.35 with 1.0 gain screen: 104 96 X 41 with 20 black drop from top & 7 black drop from bottom up.
Throw ratio: 2
Video Equipment
Panasonic AE4000 Projector
Panamorph UV200 Anamorphic Lens
Chief projector and anamorphic lens mount
Da-Lite 16:9 110
High Power
screen
Da-Lite 2.35 104
Matte White
screen
NEC 1080i 50 Commerce Plasma
Audio Equipment
Pre-Amp:
Onkyo Pro SC885P
Power Amp:
Theta Dreadnaught II
7.1 Speakers:
Martin Logan
Cables:
MIT
Shotgun interconnect and speaker cables
Power Conditioner:
PS Audio Power Plant Premier
HTPC Compontents
Hardware
CPU:
i3 2100 (2nd generation)
CPU Cooler:
Corsair Hydro Series H60 High Performance Liquid CPU Cooler
Motherboard:
Asus P8 H67-M Evo Motherboard
(Sandy Bridge 1155 H67 B3)
Tuner Card:
Ceton InfiniTV 4 CableCARD Tuner
RAM: Corsair 8G DDR3 1333 RAM
PSU:
Seasonic Fanless X-Series 400W
SSD: Crossair 60G
BD/DVD Player: LG H20L Blu-ray Drive
Software
OS:
Windows 7 x86 Ultimate
BD/DVD Decryption:
AnyDVD HD
ISO Mount:
VCD
BD/DVD Player:
Arcosft TMT5
MCE Library:
MyMovies4 PR8
Screen drawing/planning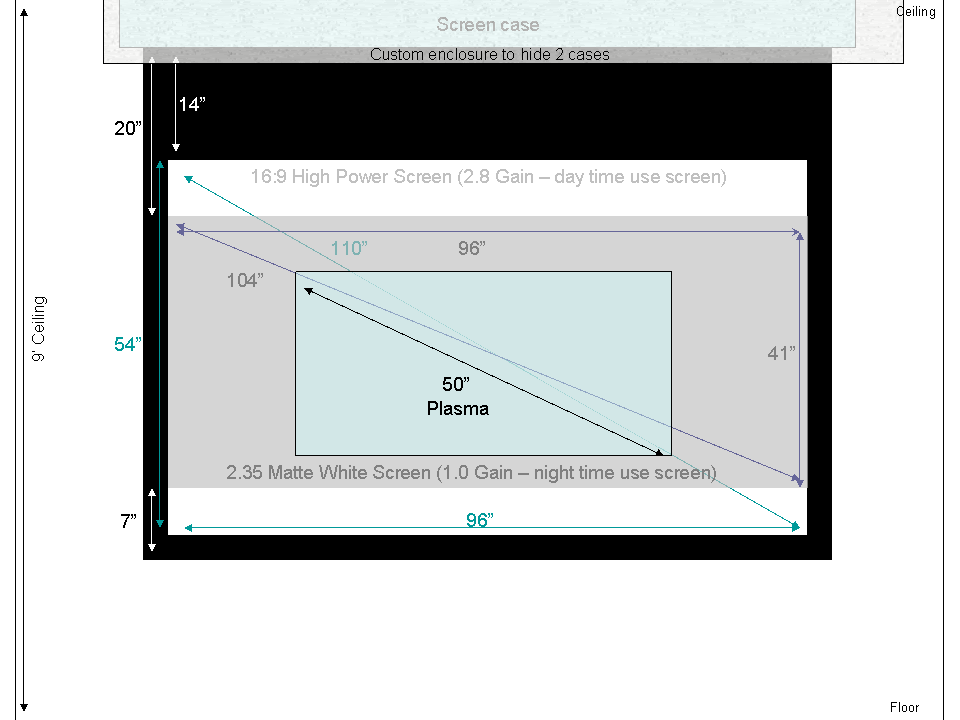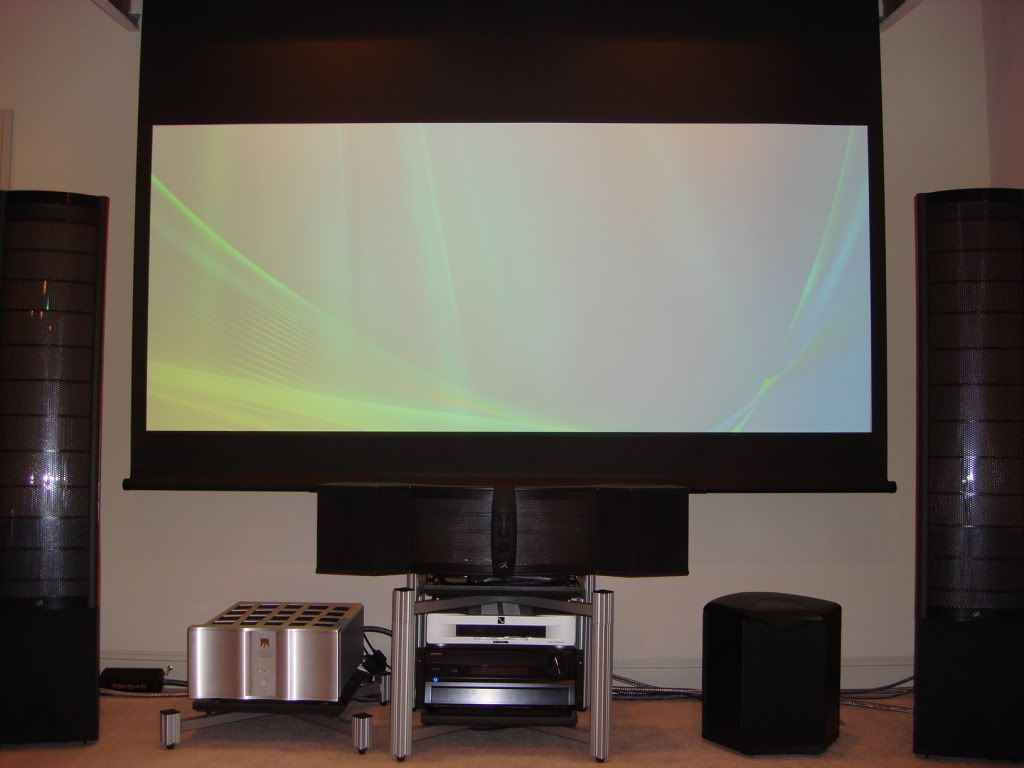 Custom enclosure (2 screens inside)
Panasonic 4000 with Panamorph UV200 Anamorphic Lens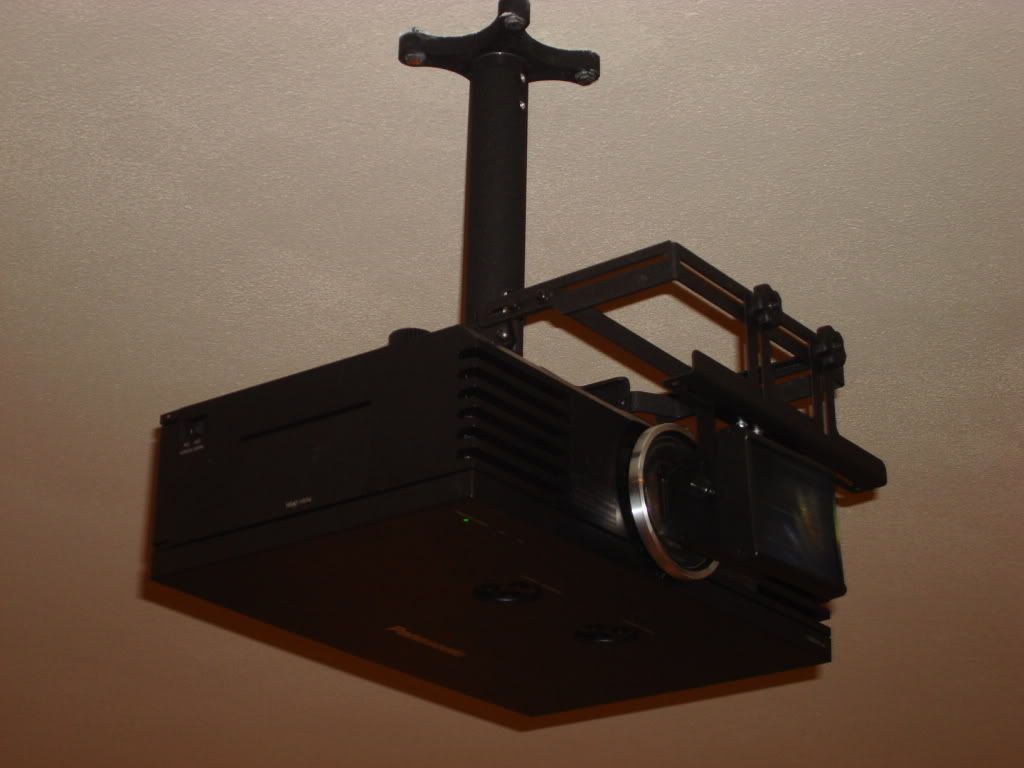 Receiving TrueHD codec from BD material from my HTPC to Pre-Amp
Day time using plasma
Day time using 16:9 screen
Day time using 2.35 screen
Night time using plasma
Night time using 16.9 movie
Night time using 2.35 movie