Wondering how a single, mono speaker would sound in the kitchen, as a 6th speaker in a 6.1/MULTI CH STEREO sound mode approach to playing our digital music ... I hooked up an LX16 speaker from the exercise room to the rear surround LEFT terminal of our HT's AVR and put the speaker atop the cabinets ... it sounded very good.
Right out of the gate, I'm looking at two MartinLogan ceiling speakers: the Helos 22 (wired for mono) and the EM R
The Helos 22 plays down to 47Hz, and has two tweeters, in what looks to be a nice design ($299 - eBay)
The EM R plays down to 37 Hz, with a single FMTweeter ($350 - eBay)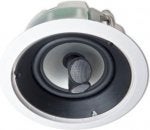 Is there an in-ceiling, wireless alternative out there? Even a wireless bookshelf speaker, set up atop the kitchen cabinets, sounds complicated and not without its own drawbacks - - power supply, On/Off button somewhere ...
Recommendations for any wired, in-ceiling alternatives to the MLs for similar money?