Discussion Starter
·
#1
·
This thread shall be a location where those seeking a really inexpensive option for a smooth, easily acquirable substrate on which to paint any number of DIY paint applications.
Thrifty White is an ultra smooth and glossy white Vinyl Coated Hardboard sheet. It is found in a 4' x 8' x 1/8" size sheet at Home Depot stores for $10.00
That stated size gives one the option of having a 98" diagonal 16:9 screen (85" x 48") or a 2.35:1 screen (96" x 40.75")
As I'm about to start using the Thrifty White as a base for several different DIY paint applications to be use in a soon-to-come- comparison test, I plan on using this thread to illustrate both Rolling and spraying techniques on this material, it's suitability for each, and the progressive steps it takes to achieve a great finish no matter what flavor or utensil is use in the cooking.
To maintain "On Topic" discourse, and prevent trolling and intention disruptions, it's requested that all posting be limited to directly addressing questions on the material itself, how to go about coating it, and any reports as far as end results that any who acquire and attempt a project should produce.
Below are three photographs of a 85" x 48" *TWH as mounted directly onto a wall. The adhesive used to do this is Liquid Nails For paneling, a white adhesive with a full 10 minutes work time. (image showing adhesive application to follow soon "here")
As shown above, a bead approx 1/4" wide is applied every 2" from top to bottom, then trowled out so that the adhesive covers every bit of the rear surface, or all of the area lying withing a boarder marked out directly onto a wall. The size show requires approximately 3-3/4 tubes @ $2.39 per. A "Floor Adhesive Trowel... 9" Rectangular with medium to fine points is adequate to the task.
This next photo shows the TWH from a left side angle, clearly providing one with an idea just who reflective the surface is. The room show was getting very dark, and light was at a premium, but still you can clearly see the reflection of the side walls and white primed trim within the surface area of the TWH.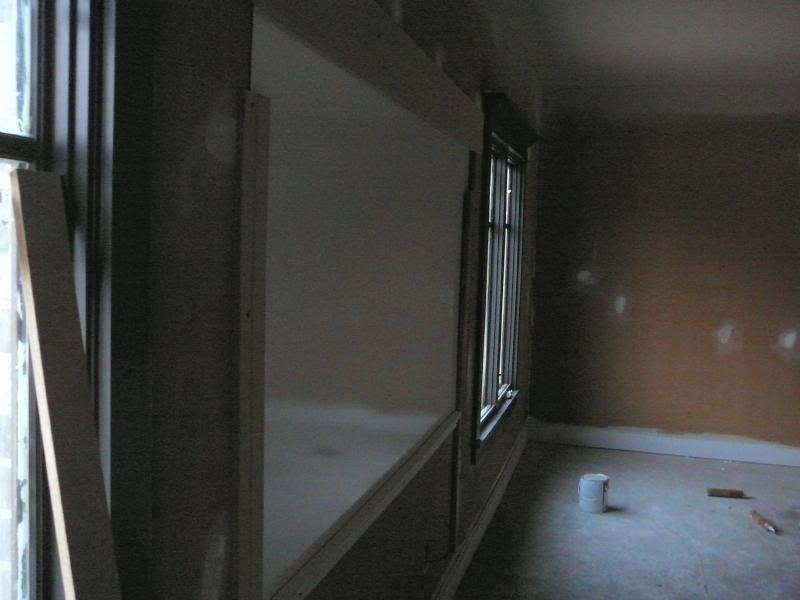 Next is a Photo taken with a Flash from the Right side, at an angle that prevents too much of the TWH's reflection from becoming evident, yet shows the bright white properties it possesses.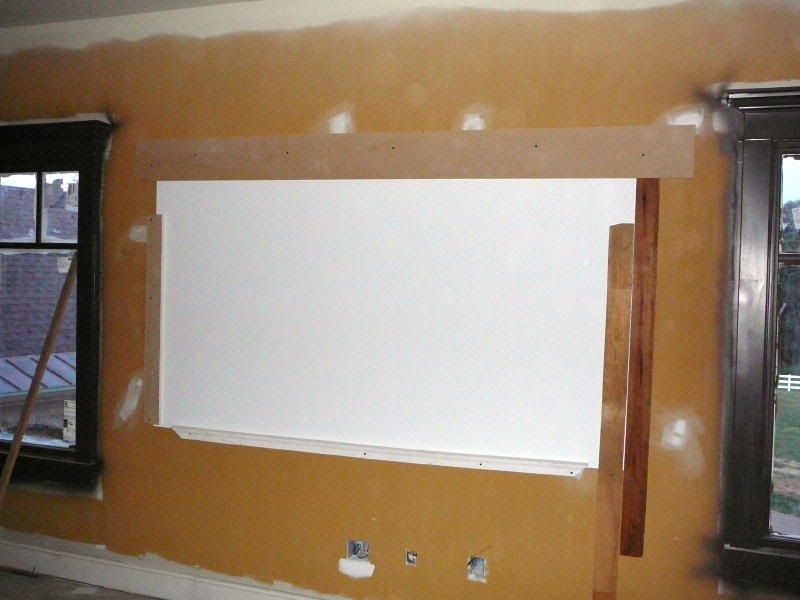 The following image shows the amount of reflectivity of the TWH under a forward directed Flash. Not quite as much reflectivity as a Mirror, but certainly more than any painted "Gloss white' surface can manage. And also, one can note that the reflection of the flash is very precisely outlined. This will work to a great advantage when the proper amount of overlying paint attempts to mute, yet utilize the TWH's reflective properties.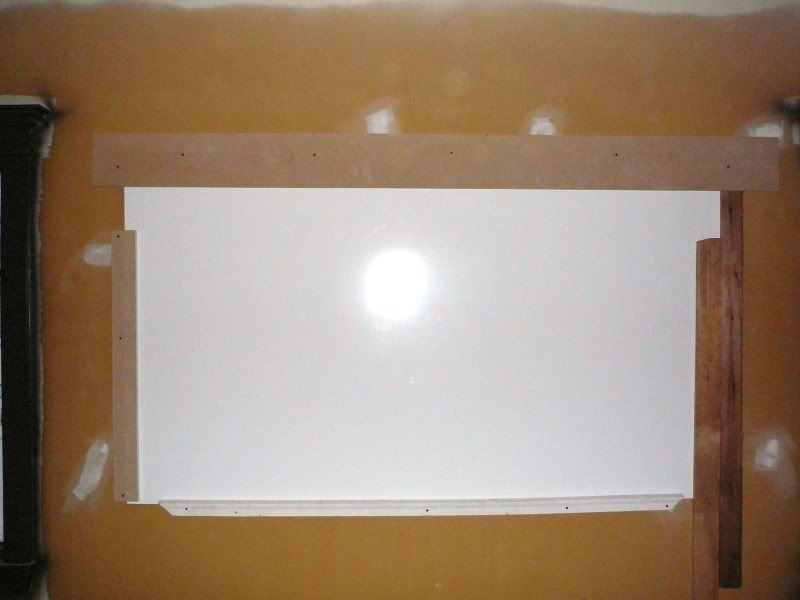 Next up....., Rolling and Spraying on a smooth, slick surface.