Discussion Starter
·
#1
·
Well, it is time I stop commenting on others and opened my setup to criticism. I will begin by saying I have two viewing areas in my town house. Both are non-dedicated and are geared more towards watching sports, gaming, and hosting friends.
The family room was decorated by my girlfriend, who has much better taste than I do. The setup is very simple and not full of expensive equipment. In fact the sound system cost me about $200 a couple years ago. The thing amazes me to this very day and I don't have any desire to replace it in this room. It sounds just as good as my parent's Bose systems and fills the room with excellent sound. We use this room for TV watching, rarely do we watch a movie or play games in here. Here are the specifics on this setup:
TV: Samsung HPT5054
Sound: Panasonic SCHT05
Satellite: DirecTV HD box
DVD: An old Pioneer 3-Disc unit (not even progressive scan)
There is an X-Box 360, and X-Box in the pictures, but are rarely used.
This is the only decent photo I have of the room. I will post more as they become available. Now on to the basement, where my better equipment is located.
Here are the specifics on this setup as far as equipment goes:
TV: Panasonic TH50PZ80U
Receiver: Onkyo 667 - from the HT-S6100
Center: Polk CSA3
L/R: Polk RTi A5
Surround: Polk OWM3
Surround Rear: Front L/R Speakers from HT-S6100
Subwoofer: from the HT-S6100
Satellite: again DirecTV
Computer: Alienware - don't know a whole lot about it, my brother had it built
Game Systems: All of these are currently connected: NES, SNES, Sega Genesis, N64, PS2, PS3, X-Box 360, and a Wii
Remote: Logitech 550 (I think?)
The NES, SNES, Sega, and N64 are connected to the TV through a generic switch with sound being fed to the receiver. The systems are tucked away in the drawer below the receiver. The rest of the systems are hooked up to the receiver and are viewable.
Here are the pics: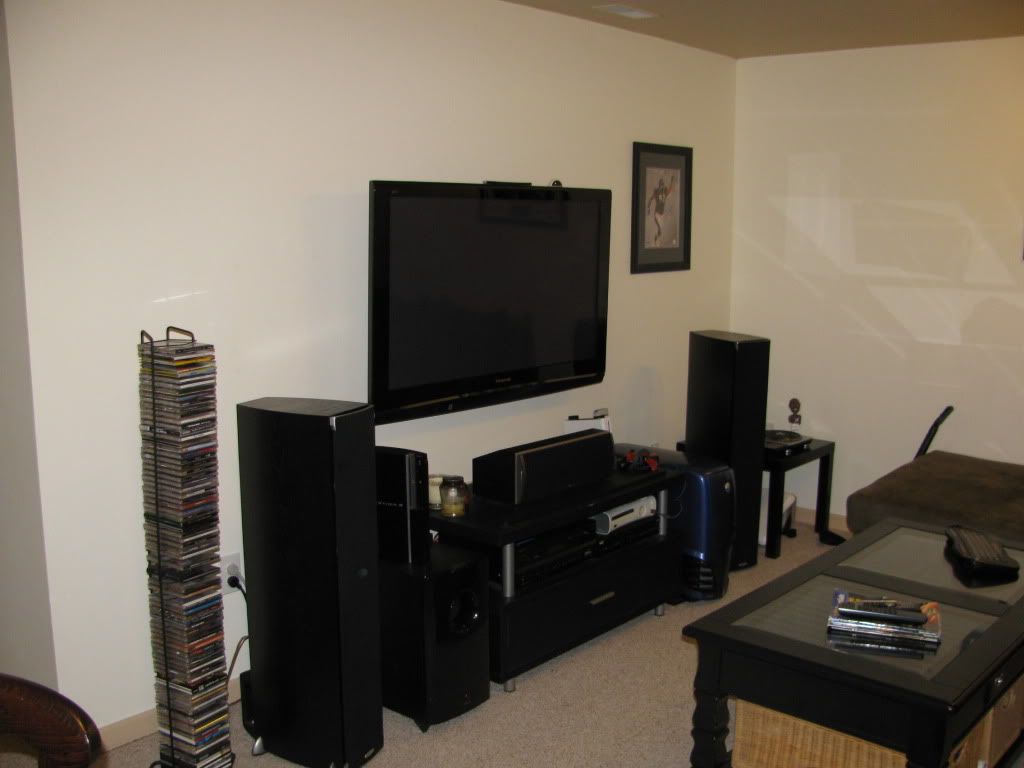 A view of all the gear and some of the games: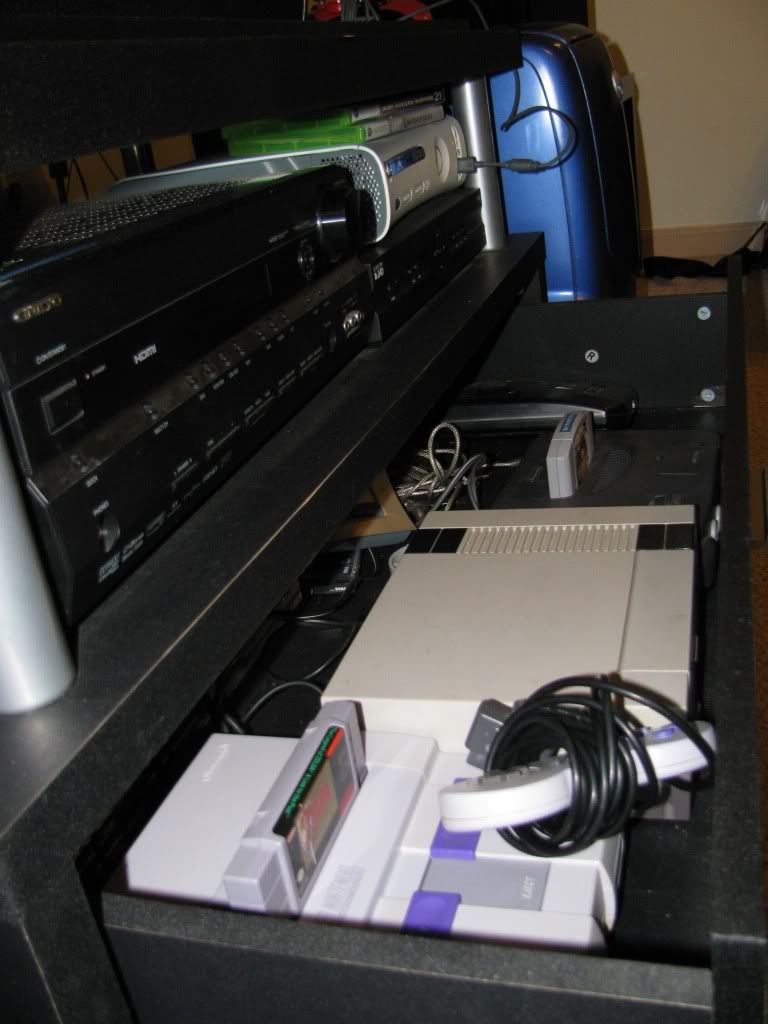 The other side of the room with an old card table (to be replaced with something):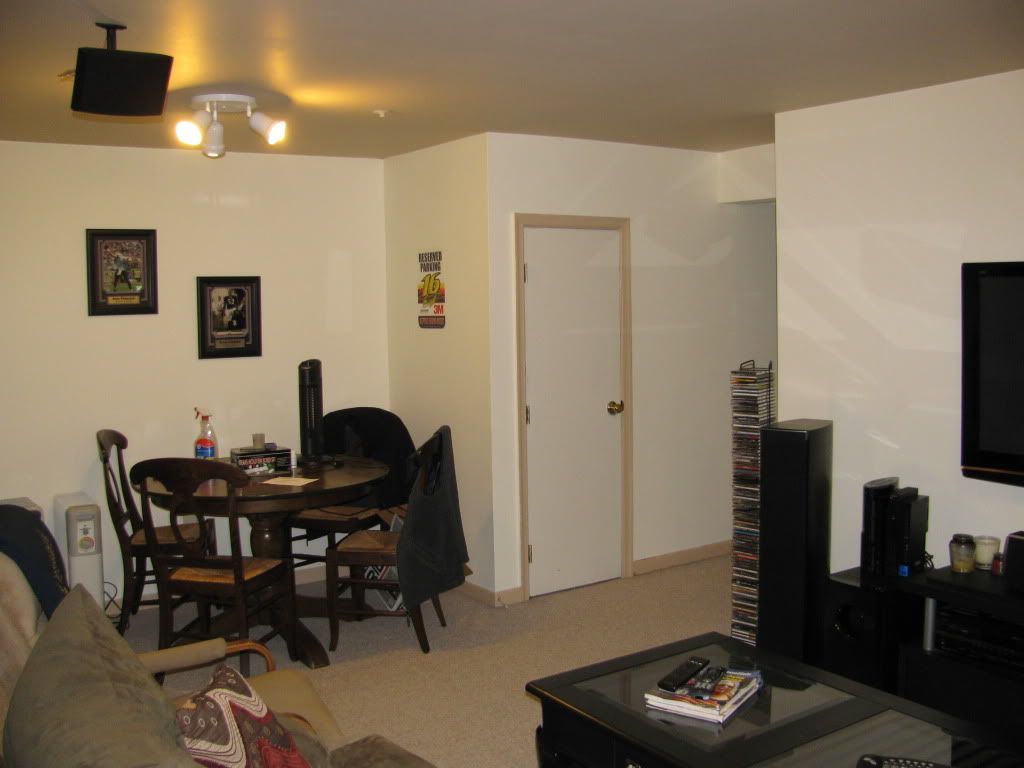 The room needs to be painted and is a work in progress. I am about to let my girlfriend (hopefully soon fiance) loose down there to make it as presentable as the family room. But for now it is a fun place for all my friends to come over and hang out.
I do want suggestions on how to improve it. The second photo shows a "bump out" (about 8' deep, 12' wide) behind the sofa with a foosball table. That area is kind of a whatever area with a computer that I do work on, the foosball table, and a storage rack. I want to do something back there when my room mates move out and that stuff gets moved. Any suggestions? Also, any suggestions on paint color? I am a Ravens fan (hence all the Baltimore stuff) and I want to keep the sports decore. Be kind