Discussion Starter
·
#1
·
Hey guys,
I'm at my wit's end and could use some help with my new HTPC build. When I play Blu-Ray ISO files, it will randomly pause/skip/stutter for 2-5 seconds. It will do this every 5-10 minutes when watching a movie. First, here's my HTPC specs:
Motherboard Gigabyte GA-E7AUM-DS2H (integrated Nvidia 9400 HDMI output to my 1080P projector at 24 hz))
Core 2 Quad Q6600 CPU
4 GB RAM
Running Vista Home Premium (fresh install as of last weekend)
Software I'm using to play the ISO files:
Arcsoft TotalMediaTheater 3.0 (with latest patch .140) via MyMovies thru Vista Media Center
All of my ISO files are stored on an UNRAID server running the 4.5-beta6 operating system.
Here's a simple diagram of how the HTPC is connected to the UNRAID server. NOTE, I do have numerous other PC's and devices connected to both the router and the switch. I believe everything is Gigabit, not 100 Mbit.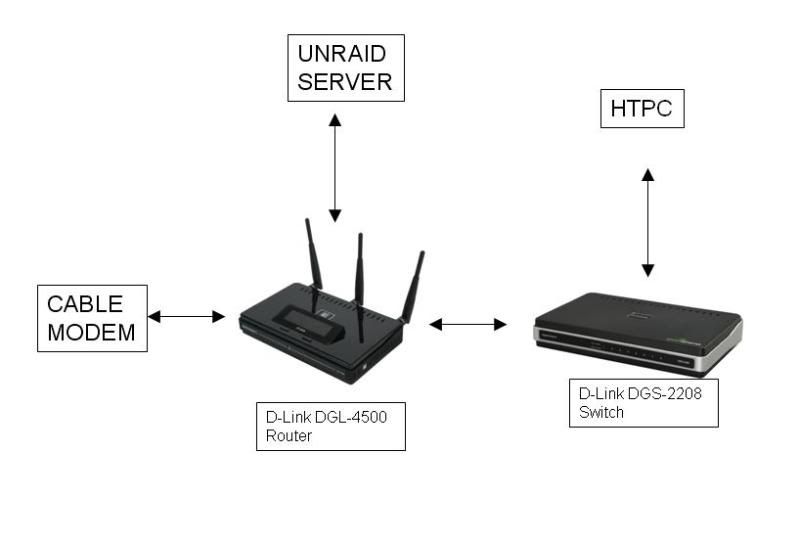 Things that I've tried to isolate the issue:
I have played an ISO file directly off the home drive of the HTPC, and it plays fine. This makes me think it is a network issue.
I searched the avsforums and haven't found a clear solution for figuring out my network. I did run the vista network performance monitor while watching an ISO movie. There is a definite hiccup that occurs on the graph when the skip occurs don't know if this is just a symptom or maybe can help determine the root cause? My network troubleshooting knowledge is close to zero. Below is the graph. From what I can tell the Bytes Total per Second and the Packets Sent per Second pretty much drop to zero when the skip occurs.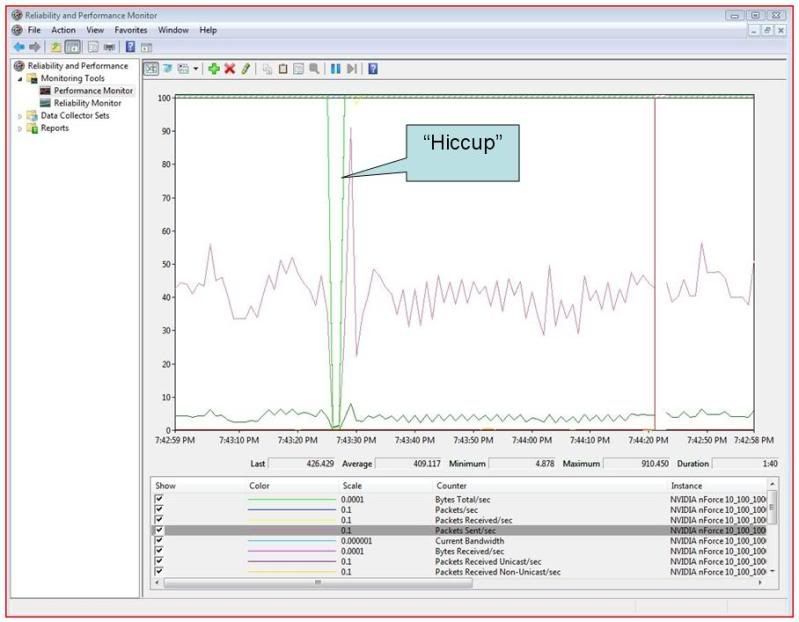 I've found numerous references on the internet that Vista tends to play games with network throughput and priority when playing multimedia files. I tried numerous recommended fixes, but no help.
Please, I just want to enjoy my HTPC.
I leave it to the AVS geniuses - what other things can I do to troubleshoot? THANKS