Discussion Starter
·
#1
·
After more than 3 months of waiting, I've finally begun building the new sub for my HT set-up. I negotiated an agreeable work-arrangement with the domestic CFO as to how and when I would be able to commence with the build. After whittling down the 'Honey-Do' list to a manageable size, I was able to squeeze in a few weeks to invest in a subwoofer build and so I was off & running...
Yeah, I've been reading the 10+ THT threads with great interest and anticipation. I've gleaned significant helpful information from other people's builds (learned from the errors of others!) and have collected useful shortcuts and procedures that I HOPE reduce potential errors in the building process.
I originally ordered the Table tube (TT) from BFM's site, but after reading about the THT, I decided to get the THT plans as well. Comparing the two (and reading the reports about the THT in numerous posts), I opted to go with the THT mainly for two reasons: 1) greater output range, and 2) placement in the room— a THT that is 36x24x36 (vert) will fit in 'discreetly'' into the HT room. You can see in the images below how I planned on using the TT as a coffee table-type arrangement and how I can 'hide' the THT yet still maximize it's potential via corner-loading. The illustration doesn't show it, but the actual mouth of the THT will be 12-18" from the corner, not directly against it as depicted.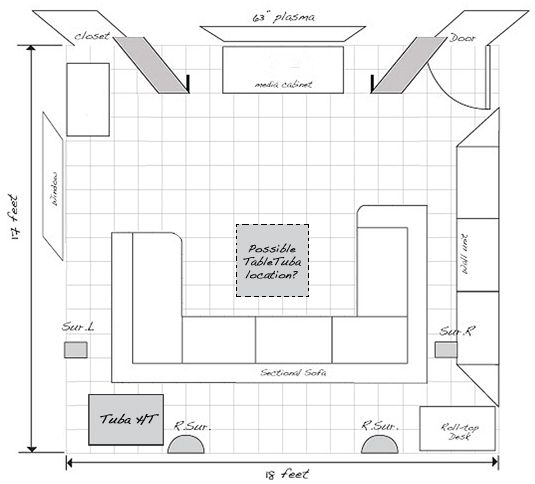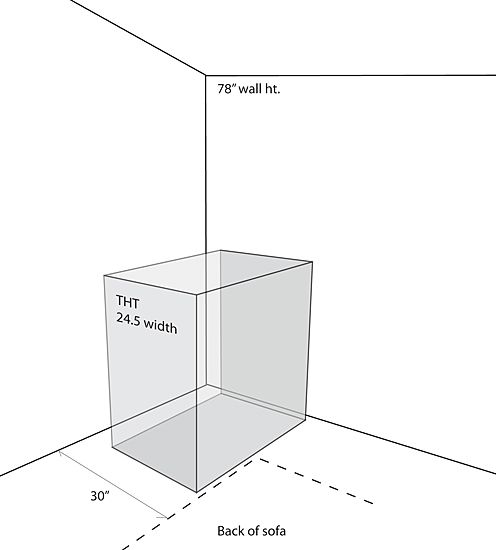 Before the build, I made a shopping list and acquired the following:
• Dayton DVC385-88 15" driver
• Bash 300W Digital Subwoofer Amplifier
• 3 sheets of 15/32" 4x8 Arauco Plywood — found some absolutely BEAUTIFUL sheets of this stuff at the local Lowes for $27/sheet! Void-free, flat & beautifully grained. Had me considering a stain, but I think I gonna go with basic black (most likely DURATEX).
• 6 tubes of the PL adhesive (plus a box of vinyl gloves to keep the nasty stuff at bay!)
• 10/32 bolts, lock washers & T-nuts.
• a new BFD 1124 (from ebay) for some post-construction tweaking with the REW & RS SPL meter.
I'm already 4 days into the build and have not taken any pics of the process so far — I figured photos of me scribbling out measurements and creating sawdust may only be captivating to a
relatively
small audience so I've plans to take some as the beast takes shape. So far the build has gone relatively pain & error-free...
• Dimensions scribed onto the 36x36 "base"
• Cut-out of access panel from base. (plunge-cut w/ circular saw & jig-sawed the corners)
• Installed panels 1 & 2
• Cut out woofer/driver opening on Panel 3 (plunge router with Jasper 200J Model 200 Circle Cutting jig. Great jig, by the way!); Installed the t-nuts with 5-minute epoxy; test fitted the Dayton. Good fit!
• Installed panel 3
• Installed panel 4 & 5
Next up....bracing for between panels 3 & 5, installing panels 6 & 7.....
Photos will be added as soon as I clean up my work area....