Discussion Starter
·
#1
·
Just curious if anyone is planning a htpc build using sandybridge next month?
MOTHERBOARD:
With 1 pin fewer than the clarkdales, will need new motherboard (probably h67 for us, rather than p67).
RAM:
DDR3, should be able to re-use. Though not sure if it'll support the higher speeds 1600 or above.
CPU COOLER:
Unlike the need for a new motherboard, I think we can get away with our current clarkdale coolers. Anyone know?
CPU:
Out of the list below, the best bang should be Core i5 2400S/2500S/2500T. If you want hyperthreading, pony up to Core i7 2600s. All of these are TDP 65w or less, not that it matters much for htpc. The reason I say that is because the GPU would do the decoding for hd video. The rest of the time this 24x7 system should be idle. Hyperthreading, clearly not needed for basic htpc needs. Now for transcoding AVX should be an interesting option (soon). Perhaps that may be a reason to get Hyperthreading. Also getting the i5/i7 since I want the slightly faster proc for perhaps some mild gaming when I'm not on my gaming rig. Also speeds up things like unzipping/rar decoding/rar repair/etc. Now I don't have any info on how fast the onboard GPU is for the various processors below. Anyone know?
Model Cores Frequency Turbo Frequency L3 cache HyperThreading TDP Price
Core i5-2300 4 2.8 GHz 3.1 GHz 6 MB No 95 Watt $177
Core i5-2400 4 3.1 GHz 3.4 GHz 6 MB No 95 Watt $184
Core i5-2400S 4 2.5 GHz 3.3 GHz 6 MB No 65 Watt $195
Core i5-2500 4 3.3 GHz 3.7 GHz 6 MB No 95 Watt $205
Core i5-2500K 4 3.3 GHz 3.7 GHz 6 MB No 95 Watt $216
Core i5-2500S 4 2.7 GHz 3.7 GHz 6 MB No 65 Watt $216

Core i5-2500T 4 2.3 GHz 3.3 GHz 6 MB No 45 Watt $216

Core i7-2600 4 3.4 GHz 3.8 GHz 8 MB Yes 95 Watt $294
Core i7-2600K 4 3.4 GHz 3.8 GHz 8 MB Yes 95 Watt $317
Core i7-2600S 4 2.8 GHz 3.8 GHz 8 MB Yes 65 Watt $306
FAQ (most answers by Jan 6 2/2 nda):
1) 23.976 fixed?
2) 3d support?
3) ram support 1333 or higher? [probably 1333 - source anyone?]
4) cpu cooler support (can we use current clarkdale coolers)? [probably can use - source anyone?]
5) hd audio support on all the new sb chips or missing in the lower end ones?
6) flash acceleration?
7) avx benefit for us - transcoding acceleration?
8) aes-ni - carry over from clarkdales?
9) Dynamic turbo exceeding stock tdp if well cooled - another reason to invest in better cooling?
10) which chips have 6 vs 12 EU (intel gfx sub-system)
11) ofcourse the big one - benchmarks - cpu/gpu
12) can gpu takeover for low load even with discrete card onboard.
13) mb to offer sata2 x4 and sata3 x2 (total 6 sata) on the h67's
14) usb 3.0 most likely offered by 3rd party chip on mb (not intel).
15) Some mb like
msi
to offer two slots of pcie x16 (x16/x1 if both used). So we could add a gfx card later if needed. This mb also has two x1, one of which can be used for ceton quad tuner.
16) Most mb should offer UEFI (see link above for msi).
Anymore - let me know and I'll add.
Unofficial benchmarks with non-officially released (beta?) bios/builds (nda to lift jan 6th):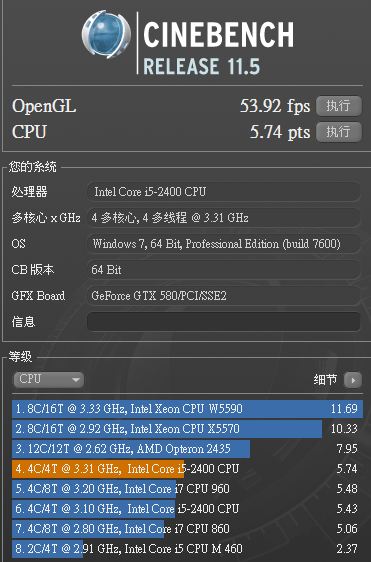 src
oddly mem read/write was reported by author to be "horrible"
NEW HEATSINK:
src