Discussion Starter
·
#1
·
I've owned my PB13-Ultra for a little over a year now. It's obviously been a fantastic all around performer, but since upgrading my main speakers, I've been on the hunt for "better" music performance. I stated "better" because I'm not all to certain what "better" may sound like...
I use REW and a BFD (1124P) to EQ my sub. I've been running it for the last 6 months in 15Hz mode and a slight house curve. I have a large room (~6,500cF) with a rather large opening to my dining room. The PB13-Ultra has proven to have more than enough output for my needs/wants.
For grins this morning, I figured I'd try running the sub in sealed mode. I changed nothing else (subsonic filters, EQ, or gain), just plugged the other 2 ports.
The funny thing is, I think I like what I'm hearing. There is nothing in particular I would have complained about with the previous 15Hz tune, but things seem to sound "better". The bass sounds very balanced and articulate; more articulate than what I'm used to from the sub. For example, a double bass sounds more lively and realistic. I now seem to not hear the chesty body of the double bass when it plays as much. It sounds "better" now. The sound is still there, but it doesn't sound so bloated. It's more musical now.
A lot of music sound very much the same, but my speakers seem to sound cleaner. Maybe it's the removal of some subsonic sounds from the sub that have cleaned things up? I don't know...
Nonetheless, things seem to sound better. So much so, that I'm thinking about dragging out my REW setup and EQ'ing things with the sub sealed. I haven't watched a movie with the sub sealed yet, that'll be later tonight when the wife and I watch Twilight.
I'm not certain if what I'm hearing is really "better" or not. It usually takes my some time and I have to listen to a lot of material one way and then switch back. So this will take a few days to figure out. I'm just a little surprised that I like the sound a little better.
I've been seriously considering selling the PB13-Ultra for quite some time now and moving to dual ULS-15s or maybe dual Rythmiks. My main goal is music and movies a distant 2nd. I also think I'd like a pair of smaller subs for some balance aesthetically for my setup: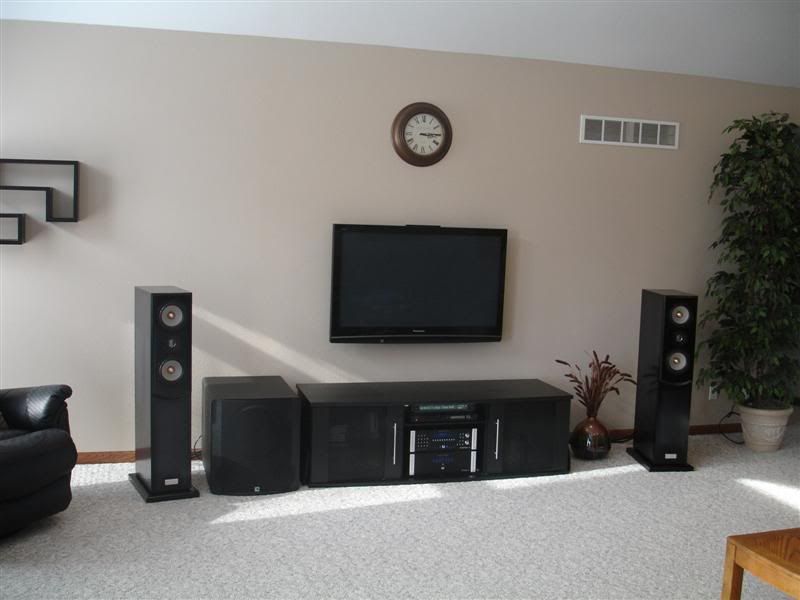 It has crossed my mind that maybe the EQ I currently have combined with plugging the ports has some "better" sound to it and when I re-EQ the sealed tune, things will get worse. I don't know... Just sitting here listening to Patricia Barber's "You & The Night & The Music" is sounding pretty damn good. The double bass plucking is still very full bodied but cleaner sounding than I'm used to hearing from this track. It's almost like the transients are quicker and each note is a little more accurate.
Maybe this is all just my imagination, but I'd love to hear from anyone that has tried their PB13-Ultras sealed and I'd like to know your thoughts. Am I imagining this?
Thanks.