This first post will be updated on occasion to show my theater room evolution:
Version 3.0 added 13 JBL CBT 70J-1 speakers
ROOM:
My seating area, for the front row is in the 12-13 foot range from the wall.
My ceiling height is 89" and 81" where the HVAC ducts hang down in the center for the room.
My room width is 218" wide
My room depth is 286" deep
EQUIPMENT
:
Projector:
Epson 5040UB
Screen:
Jamestown 144" 2.35:1 Seymour XD acoustic transparent screen
Seats:
four Berkline recliners composing the single seating row and a card table and chairs behind.
Devices:
PS4, Xbox360, Roku 4K stick, Panasonic DP-UB420, HTPC
Audio System:
9.8.4 - Denon AVR X6700H, Sherbourn PA 7-350 amplifier powering traditional 7 bed speakers, all other speakers powered by AVR.
Speakers:
- (13) JBL CBT70J-1 in a 9.8.4 speaker layout.
Post 1870-1990 range has some good pictures and measurements of the JBL.
Specs on the JBL CBT line arrays.
JBL Professional CBT 70J-1
And an interesting link and use case to the same speakers I have installed.
Case Study: Constant Beam Transducer Speakers in Commercial Project
My thoughts on all matching speakers - post 2965
Just purchased a pair of JBL 4722n speakers.
and post 22
Identical L/C/R ... Why?
Subwoofer System:
Both Version 2 and Version 3 used the same subwoofer setup:
Amplification:
(4) Behringer iNuke DSP 6000
Subwoofers:
(8) Ultimax UM18-22 subwoofers in ~3 cubic foot sealed boxes (21" squares externally)
Post 376 has pictures and parts list for assembling the eight sealed subwoofers -
Bought four sealed 18" cabinets on a wild hare -...
Yes, my chairs have subwoofers: (2019 addition)
BOSS inspired Direct Mount 12" MB Quart II subwoofers installed in Berkline Hometheater chairs with 20 Durometer Isolator feet. (just slightly stiffer rubber than a gummybear). This allows for nearfield 18" reference level tactile feel, direct to the chair, without any sound (open air subwoofer make very little sound), but with an accuracy of tactile feel that only subwoofer drivers allow. (bests Crowson, Buttkicker, Clark, Aura, etc) See posts starting at 2040 for more information.
Archaea's multi-purpose Home Theater room
Version 1.0 of my theater used
(2) JTR Captivator Pros -
these are incredible subs
- I expect it took me six UM18-22 subs in sealed cabinets to match the pair of JTR Captivator Pros I had. However, 8 sealed UM18-22 got the nod.
Treatments:
CertainTeed Theater Black
f
ceiling tiles - NRC rating of .65 and 3% light reflectivity
R30 pink fluffy insulation in floor joist above tiles
Acoustic 3" wedge studio foam on front wall - NRC rating of .75
Acoustic 3.5" wave studio foam on side wall - unknown NRC? But working great! (since my seating is offset from the center of the room I could hear more reflection from the right wall when seated, after adding those vertical wave foam pieces, both sides sound very open!)
Walls painted Olympic One Black Magic matte paint/
Misc. Equipment
:
Cooper B-line AV rack - (installed into wall on front left)
Panamax M5400-PM power conditioner (yes they work and are worthy of addition to your theater). They reduce line noise from the amps to the speakers, and help insure your expensive equipment isn't getting dirty power off the grid or home lines. It's a pretty clear difference plugged in or not in my space ---- NOT placebo!
Use:
I enjoy playing games, HTPC use, and watching movies or listening to music. I typically listen to music casually instead of critically. I like using Dolby Surround as the DSP for music. I don't wear the brand of audiophile, instead I'm an enthusiast who is willing to try new things to learn about the hobby. I'll call a spade a spade.
As a volume preference, I watch movies at about -12 dB with the bass ~9 dB hot. I like the bass hot by about 12-20dB for music listening.
Room Evolution
Ground Zero: - started with a finished basement in a 1985 built house we bought in 2014. Here's a real estate ad photo at the time we bought the house.
Version 1.0
2014 - (3) JTR 228HT, LCR (4) Mackie C200 surrounds, (2) Sony Spasato in-ceiling, and (2) JTR Captivator ported subwoofers in 7.2.2 configuration.
Version 2.0
2015 - (11) Mackie C200 in 7.8.4. configuration and (8) UM18-22 sealed subwoofers - Version 2.0 configuration information starting around post 1378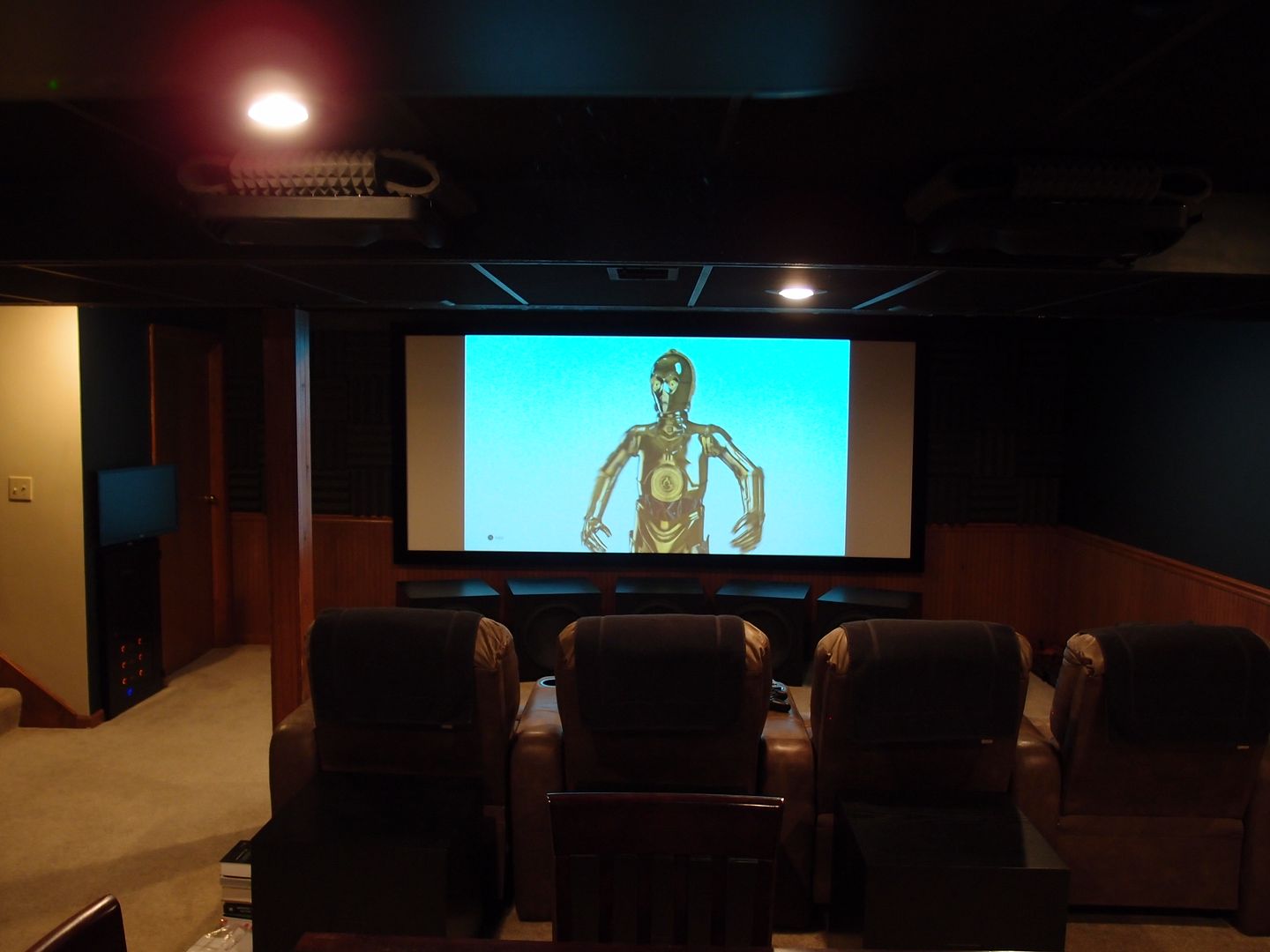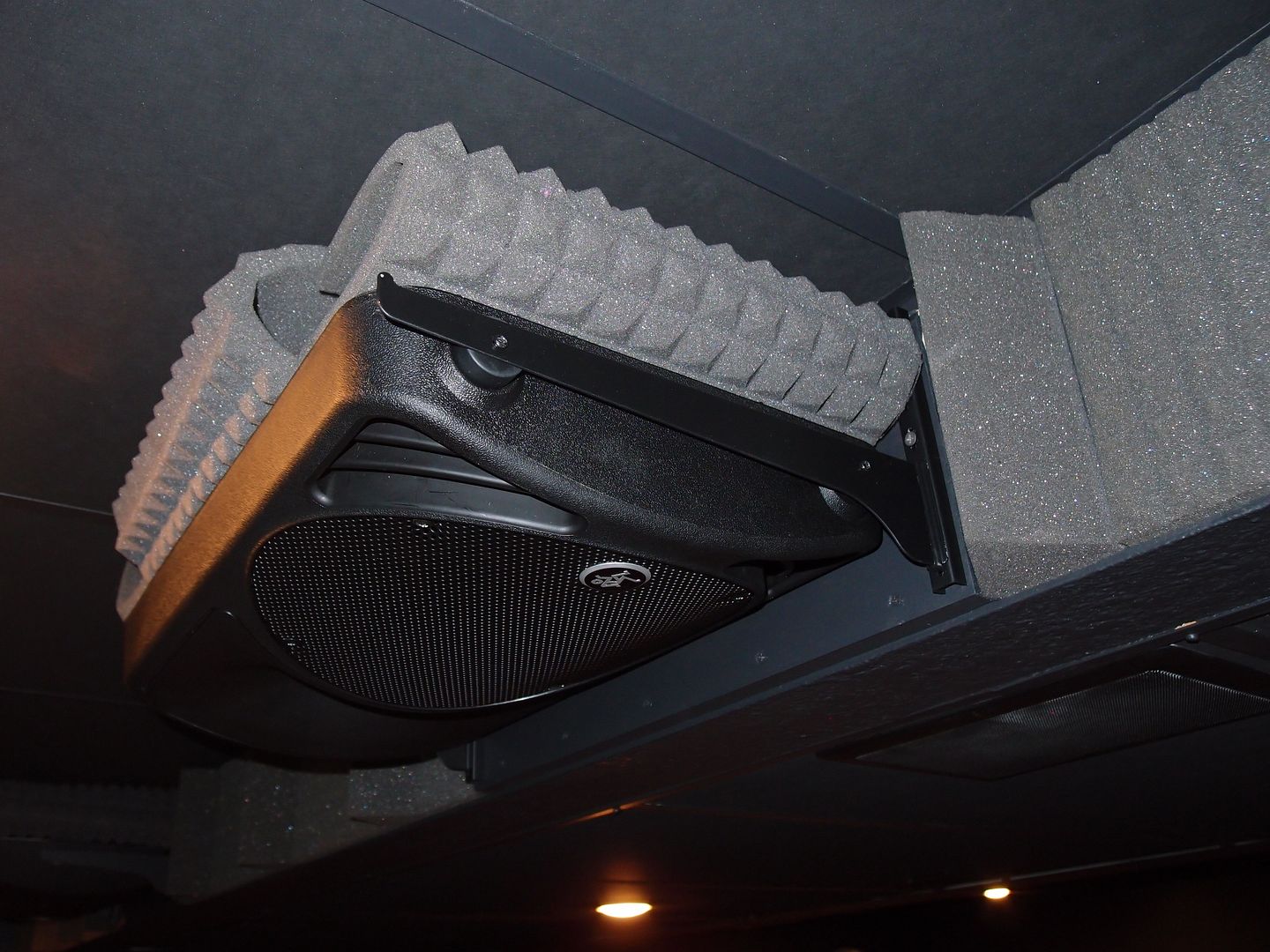 Version 3.0 - 2019 - (13) JBL CBT70J-1 with DIY RGB 5050 LED Strips installed behind the tweeter array, and still the same (8) UM18-22 sealed subwoofers in a 9.8.4 configuration. Version 3.0 configuration information starting around post range 1870-1990 for obtaining, fixing crossover issues, installing RGB LED lighting, and installing speakers.
This one is at 5% on red only which is dark enough to use during movies with no negative impact to the image. (view front of room to back of room)
Gravity film showing speaker placement behind projector screen. (RGB lights in JBL speakers are Aqua colored)