Discussion Starter
·
#1
·
I have been doing research on cantilever/articulating/swingout mounts in the past 2 weeks and having a hard time deciding.
My set is a Sony 46V25xx LCD and it needs to mount on a side wall and be able to pivot out into the viewing area and back up to the wall when needed.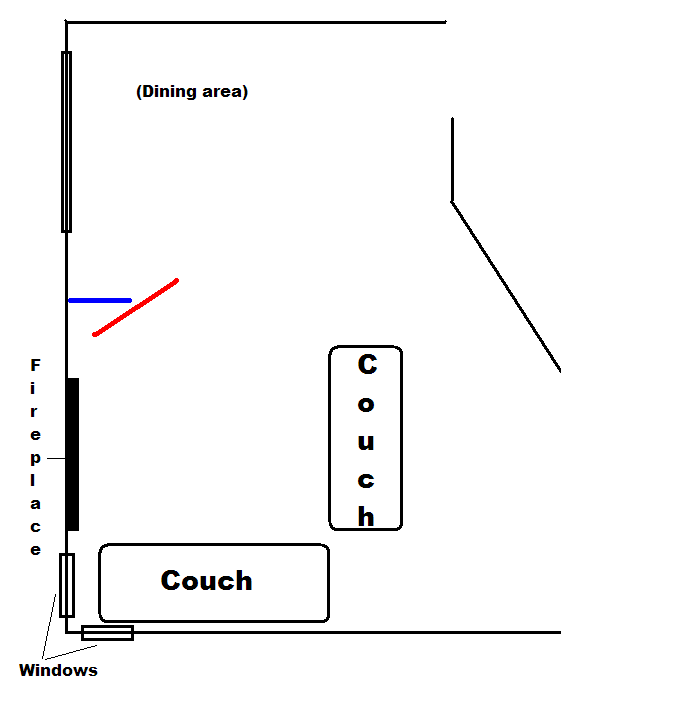 The Red is where I plan to put the LCD and the blue is the proposed mount.
After looking around, my favorite mount is the Premier AM3 as it looks quite sturdy and capable of what I'm trying to do. Anyone have any feedback or insight into this? Any other suggestions?
I'd mount it above the Fireplace, but the mantle top is already at 56", so the extreme angle to watch eliminates it as a possibility.
Other options are to get an A/V stand with integrated Flat Panel Wall mount and put it on Casters to roll back to the wall when not in use. I only have a Receiver/Amp, DirecTV with TiVo box, DirecTV HD box and my MCE PC will sit next to/under it as the DVD player, so not much in the way of equipment to rack up (also looking at audio racks, so this might be a better solution).
Thanks for looking and any feedback you can offer.