Discussion Starter
·
#1
·

Welcome to the Wright Family Theatre
This is an edited post to provide an index to the thread to help find various aspects of the build quickly.
First a few current pictures of the HT
Screen Wall and view of seats and looking toward the rear Bar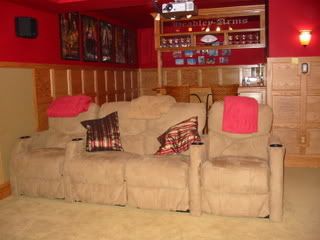 The Bar and Ticket Booth faux Door to Equipment Closet
Equipment List
- Screen: DIY / Dazian
- PJ: Panasonic AE900U
- AVR: Denon AVR2807
- Front Speakers: Ascend 340 SE
- Surround Speakers: Axiom QS8
- Subwoofer: HSU STF-2
- DVD: Oppo OPD971H
- HD-DVD: Toshiba HD-A3
- Blu-ray: Samsung BD-P1500
- Verizon FiOS HD-DVR
- Power Conditioner: APC J10BLK
- Bass Shakers: Aura
- Bass Shaker Amp: Sherwood RX-4105
- Remote: URC MX-980
- Lighting: All Insteon controlled (KeypadLinc, Switchlink, ToggleLinc & IRLinc)
Thread Contents
1)
Demolition Starts
2)
Framing Underway
3)
Conduit & Wiring
4)
1st Layer Drywall going up
5)
Drywall Tapping/Mudding Hell over
6)
Stage Construction
7)
Some initial Sketchup renders
8)
Proscenium Framing
9)
Screen Wall Acoustic Treatments
10)
Painted Ceiling
11)
Start of Side Panel Frames
12)
Start of Wainscoat Panelling
13)
Bar doubling as a Resonant Absorber (Plan)
14)
More Work on Wainscoating and Bar Absorber
15)
Panelling Stained
16)
Carpet Installed
17)
Side Acoustic Panels
and
how I made them
18)
Theatre Seat Planning
19)
Proscenium Fabric
20)
Crown Moulding & Rope Light
21)
DIY Rack
22)
Star Ceiling
23)
Connecting PJ/Sub to Power Conditioner
24)
Seats Unpacked and assembled
25)
Bar Wood Laminate Floor
26)
More Bar Progress
27)
Movie Posters
28)
Bar Canopy
and
here too
29)
Bar Foot Rail
30)
Ticket Booth / Faux Equipment Room Door
31)
Exit sign
32)
Small Marquee
33)
URC MX-980 Remote
34)
Screen with Velvet Border
35)
Concession Stand
36)
Bar Shelves
37)
Final Finished Pictures
Quote:

Originally Posted by

Original Post

/forum/post/0

Thought I'd start sharing my plans and welcome any constructive feedback.

I have a unfinished space in my basement that at its extremes measures 25' 9" x 15'. The space is roughed in for a Bath. Here are pictures and current floor plan.

http://i90.photobucket.com/albums/k2...-12Mar06-1.jpg http://i90.photobucket.com/albums/k2...-12Mar06-2.jpg http://i90.photobucket.com/albums/k2...Unfinished.jpg

The space will be used for watching movies, playing cards and general socializing – plus I have 11 and 8 yr old girls who love performing so a stage is essential. This is my current thinking on layout.

http://i90.photobucket.com/albums/k2.../HTLayout1.jpg

I plan on doing all construction myself (including electrics and plumbing), I need to complete a few more Honey Do's and get my county permits before starting – I anticipate starting the stud work in April.

I intend to use R30 Insulation / 1/2" Drywall / Green Glue / 5/8" Drywall on the ceiling. For the walls as 3 are 9" concrete (underground) and the other adjoins a general recreation room - so I'm going to start with R13 Insulation with 5/8" Drywall and then see how noise traverses – the rooms directly above are a dining room and lounge that are seldom used. If required I'll add another layer of drywall and possibly Green Glue.

For the electrics I'm considering 5 new circuits (I have 200A supply with about 10 spare slots). Here is the current plan:

http://i90.photobucket.com/albums/k2...lectrical1.jpg

As for overall looks I'm leaning towards a style similar to Chris Armbruster but I'm sure the limited width I have at the screen end will mean some compromises.

http://www.avsforum.com/avs-vb/showthread.php?t=535413

Now for the Equipment – I'm sure it will be many, many months before I will need to finalize my equipment but this is my current shopping list:

- Projector: Infocus IN76, BenQ 7700 or Optoma HD72

- Receiver: Denon AVR-3806

- DVD: Oppo 971H (waiting a little longer for the DVD war to conclude)

- Speakers: Mordaunt-Short Advant 900i Series or Axiom Grand Master 175

I'm sure the above list will change as new product come onto the market, I gain more knowledge and get to demo.

I would like to implement a 7.1 system but as there will not be a wall at the rear of the main viewing area I think I may need to use recessed speakers (which I didn't want to do as it will break the sound envelope)……alternative is to ceiling mount but I think my speaker choice (MS Advant 902i) may be a little large for that – any advice here will be appreciated.