Discussion Starter
·
#1
·
We our building our first home (renting the last 8 years) so of course I'm excited to have somewhat of an opportunity to do what I want with wiring, which was going to be my main concern in a pre-existing home.
This is not a custom home, it is built by Pulte so I am somewhat limited on what I can do, though they will run 1 1/2" conduit (2" is too large for load-bearing walls I believe) to wherever I want it (for a price of course). They are also going to run all the centralized wiring to the media closet rather than the garage, as well as 16 gauge wire for speakers.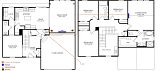 Goal is to try out the 4x4 monoprice matrix switch to see if that will work. Still have to workout what remote to choose - def want an RF if possible.
That's all I can think of. Appreciate any feedback/criticism. TIA.
edit: oh equipment:
Panny 42pz700u - currently in living room but will hopefully move to bedroom after upgrade for living room
PS3
DirecTV HR22 (one for now - perhaps an additional... ?)
Yamaha RX-V663