Discussion Starter
·
#1
·
Hi guys. Thought I'd share a bit of info on two speaker projects I've been working on. I'm pretty excited about both, and although they are pretty different conceptually, they are actually have similar design criteria, they just go about it different ways. The first is an update to my Bose Buster design from a couple years ago. That was my first design ever and while fun, it was really a budget design that was not very refined. The BB V2 is much more performance orientated. While high value was important, this more of a "best sound quality from the smallest possible formfactor" speaker. There will be three variants: MTM, TM, and fullrange, with both BSC and on-wall versions. I wanted these to not only sound excellent, but hang right next to a nice plasma tv and not look of out of place.
The midrange is based on the excellent
Fountek FR88-EX
. The tweeter will be the
Vifa DQ25
. Both of these are very low distortion designs with the Fountek having one of the cleanest midranges I've seen in this size driver.
The MTM will be a third order Butterworth design for the smoothest polar response, especially important for off axis listeners watching a movie. The TM will be either second order Linkwitz-Riley or third order Butterworth, pending some research into the sound differences and the the ability for these drivers to pull of the difficult LR2 slopes.
Of course bass is an integral part of this design and while a single small sub will be an option, the real deal will be three subs, distributed about the room for the smoothest response from 30-200hz. I'll be adding a walkthrough using something like ARTA or TrueRTA so anyone with a microphone can follow along and get optimize the response and sub/satellite integration. The concepts behind this were inspired by Welti/Harman and Earl Geddes. I hope and expect the optimized three sub version to take the whole system to a very high level. Certainly higher than one would expect given the small form factor. The subs will not just be an afterthought, but the entire sub/satellite integration will be optimized together.
Now the subs themselves leave open many options, depending on what the builder is trying to accomplish and how they are willing to spend. I'll list the criteria that will govern sub selection and people can choose whatever fits that criteria. Given some effort measuring the in room response we can integrate the different choices in subs quite well. For myself I decided I was going to use three
Silverflute 8" 8 ohm woofers.
Sure there are better woofers, but the price to performance is very good for these. They have smooth response, easily able to cross at 200hz to the satellites, decent distortion in the bass, good sensitivity, and require a small box. Another thing that helped me decide on these was the availability of the
Foster WF-100K amp
from Jack Hidley of NHT. This amp and driver combo is a match made in heaven. Perfect amount of power, and low end boost that perfectly matches the natural response of the Silverflute. For example the boost is centered around the same frequency that I'll be tuning the box at (30hz). This means we'll be putting the most power to the driver at the frequencies where it is doing the least work already and driver excursion is a minimum because the port is doing all the work. That is always a good thing! A high pass to protect the driver below tuning and a ton of options to tweak all of these filters make this a perfect amp for this application. I spent $225 and now have three subs that will together will perform at a very high level by leveraging their strengths and working WITH the room, instead of against it.
Again this will be a complete system that is optimized as a whole, and accounts for the room and works with it. Acoustic solutions to acoustic problems as Jon Marsh would say
So enough blah blah, here is a pic of the satellites:
The other project is sort of tangent for me into the world of high sensitivity speakers. Some of you may have been following my testing on some drivers for this project and I think we have some solid candidates. The design will be a standmount 2-way, using a 12" woofer mated to a horn loaded compression driver. The intent is to cross these as low as the horn response and CD roll off allow, and where it best matches the directivity of the woofer. Currently it looks like 1200-1300hz is the target.
The woofer will be excellent
Eminence Kappalite 3012HO
. This driver is a new design from Eminence and is really a high performer. Response is reasonable smooth for this size woofer, and distortion is very clean, particularly IMD. The horn will be a real gem in the
QSC PL-000446-GP
that only costs $8 and is obviously designed using Geddes' principles. Frequency and impulse response is very smooth and clean. I'll be adding some
30 ppi foam
per Geddes that is visually identical to what I had in my actual Geddes waveguides. I expect all the dynamics of PA horns, but without the horn "sound". The CD is still a bit up in the air. I had planned on a
B&C DE12 with mylar diaphragm
but the
DE160
is also being considered. For the first iteration of this speaker price is a concern. I want something that can be built for $600 per pair for the
complete
speaker, wood and all. The DE160 starts to push that target a bit but may be worth it.
The ability to play loud and clean is obviously a goal, but so is the ability to also be delicate when needed. It should be able to go from Wagner to Chemical Brothers to Diana Krall with equal ease. This became a goal as I was listening to a Led Zeppelin song that perfectly captures what this speaker is all about, No Quarter: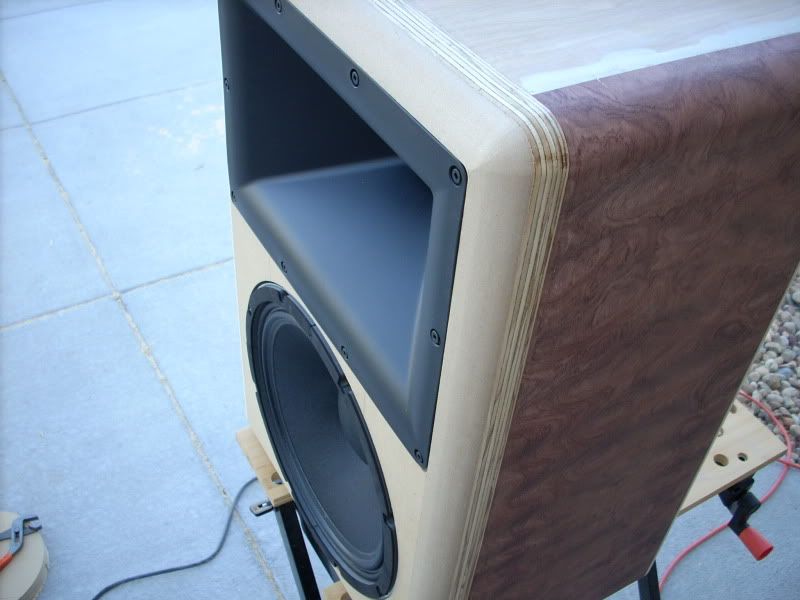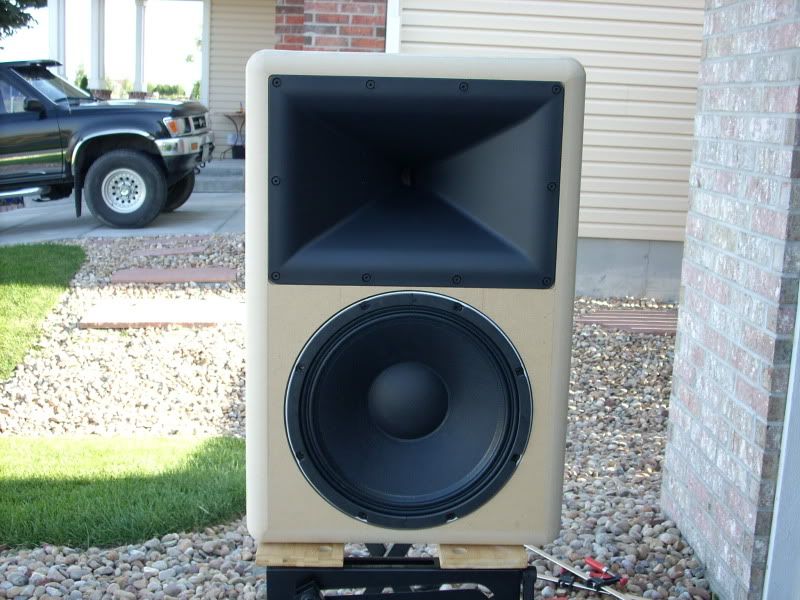 Still pretty raw as the veneer is unfinished and baffle is not yet finished in the black duplicolor textured finish yet.