Discussion Starter
·
#1
·
7channelfreak closed on his new house a few days ago and has asked me to tag along and assist with converting his 2nd floor media room to a dedicated home theater. He has the same floor plan as the model home, so here are some shots from the model to give you an idea of what we would have started with.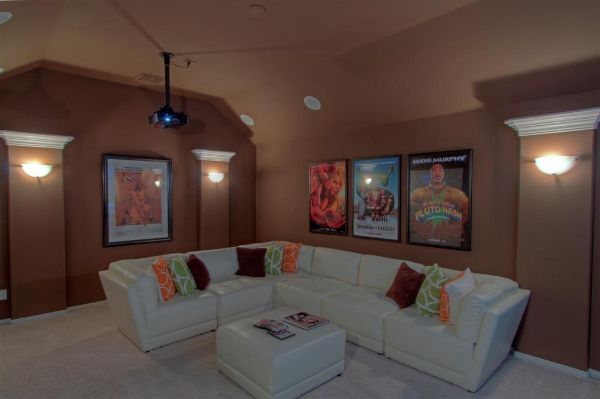 And the builder's floor plan
The room is 13'-7" wide x 18'-9" long. It comes standard with a traditional vaulted ceiling starting at 8' and rising to 10', double doors, and no riser. It is a decent space, but 7channelfreak has been lurking on AVS for sometime so he knew there was room for improvement. He invited me to come see the model home and then to visit the unfinished space in his house that was still under construction. He had lots of ideas from previous discussions with Big. We tossed around some additional ideas and in order to get his builder to do some of the heavy lifting, we quickly put some plans together that included:
-a modified ceiling with a 2-layer soffit instead of the standard vaulted configuration
-revised can light locations
-a riser in the back of the room
-changing the double doors to a single door
-adding a step outside the single door to enter at riser height
-preferred locations of all electrical and low voltage boxes
-required conduit runs
-appropriate blocking for the projector
His builder was able to incorporate most of what we asked for. They couldn't quite give us the riser height we wanted and forgot to add the lip along the front edge. They also didn't get the size of the can lights correct (requested 4", got 6"). They weren't willing to modify the HVAC, so we will be doing that after the fact. 7channelfreak even upgraded to the popular Masland carpet, so it almost looks like an AVS room even though we actually haven't done any work in there yet.
Here is what the room looks like now, after the builder incorporated our changes.
View from Game Room
Screen Wall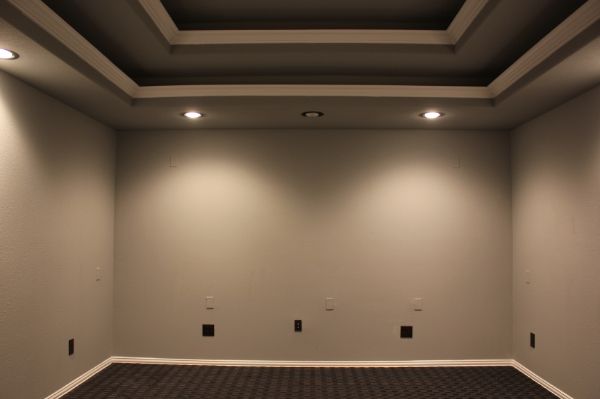 Ceiling (HVAC will be expanded and moved to the soffits so the ceiling can receive a painted cloud mural AND night sky star mural)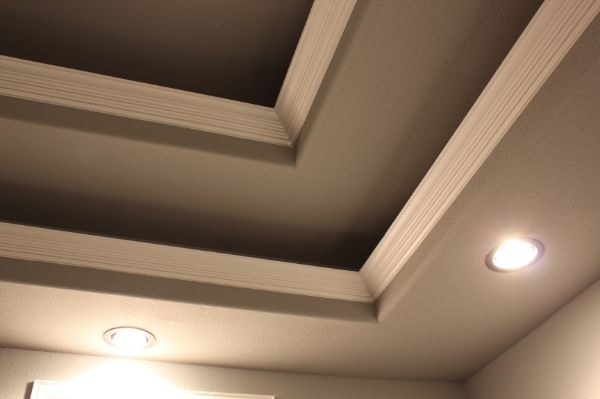 Back wall/riser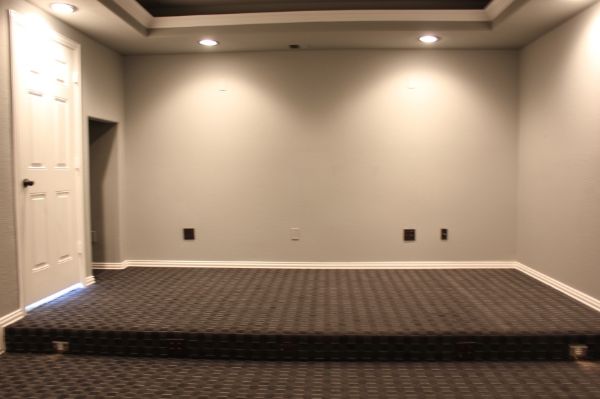 Left Wall
Right Wall
Carpet/riser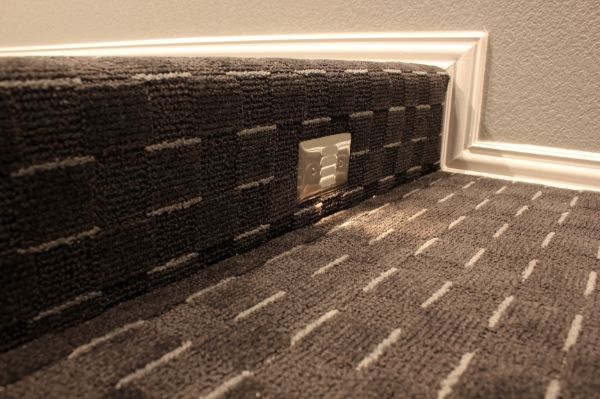 And a plan showing what we intend to do: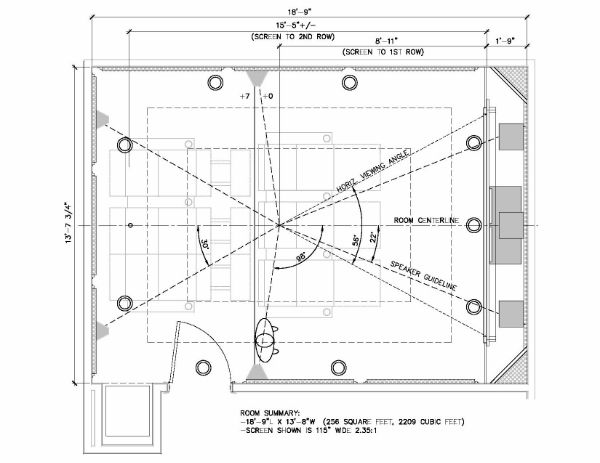 The design will be similar to the Rawlinsway Theater, minus the columns. A chair rail will be added along with "wainscot" trim below the chair rail. Wall below chair rail will be light gray. Wall above chair rail will be medium gray. Fabric panels above chair rail will be medium gray surrounded with light gray trim. Soffits will be black. Ceiling will be sky blue with cloud mural and night sky star mural.
Acoustic treatments will be added to all 4 walls, hidden behind the false wall and fabric panels.
No soundproofing measures will be implemented with the exception of R19 insulation already added to the interior walls.
Proposed Equipment:
-LCRs: (3)
JTR Noesis 212-HT-lp
-Surrounds: (4)
JTR Slanted 8
-Heights: TBD
-Subwoofer: (1)
JTR Captivator S2
with plans for a 2nd
-Screen: Screen Excellence 120" wide 2.35:1 AT w/Enlightor 4K fabric and Premier J-Frame
-Projector: TBD (something 4K) EDIT: Sony 4K VW600ES
-Receiver: Denon 4520
-Amp: Sherbourn 7-350
-BluRay: Oppo 103D
-Front seats: (3) Cinematech LeGrand
-Rear seats: (3) TBD (maybe Fusion Tributes)
I'll follow up with some wall elevations to better convey our panel/trim concepts and color scheme.