Discussion Starter
•
#881
•
RGB Separation Examples
The quality of the pre-calibration of a display/projector will affect the end results.
If we improve the pre-calibration, it will help to provide a better final image.
It will require to use the profile of 'Primary Only' measurements run, as pre-calibration verification to know that the display is ready for comprehensive profiling.
For example, with LGs OLEDs, we know that if we reset the 3x3 matrix, the 2019/2020 TVs have before the LUT's, using DeviceControl and 'Restore Factory Values', and then send a reset 3D LUT (UNITY LUT), set 2.2 gamma from regular TV menu, these settings will provide the native panel response.
We need to confirm that no additional functions are enabled, like power-saving, dynamic processing, the RGB separation chart can help for that confirmation.
I have seen a lot of quick profilings from various models.
Usually, each year/model has a similar RGB separation shape, but I have seen issues also.
I believe the variations have to do with the panel calibration saved to the TCON chip.
About CX models, I have seen some issues, where they will affect the final calibration, but using RGB Separation and some adjustments to Contrast or Color control of TV, during pre-calibration, it can improve better pre-calibration and provide insane improvement to the final results (like all green points 1000p verification).
It will take one day to find all the info to post the example I have to understand the power of the RGB separation chart so that I will post another day.
Using the RGB Separation chart, it can reveal active processing or a power-saving, if its clipping luminance to one color channel or has less luminance to one color channel.
All these problems can appear even when the user has confirmed that he has no clipping to Contrast or Color Clipping Flashing Bars.
When the user takes multiple 'primary only' measurements testing different Contrast settings (-2, -1, 0) or Color (- or +), after comparing all the measurements looking RGB Separation chart, you will see how they improved.
Below we have a display with some form of a problem; it needs some attention to the settings to find out if it can be improved.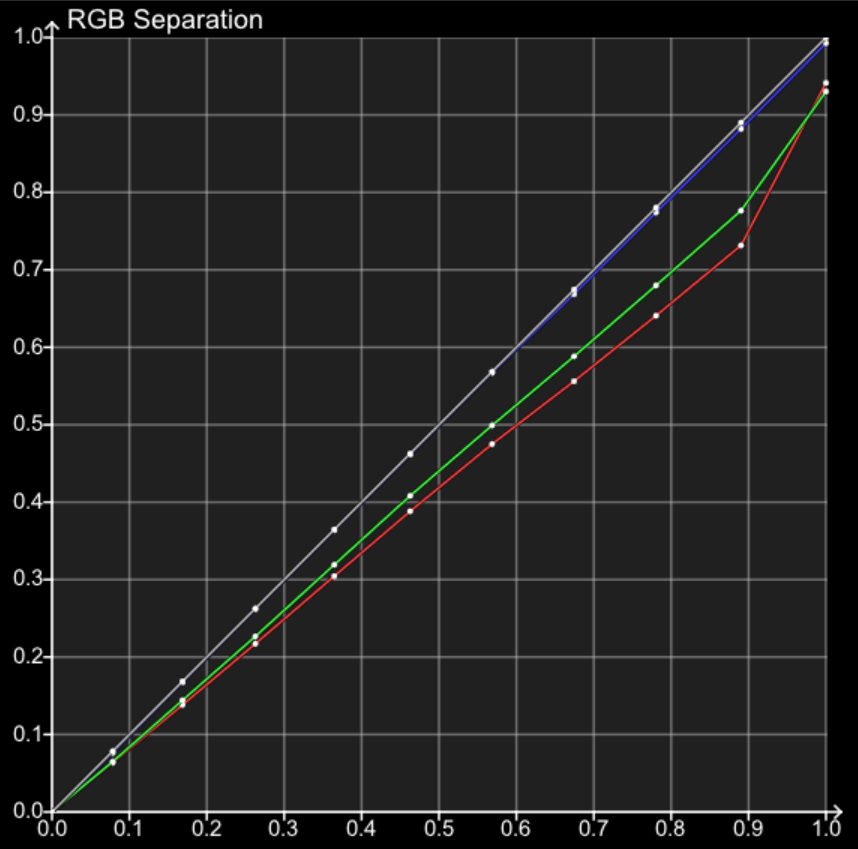 Below we have a display with some form of a clipping to top end. Check if my reducing Contrast or Color can resolve the problem: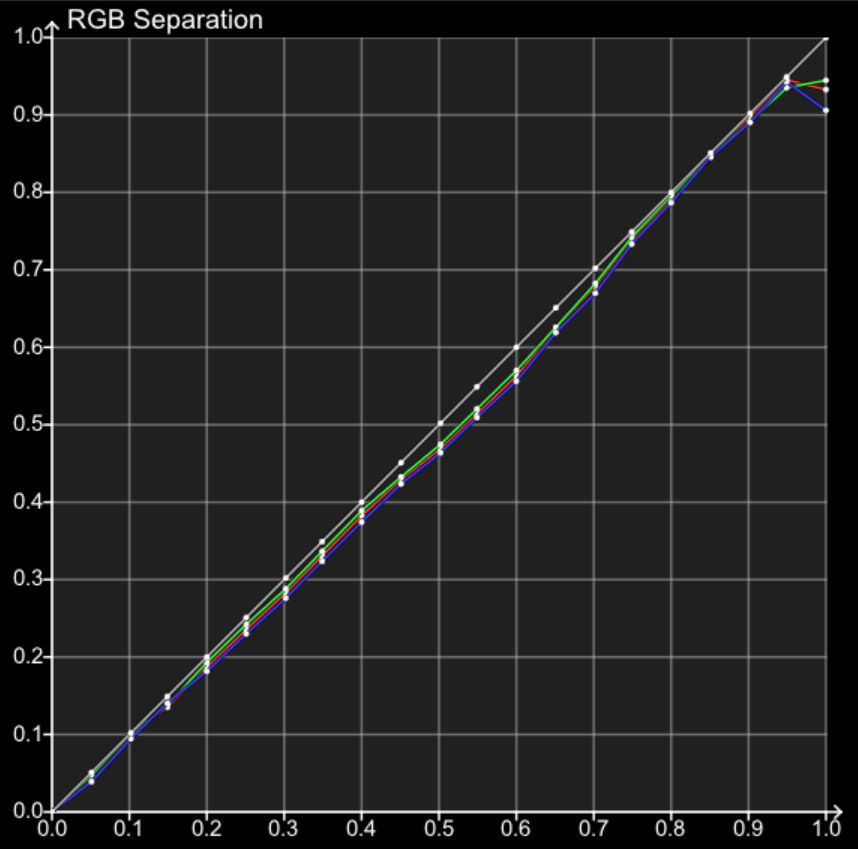 Here we have probably a major power-saving function enabled or very high luminance level, where the panel can't reproduce any color at that high nits levels: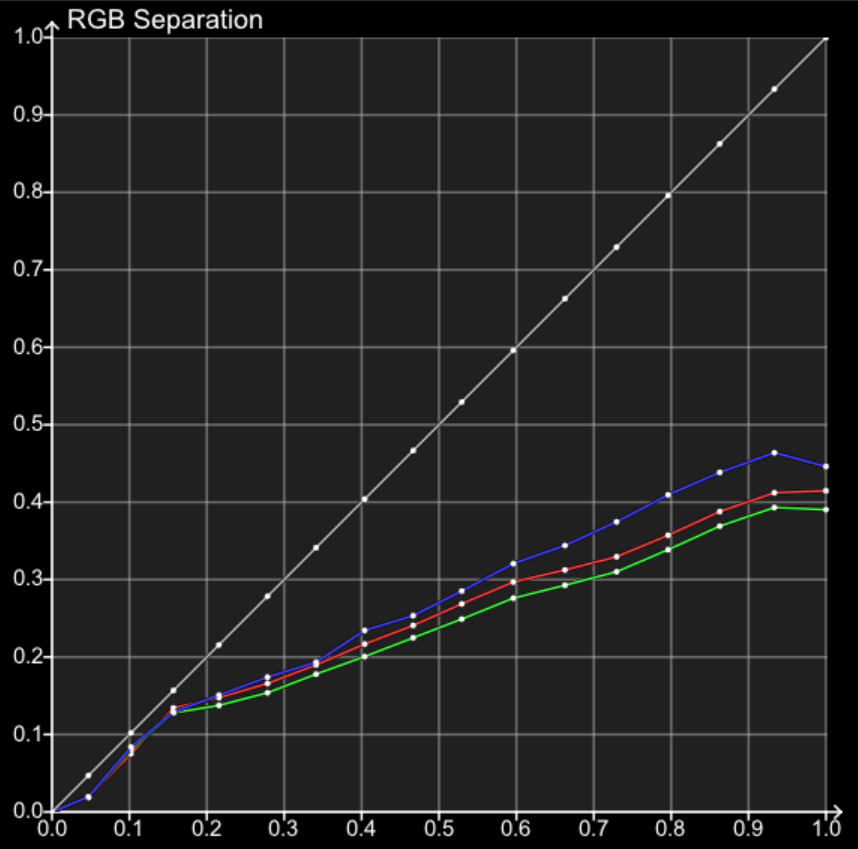 Here, it needs some check of the settings, but it looks that the color management system is designed like that, so it can be fixed after profiling.
Need the user to check different device settings, other picture modes when he is not sure which picture mode or colorspace option provides less color processing: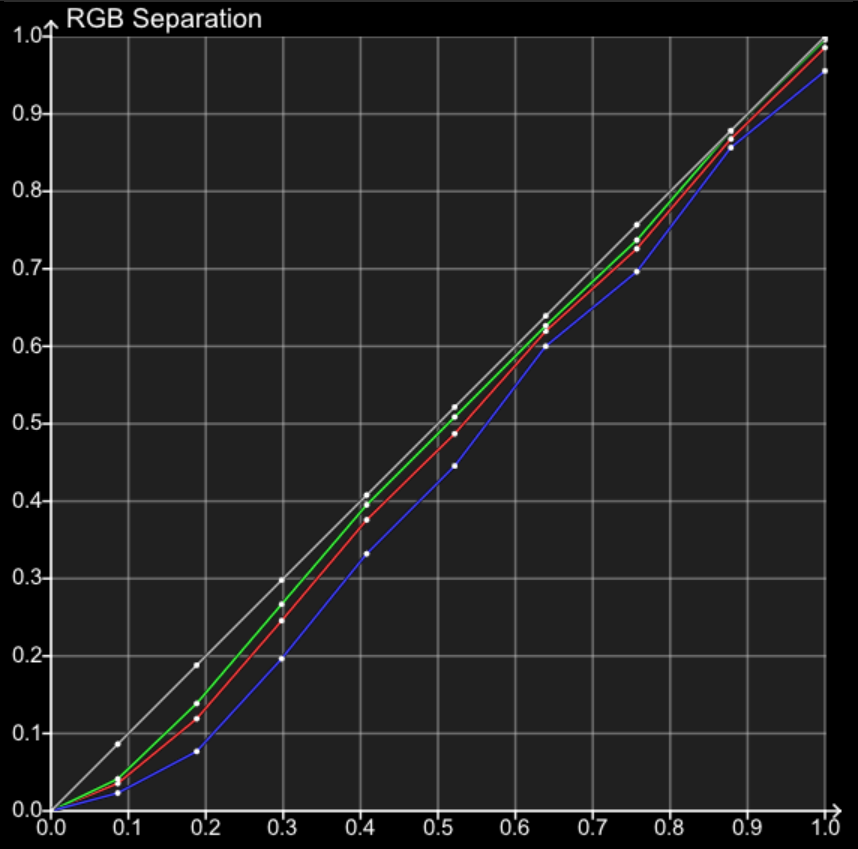 Below is an OLED, not at best factory calibration, an older generation of panels may have that shape, its OK to start profiling.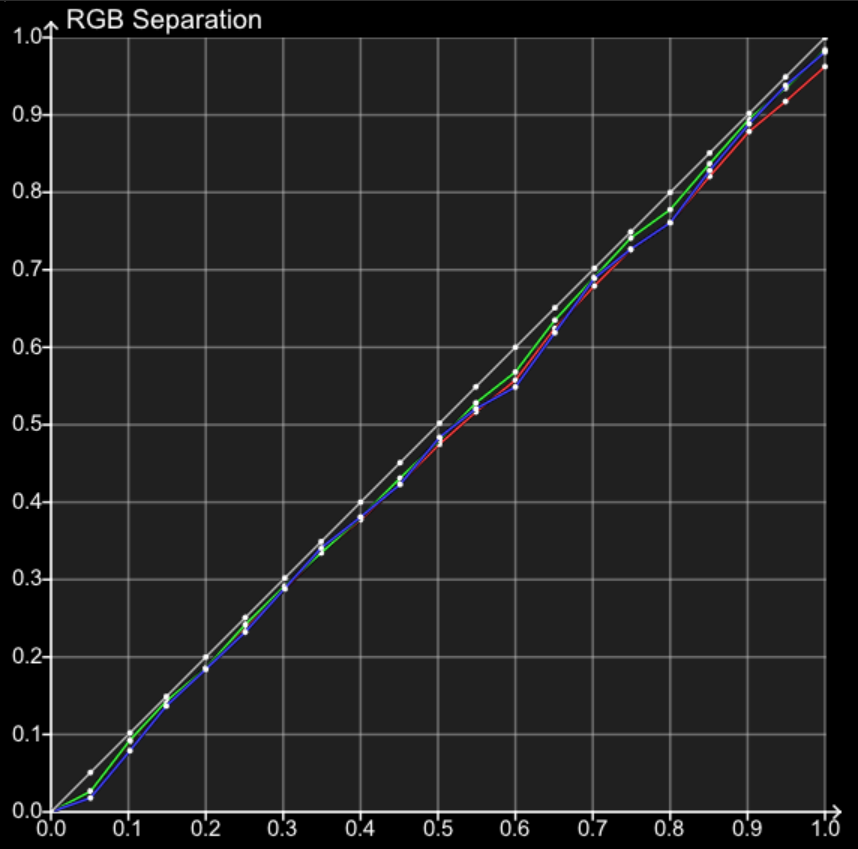 Below is an OLED with much better factory panel calibration, ideal RGB Separation to start profiling.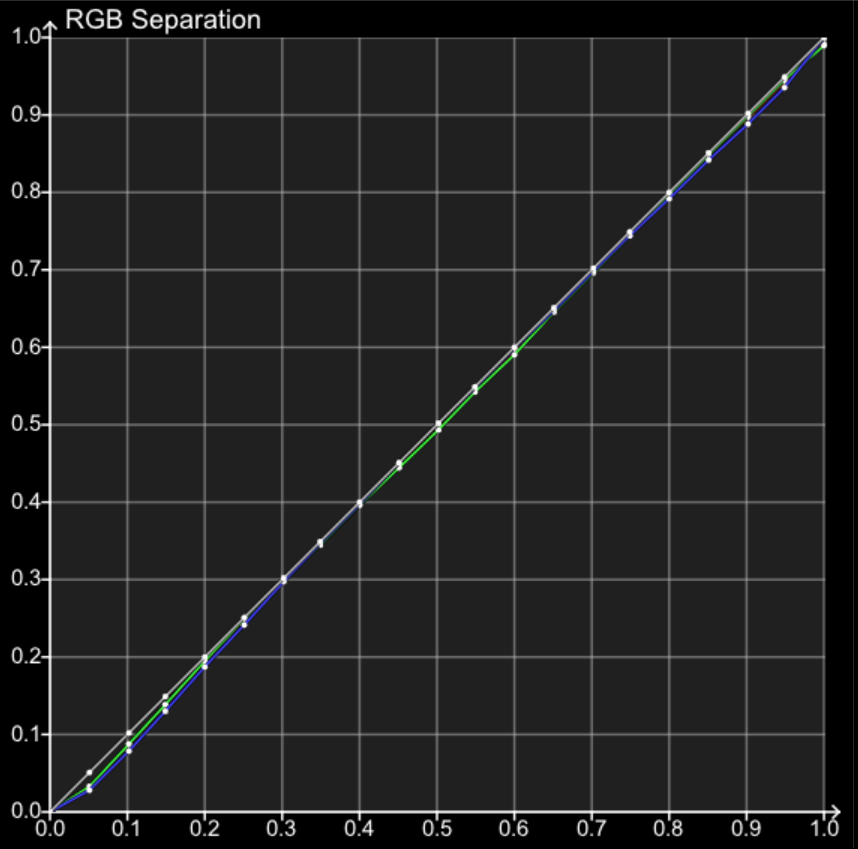 Below is a shape of RGB Separation I have seen to some CX models, that kind of shape it was not available to any other 2019/2018 measurements I have seen again.
It will require some adjustments of Contrast of Color slider to improve that, so in such 'special case', the Contrast 85 and Color 50 are not ideal as default settings.
Something related in panel variation (or factory calibration) is not such good.
However, all these above examples may have perfect grayscale, so without the RGB Separation chart, it is not possible to find out what is wrong... or which adjustments improve or not the panel pre-calibration.