Discussion Starter
·
#1
·
Hi Guys...I semi-finished construction of my theater about three months ago and have been enjoying the fruits of my very long labor. It was my plan to spend some time using the theater without the acoustic treatments I purchased so I could establish a baseline of performance. Here are some of the basics:
Room Size
- 14'2" x 22' x 7'2" under soffit and 8'2" to finished ceiling
Construction details
- Staggered stud construction, single layer of 1/2" sheetrock interior and 1/2" celotex sound board and 5/8" sheetrock on exterior theater wall. Ceiling is decoupled single layer 1/2" sheetrock.
Bass traps
- above screen false wall and in first 6' of right soffit.
Wall treatments purchased
- Owens Corning 1" panels (OC701 or 703 I do not remember)
How well did I do? There are no echoes in the room and to my ears the sound is quite good. I have not taken any measurements but I am happy with the bass and sound field.
Here are a couple of pictures of the room as it is today:
Here is a sketch of the wall treatments I am thinking of: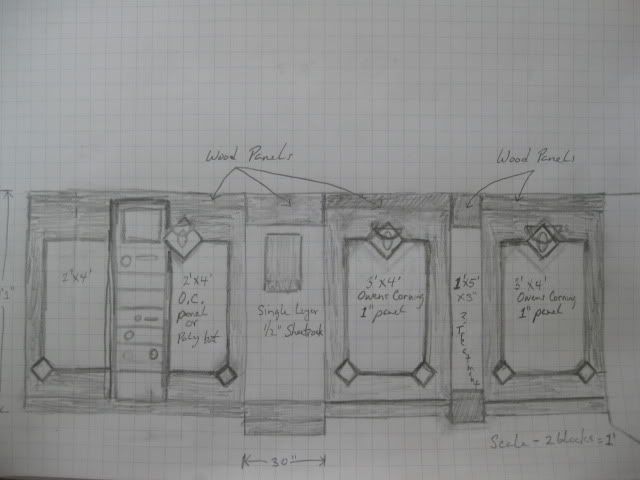 Regretably, my drawing skills are not as good as BigMouth's but you can get the idea. My question is with the amount of wood panels I plan on using, will that introduce too many hard sufaces and end up reflecting too much sound? There is about 18" from the top before I get to the acoustic treatments but I think there is enough area for absorption that it should be fine. Also, the 12" wide column will be apporx. 3" deep so I can put more absorption there if needed. What do you guys think?