Discussion Starter
·
#1
·
My new apartment is for the most part much more A/V friendly than any apartment I've ever been in. Its in a six story building with only 18 apartments in a building that was converted from a fabrics manufacturing warehouse, so there are some unusual qualities like 2-6 foot thick concrete floors.
With thick concrete and no neighbors on any side, my big concern is the entry door to my apartment. Even the entire wall its on is about 8" of concrete in addition to the drywall? on the inside, but the door is the weak link, providing just a ~2" wood barrier to the outside hallway/stairway. When I'm listening to music at moderate/slightly loud volumes I can hear the music fairly clearly through the open stairwell on the floor below me.
This is a loud area, where there is music blasting from a rooftop club blocks away half the week, and I'm fairly sure my immediate neighbor has large/loud parties fairly often; the point here is that this isn't 100% a necessity, but I hate the possibility of annoying my neighbors, especially since I just moved in.
While the door and spaces between the door and concrete are obviously the thing that needs to be taken care of, I want to use the same soundproofing on the entire small wall the door is on for aesthetic purposes. Luckily my apartment has a mostly contemporary style, where any type of random material covering the wall is going to look more like an interesting accent than anything if done well (my girlfriend is concerned I'm going to ruin the whole space with this project.)
One of the simplest solutions I've found seems to be
this Auralex Sheetblok.
The obvious advantage here seems to be the price, at $189 for 120 sq. feet, but I'm not sure about how well its going to work or how its going to look. I'm aware its not really meant as a final layer, but that might actually look kindof neat given the odd style of our apartment, and it can also be painted. The 120sqft. would cover the whole space (~50sq.ft.) about two and a half times, but since the wall is just for looks I'd likely do a double layer on the door and a single layer on the outside door.
Can anyone suggest other options? Any suggestions for permanently fixing the Sheetblok or anything else to the wall?
To do the whole wall I originally set out to spend under $300, but my budget is extremely flexible depending on how well a solution suits my needs; I'm still hoping to spend under $500 as any more seems excessive for such a small space, but again that could double if necessary, I'm not hoping for a cheap miracle.
This is a picture of the wall: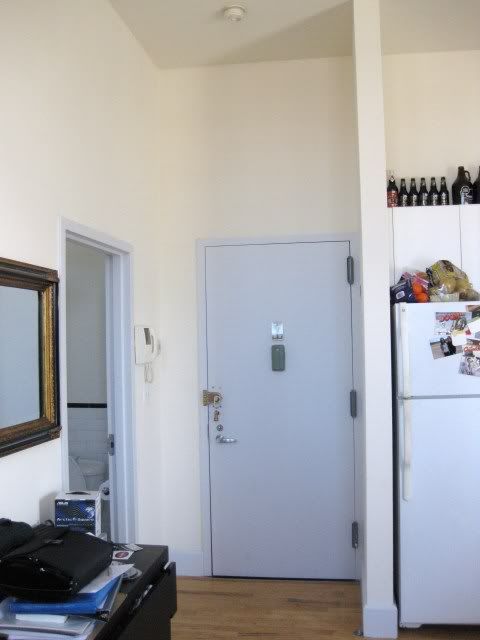 Thanks!