Discussion Starter
•
#1
•
I got given a Da-lite 110" Parallax 0.8 motorized screen so I thought I'd share a few thoughts, pics and videos as there doesn't seem to be much in the way of reviews or candid user info out there....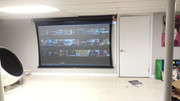 For context, this is one of Da-lite's premium price ALR screens and this roll-down version retails for over $5,000 in some places. I'm going to focus mostly on it's ALR performance as that is how it's marketed (and priced).
The key question is, does it perform well with the lights on? Does it really "reject 96% of ambient light as it advertises?
My experience is that it does not. The image looked washed out with the lights on no matter what I tried and dark scenes were unwatchable. I used a Barco F35 (bright pro grade projector) to give it a fair try. I dug out my old JVC RS35 and could hardly see any image at all with the lights on so I skipped any HT projector videos.
I should add that I tried it with my medium throw, my long throw and short throw lenses and in both single and dual lamp mode with a throws ranging from 10' to 30'.
In the video above I turned off all the lights near the screen leaving just the overhead lights in the other half of the room. It's in a basement with blacked out windows so it's just room lights.
I then tried it with just a light directly above the screen (which is meant to be it's advertised ALR sweet spot).
It wasn't noticeably different. Bright colors look OK but they look OK on the wall with this projector. Personally, I wouldn't be OK with this as a living room TV replacement screen and definitely not for $5000. I'd say the advertised 96% ALR looks closer to 5-10% to my eye. That is if I compare it's ALR performance to regular cheap gray screen materials I've seen. I hate it when they use white screens for comparison...
Like some of the other premium ALR screens, this one uses a horizontal lenticular lens with black printed on the top of the lenticules to block light from above. I think this is a flawed concept. The idea that you can block ambient light from select directions on a 2d plane to prevent a washed out image makes no sense.
The lenticules on a lenticular lens like this are microscopic (think of a crinkle cut chip with 30-80 crinkles per inch). They aren't deep enough to block much light and certainly not anything close to 96%...
Anyone serious about home theater knows that ambient light comes from all directions. In an untreated room (where this screen would be used), light bounces off every surface and it only takes the tiniest amount to wash out the image. That's why serious enthusiasts cover their walls, ceilings and floors in black velvet.
Projectors can't produce blacks on their own. With the lights on, the color of the screen is the darkest black achievable. This why the image looks washed out on white and gray screens. This is the key issue with the Parallax as an ALR screen. It's ultimately just a gray screen and not a particularly dark gray: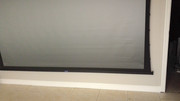 The plus side is that it doesn't suffer from the narrow viewing cone found on the Black Diamond 0.8 screens. You can watch the Parallax from almost anywhere in the room... but only if the lights are off... I think they would have been better off using a far darker tint and using the lenticular lens to offset the resultant loss in viewing cone (like on old rear projection TVs) but... what's done is done.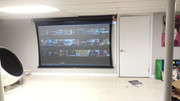 People who want a motorized roll-down screen have slim pickings if ALR is needed. Da-lite is one of the few to offer a roll-down ALR option. My one has issues though. I can't say this is a widespread problem but I could not get my Parallax screen to stay flat. I'd be surprised if mine was an isolated issue looking at the design.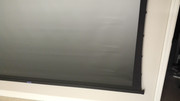 Mine has these indentations down both sides. They flatten out when I stretch the screen vertically with my hands, so I know it's not shipping damage in the material. It's an issue with how it hangs on Da-Lite's tension design and issues like this are super noticeable on this type of screen. I can see it in the image when watching tv. It would drive me mad if I'd paid $5000+ for this as my main everyday screen.
As I didn't pay for my one, it's going in my 4-year old's playroom so I can stop worrying about him breaking my Oled. If I were to use it for myself, I'd cut it off the roller and staple it to a wooden frame. It's not a well made roll-down mechanism imo. It feels very cheap and flimsy considering the price.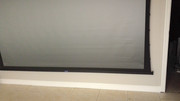 Performance with the lights off is very good. It appears to be mostly color neutral with maybe a slightly cooler image but nothing that couldn't be easily adjusted. Whites look bright and it has a moderately contrast-enhancing effect compared to a $100 gray screen. I.e. a small reduction in black levels without an equal drop in white levels.
If this was a $500 fabric to compete with Elite's Cinegrey 3d and 5d, I'd consider the Parallax 0.8 to be a decent option for people using brighter pro grade projectors on very large screens in a dark room. At $4000 - $5000 for a 110" screen with sketchy ALR performance, It seems overpriced, under-quality and 10 years too late imo. There are better and cheaper options for the living room these days.
Here's one last video showing the $5000 Parallax .8 next to a $200 Sony Dynaclear portable 80" ALR screen from back in the day. It's striking how similar they are in ALR performance, build quality and look.
Anyway, that's my $0.02. I'd be interested to here if anyone else here actually bought one of these screens and if anyone else had a different experience?