Discussion Starter
•
#1
•
I have this Deuteranopia condition. I am planning on having several projectors calibrated by an ISF professional. The question is: Is it necessary for him to adjust the calibration to fit my vision problem in order for me to see a proper image? Below is a brief description of my malady:
"Deutan color vision deficiencies are by far the most common forms of color blindness. This subtype of red-green color blindness is found in about 6% of the male population, mostly in its mild form deuteranomaly.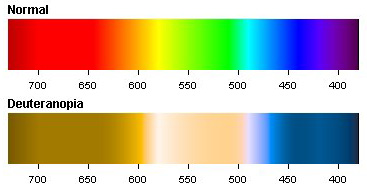 Normal and Deuteranopia Color Spectrum
When you have a look at the color spectrum of a deuteranopic person you can see that a variety of colors look different than in a normal color spectrum. Whereas
red and green
are the main
problem colors
, there are also for example some gray, purple and a greenish blue-green which can't be distinguished very well."
Maybe someone here has had experience with this and can suggest the direction I should take.