Discussion Starter
·
#1
·
Introduction.
During my own exploration of screen options for my living room I contemplated several different ideas for making a simple retractable screen. I ended up buying a very inexpensive electric retractable screen and painted it to get the gray screen I wanted. However I did mull over various ideas and they still come to mind from time to time. Before I completely lose interest in this hobby and fade off into the Northern Lights (I'm Canadian Eh!), I thought I would try to pass on some of these ideas and I might even be tempted to try some of them myself.
Before we get started here are some examples of my past attempts at interim removable screens:
Bed Sheet & Bungy Cords: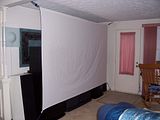 Slanted Screen Instead Of Keystone Correction:

Sportlight Material & Bungy Cords:
In this photo there is a sample of Da-Lite High Power (left square) and High Contrast Matte White (right square) in front of the gray sport light screen.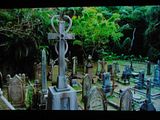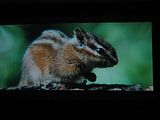 Here we have a couple of screen shots on the gray Sportlight material. It was a bit too dark but not a bad material. It also comes in a white similar to BOC.
So you can see that I went through all the typical trials of very simple cheap DIY screen solutions.
Now on to my more recent ideas . . . .